Kishani back on stage with heartfelt songs for LRH
View(s):

By Shannon Salgadoe

It's been almost three years since we've heard her voice. Having been overseas for the better part of the last few years, and based in Sydney at present, this June, international operatic soprano Kishani Jayasinghe will be back in town with an evening of music for a cause that is very dear to her.

'Kishani Sings for LRH' will be a  solo recital at the Lionel Wendt Theatre, in aid of the Lady Ridgeway Hospital for Children. Having had an insight into how the hospital itself functions, as well as the efforts of the dedicated doctors working there, Kishani remains in awe of the service the hospital provides. As the largest paediatric hospital in the country, children from all over the country are brought here for treatment of various illnesses.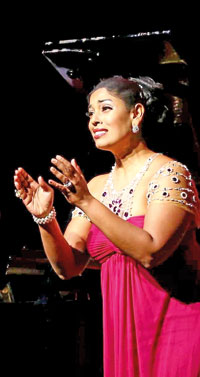 "It's not in the best of conditions because it's always oversubscribed. There are always so many people but the resilience of the doctors and the nurses and the staff –  it's something to behold. My heart was full when I saw it because it just makes you believe that there are these people who just work because they love their job. They are so passionate and keen to make sure that these kids get the best care," enthuses Kishani, who finally gets to go ahead with the concert.
It is not her first effort for the LRH. A few years ago she participated in a benefit in New York which was a combined effort with the Rotary Club and a few doctors in New York to raise funds for a new epilepsy monitoring unit at LRH. Seeing the newly built unit was heartening for Kishani, who was further motivated to give back in whatever way she could.
Kishani has performed internationally with opera houses in Europe and Asia, and many would recall her as the priestess Leila in Georges Bizet's The Pearl Fishers, or Les pêcheurs de perles in Holland with the Dutch opera company Nederlandse Reisopera, the first Sri Lankan opera singer to play the role of the Sri Lankan heroine on an international stage.
She is delighted too that this concert is at a place that could very well be her second home in Colombo. "I think it's a very different feeling stepping on that stage in Colombo. There are years of history, there are years of emotion there," she remarks.  Despite considering the crowd at home her toughest audience, she says she feels such love and support, "there's no place for me like home. No matter where I sing, no matter where I go, there's something just really special about singing in Colombo."
Kishani wants this upcoming concert to be joyous for everyone, whether they are familiar with classical music or not. The music she has carefully chosen for this recital is beautiful and timeless. She will be performing a few arias from one of her all-time favourite operas 'La Boheme' by Puccini, ("her go-to composer") as well as other numbers by him.
Concert-goers can also expect a mini-reprisal of her role as the priestess Leila from Bizet's The Pearl Fishers, as well as other famous arias and songs by the likes of Verdi and Mozart.  Kishani also plans to incorporate a touch of folk music, along with a few songs that hover between jazz and classical, some of them by another favourite composer –  Gershwin. The key, she says, is to make the entire performance accessible and enjoyable for all.
Performing alongside Kishani will be Lakshman Joseph de Saram and several principals of the Chamber Music Society of Colombo. "Even if you've never been to a classical concert, even if it's not your style, even if it's not something that you particularly fancy or you feel you want to go for, I urge you just come and see. I guarantee that there will be something for everyone," she says.
Over the years, Kishani has been a part of many fundraisers and benefits in aid of charitable causes.  "I've had so many blessings in my life and I feel I was given this voice to do something, to make people happy. Extraordinary opportunities have come with it but more than anything, I think, you have got to pay it forward."
She continues to teach students enrolled in the Kishani Jayasinghe School of Voice,  which initially seemed next to impossible when social distancing restrictions were imposed with the pandemic. Investing in the tech needed to conduct online lessons without interruptions, opened a door in terms of how many kids she could reach and train, even when she is not in the country.
Kishani likes to focus on the interactive element and the highlight for both her and her students is a live concert performed twice a year, where everything is learned online, including the choreography. "What I want to give the children is an experience and the opportunity to get on that stage and know what it's like to perform because I think nothing gives them that self-confidence and that self-belief like what you get when you're standing on a stage with lights and musicians and makeup and costumes," she points out.
Everything, including the costumes, is coordinated online. They meet on the morning of the show at the theatre where rehearsals, lighting, fittings and alterations all take place in time for the evening. "I don't know if anybody else does that. Well, I don't know if anybody would be mad enough to do that," laughs Kishani. Her students are currently rehearsing remotely for a performance later in June.
Kishani Sings for LRH, an evening of operatic arias and songs by Kishani Jayasinghe in aid of the Lady Ridgeway Hospital for Children, will be on Monday, June 19 at 7.30 p.m. at the Lionel Wendt Theatre.Tickets and box plan will be available at the Lionel Wendt from Friday, June 9.
For advance bookings call 071 886 7071
Searching for that next furry family member but couldn't find one in your area? Hitad.lk has the solution with our extensive listings of dogs for sale in Sri Lanka!