Sindhi Charitable Trust brings cheer to Samata Sarana
View(s):

The Sindhi community in Sri Lanka comprising business leaders are always looking at opportunities to enhance the lives of needy people in the country. As part of their Corporate Social Responsibility initiative, the Sindhi Charitable Trust made a donation to an approved charity in Sri Lanka, Samata Sarana.

"We are happy to enhance the lives of children and elders in need of care. This is one of many donations we make to deserving charitable organisations providing humanitarian services," said Ashok Anil Tirathdas, President, Sindhi Charitable Trust (SCT).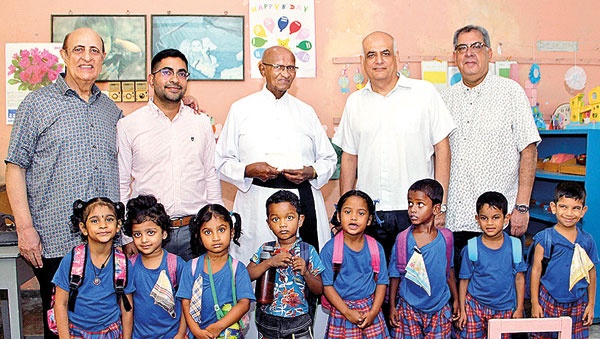 Samata Sarana caters to all communities in Colombo North providing education to underprivileged children and at least two meals a day. "We have about 200 kids from Grades 1-6 who receive basic education from qualified teachers. We also provide sanctuary to about 60 elders," said Rev Father Leo Perera, Executive Director, Samata Sarana.
The event was co-ordinated by Kishin Butani, immediate past president of the Sindhi Association of Sri Lanka. Present on the occasion was past president of the Sindhi Association Ramesh Ramchandani and Treasurer SCT Ajay Hathiramani.
The SCT is an initiative of founder past president Suresh Pesumal and VP late Mahesh Gangaram. M/s Mahesh Dadlani, Sunil Shamdasani, Mukesh Mathani and Gobind Daryanani are also active members of the Sindhi Charitable Trust.