More family tragedies arising from desperate struggle to live
View(s):

By Senuka Jayakody  

Desperate mothers pushed to the edge due to household and personal pressures, trying to take their own lives and that of their children over the past few weeks has been causing concern.

A sociologist has suggested community-based monitoring.

There is no support from the state to intervene or to prevent possible tragedies.

On February 26, a 31-year-old mother jumped from the Bentota Bridge leaving her two children on the bridge. The mother and two children had been on their way to visit the father in Uragasmanhandiya, when her husband had told her not to come when passing Aluthgama. She had then jumped off the Bentota Bridge, having told the elder child to jump with the younger child if she died.

She was later saved by a boatman and admitted to the Balapitiya Hospital. The children were handed over to their grandfather and uncle under a court order.

On March 4, a 20-year-old mother had thrown her one-and-a-half-year-old child into a shrimp tank in Udappuwa following a dispute with her husband. The mother was rescued, but was arrested by the police and was remanded until March 14 after being produced in court.

Another mother, from Kebithigollewa, had jumped into a well along with two of her differently-abled children on March 6, claiming that she could not bear the medical expenses of the two boys as well as living expenses.

The 21-year-old child of the woman died, while she and her 9-year-old son, who is hearing impaired, were admitted to the Kebithigollewa Hospital.

The woman had been arrested for murder and attempted murder and is being treated at the Prison Hospital, while the child has been moved to a safe place.

On the morning of March 7, bodies of parents and their two children were found in a house on Goodshed Road, Vavuniya. The father had been providing coordination services for obtaining visas online and had run into debt, while the mother was a teacher.

Police believe that the father had killed his family and committed suicide because he had not been able to pay his debts.

Also, a 31-year-old woman has recently visited the Sevanagala Divisional Secretariat office with her two children, requesting land and a house, since she had been evicted by her husband.

Sevanagala Divisional Secretary R.B.N.R. Priyashantha told the Sunday Times a plot had been found but a house could not be built because the Department of Social Services did not have funds. Donors are being sought to build a house.

The State Minister of Social Empowerment, Anupa Pasqual, speaking to the Sunday Times, said such a specific plan has not been made.

He said the ministry only provided a "temporary injection" to the people by giving support for business. The entire system, especially education, must be changed, he said.

National Child Protection Agency Chairman Udayakumara Amarasinghe said reports of incidents were received through officers in Divisional Secretariats.

Children who had suffered trauma from such incidents would be provided psychosocial services, such as consultations, he said.

"We receive complaints regarding children from families of economically stable people,'' he said, adding that these are due to family disputes, or mental disorders.

Police Spokesman Nihal Thalduwa told the Sunday Times: "If people have an unbearable problem, we always advise them to come and tell the Police Child and Women Units, without killing [their] children."

Sri Lanka United Grama Niladhari Association president W. G. Kamal Kithsiri said: "Many people in villages have lost their jobs and some are also in debt." Construction workers have lost their jobs and villagers who depend on agriculture are paying heavily for fertiliser. There is no relief given to them.

Mr. Kithsiri said," Grama Niladharis can't be involved in these issues, but "99% of us do [get] involved in family disputes and try to solve them."

Sri Lanka Sumithrayo chairperson Suranjani Wickramaratne said they had 270 volunteers at branches from Jaffna to Lunugamvehera.

"We have been facing the economic crisis since last year and a lot of people are affected and calls have increased tremendously since they are in debt or cannot manage their finances."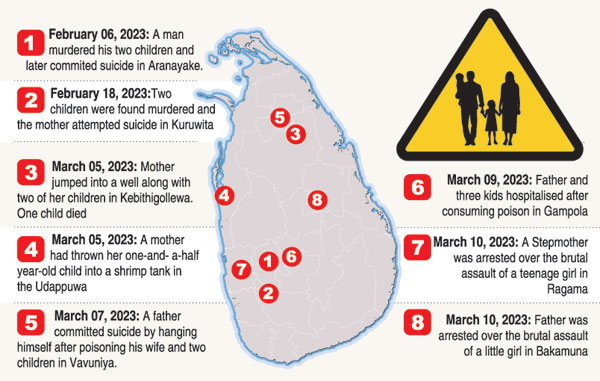 Professor emeritus of sociology at the University of Colombo, Siri Hettige, said these incidents were only "one manifestation" of this "unprecedented crisis."
"When families are under pressure and cannot cope, they will search for such solutions as a last resort," he said.
Prof. Hettige said the issue should be "nipped at the bud" and suggested a community based monitoring system where a public officer at the Grama Niladhari level would keep an eye on each family.
"I am really flabbergasted,'' he said, blaming public officials for "not performing their duty" to prevent such incidents. "We must work to reverse the current process of dehumanisation of society."
Among the latest incidents reported was that of a 17-year-old girl being beaten by her stepmother in Ragama. The girl's father who was overseas had seen the incident when checking CCTV camera footage.
Another incident was reported from Bakamuna where a man had sent video footages to his wife, who was abroad, of him beating their daughter in a move to extort money from her.
The best way to say that you found the home of your dreams is by finding it on Hitad.lk. We have listings for apartments for sale or rent in Sri Lanka, no matter what locale you're looking for! Whether you live in Colombo, Galle, Kandy, Matara, Jaffna and more - we've got them all!