Sheraton Kosgoda celebrates 3rd years
View(s):

Managed by the world largest hospitality group Marriott International, the renowned Sheraton Kosgoda Turtle Beach Resort, is the first Sheraton property to open in Sri Lanka. The resort has been in operation since February 2020 and has welcomed many local and International travellers from all over the world.

Located only 90 minutes away from Colombo, the resort is nestled in picturesque Kosgoda Sri Lanka, known for its sea turtle conservation project and pristine beach with dreamy sunsets. From the guest rooms to public spaces, spa to the fitness centre, to restaurants every space of Sheraton hotels is designed to create a space with a sense of belonging.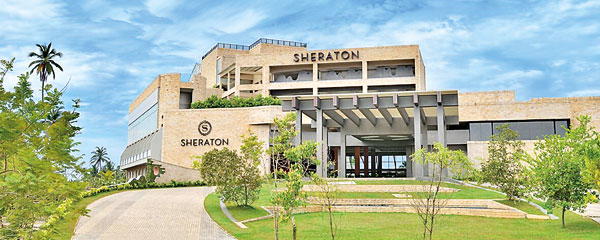 Sheraton Kosgoda Turtle Beach Resort offers unparalleled experiences, superior service, iconic dining and sophisticated spaces to the astute global travel enthusiast. The special highlight of the resort is the swanky rooftop Bar catering for the creative and the curious traveller.  The celebrated food offerings at Sheraton Kosgoda are undiluted pleasures, where global cuisines sit alongside original recipes, united by mindful practices and the highest quality ingredients of the island.
Paul Sun, General Manager of Sheraton Kosgoda Turtle Beach Resort noted that the continued partnership and support from all stakeholders, including the contribution from his team and associates have been an integral part of the success the resort has experienced in the past three years. Inviting holidaymakers to indulge in the renowned Sheraton hospitality, he noted 'Bringing people together is what we've done since opening our first Sheraton in 1937. And here in Sri Lanka, we have successfully completed three years of Sheraton hospitality and bringing communities together'.
Marking 3 years in operation, Sheraton Kosgoda Turtle Beach Resort has put together a number of deals that will benefit travelers who especially enjoy experiencing holidays as a couple or family. The offers include staycations, dining experiences and spa treatments that holidaymakers can take advantage of, during this time.
There's an exclusive deal offered on accommodation on full-board basis to mark the anniversary celebrations.   Moreover, guests also can take advantage of the Day Outing Package at just LKR 8,888/- per person.
Searching for that next furry family member but couldn't find one in your area? Hitad.lk has the solution with our extensive listings of dogs for sale in Sri Lanka!