Rakuten Viber unlocks AI capabilities with its new chatbot
View(s):

Rakuten Viber, the global leader in private and secure messaging and voice-based communication, launches a new chatbot, AI Chat & Create, providing users easy access to AI text and image generators. By integrating advanced models of generative AI, such as DALL-E and Davinci, the Viber app now allows users to ask the chatbot any question or test the chatbot's creativity by designing unique images. To utilize the latest AI tools taking the world by storm, consumers had to set up a new account for each AI service they wanted to try. Oftentimes, the consumer needs to be tech-savvy with a basic understanding of how AI works. With an influx of interest in AI, Viber's goal is to make AI more accessible, and easy to employ for its users. Viber acts as the interface between the complex technology and the user, allowing everyone to take part in the fun without having to provide access to their email or create a separate account for each service. With just a few taps, users can transition between chatting with friends to using the bot, sharing their art, or answer a question effortlessly.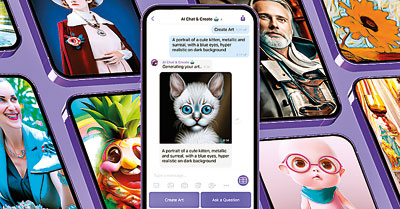 "Excitement about generative AI technology currently has many of the tech industry's attention and every day more and more people are exposed to the wonders that can be achieved with this technology. However, access to some of these tools is not very simple for everyone and now, we are offering the easiest way to try out various AI services in the comfort of a Viber chat, inside the app, without the need to register to a special service or further hassle and completely free," says Ofir Eyal, CEO of Rakuten Viber. "We provide access to these industry-leading AI tools directly on the app and users can quickly share their creations or answers. Right now, the chatbot offers two options – one for images and one for text – and we're looking continuously to expand the offering in the near future."
Due to organic growth, the chatbot already has over 6,000 subscribers, over 250 K viewers, and is growing constantly. If you don't know where to start, click 'Inspire Me' for the chatbot to share an example of its capabilities.
The AI Chat & Create chatbot can be found by searching in the chat function of the Viber app or on its explore page.
Searching for that next furry family member but couldn't find one in your area? Hitad.lk has the solution with our extensive listings of dogs for sale in Sri Lanka!