Cinnamon Wild Yala:
By Sanath Weerasuriya
Adventure at its best
View(s):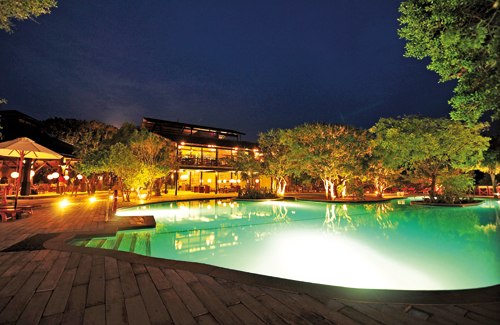 Ruhunu National Park or popularly known as 'Yala National Sanctuary' is one of the top tourist destinations in Sri Lanka. According to the research, Yala brags as the best leopard sanctuary in Asia and world's biggest leopard density per square kilometre. Arguably it is the best leopard destination in Sri Lanka and probably the best place in the world to spot leopards, sloth bears, elephants, and a whole host of birdlife.
The Park has become the most sought-after destination for both Sri Lankan and overseas visitors throughout the year. After a hectic dry season, November is blessed with few showers turning brownish Yala to a green garden reawakening livelihood of the land.
Cinnamon Wild Yala, the front runner for Yala based adventure activities for decades, is now ready with a number of adventure based packages for all holiday makers to the destination. Located in Palatupana, just three kilometres away from the park's main entrance, the new picturesque 'Cinnamon Wild Yala', is surrounded by wildlife, creating an opportunity for numerous one on one encounters with the wild and memorable moments captured on film as it is a natural extension to the park being placed with no artificial fencing between the park and resort.
Having conformed to the standard operations and processes required of a luxury Cinnamon property, the old 'Yala Village' enhanced to up market Cinnamon Wild in 2013, offering an environmentally friendly and socially responsible experience for travellers.
'Our main focus is to promote the 'Cinnamon Brand' world over, which would the very first hospitality brand to identify
Sri Lanka as a top destination. It's all about wildlife. Cinnamon Wild Yala offers a number of 'wildlife experiences' for its guests with proper guidance and expertise' said Lashanthan Gopalan, Resort Manager of the Cinnamon Wild Yala.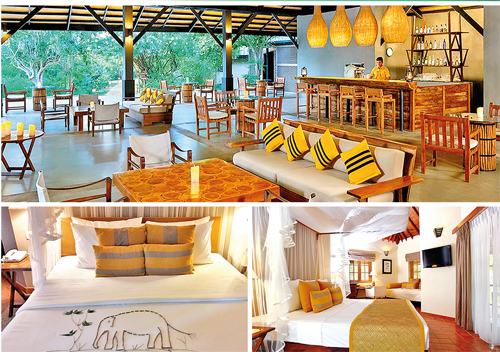 Spanning 11 acres of elephant roaming jungle, Cinnamon Wild Yala, boasts of having 68 rooms in 30 eco-friendly jungle chalets and 8 beach chalets with animal inspired interior décor and is set within the wilderness stretching from a lagoon to the border of Palatupana- Gurugoda beach, which boasts of some of Sri Lanka's finest unspoilt sand dunes. . The eight beach chalets, built on stilts, have the advantage of a balcony and a great position near the sand dunes.
All chalets are fitted with a/c and have a private verandah, satellite TV, minibar, IDD telephone, tea/coffee making facilities. En-suite bathrooms have hot water showers and all modern amenities.
Just a short walk from the main lobby area, pool or a luxury chalet guests have a chance to witness elephants and deer. Interestingly an elephant or two or wild boar, might casually walk past your chalet in the evenings, which is a definite treat. Lake in front of the Resort is a home for hundreds of crocs. Deer, wild boars and birds too by the water make a spectacular sundown scene for nature photographers.
'Specially after dark it is always advisable to accompany a member of the staff when you walk to and from your chalet room' said RM Lashanthan Gopalan.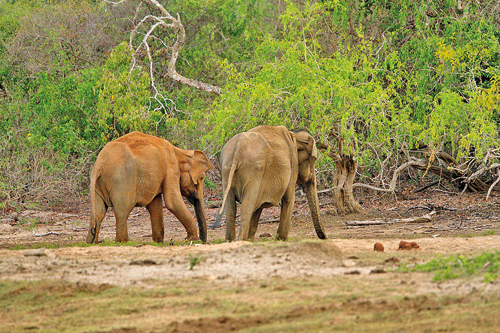 Cuisine plays a major role at Cinnamon Wild.Traditional village style cuisine to international buffet treats the taste buds of all individual. Main restaurant 'Tuskers' serves Sri Lankan delicacy along with Western and Eastern cuisine.
'We are very popular for our traditional Sri Lankan preparations and the Resort 'kitchen team' is capable of catering to any choice of cuisine to it's guests. We serve from a-la-carte menu to any personal requests on any culinary delight' said Sampath Medawatta, the Executive Chef of the Cinnamon Wild.
The main bar is 'Pug Marks', which offers the diners with popular signature cocktail 'jungle fowl' created by Ananda Weerasinghe, the award winning mixologist.
'Dining in the Dark' by the lake is another unique experience.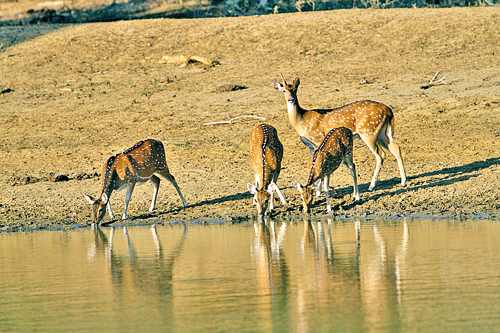 'It is a sensual feast to the daring diner; a moment to feel completely alive with that special someone' Chef Medawatta added.
Also the Resort now offers unique experiences, namely, 'Cinnamon Nature Trails'- professionally guided tour through the jungle and to end at the sand dunes, Yala Park Safari, 'Bush Dinners', 'Champagne Breakfast' by the beach, 'night safari with infrared vision' and 'photographic nature walks'. Naturalist Sampath Gunasinghe, leads the 'Nature Trails' and 'Yala Safari' with his expert knowledge on wildlife.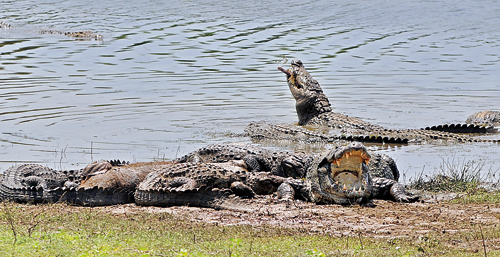 'Infrared Night Safaris use jeeps which are modified by fitting external infrared lamps so that they could be driven through selected roads outside the Yala National Park with no artificial lights used so that guests could enjoy animal behaviour in their natural state at night with no disturbance to the animals. This in turn ensures sustainability of the natural resources that are imperative to our work' said Naturalist Sampath Gunasinghe.
For more information
contact 0472239449/425 or log onto www.cinnamonwildyala.com
   Wild cake mixing
The traditional 'Christmas Cake mixing' of Cinnamon Wild Yala was held recently at a unique location on a top of a rock in the jungle close to the Resort.

 The pictures show RM Lashanthan Gopalan, Area Vice President Operations Ilias Vamvakas and Chef Sampath Medawatta along with other executives and Resort guests joined in mixing the traditional cake for Christmas 2022.
Searching for that next furry family member but couldn't find one in your area? Hitad.lk has the solution with our extensive listings of dogs for sale in Sri Lanka!