The Sunday Times wins Publishers' award for investigative reporting
View(s):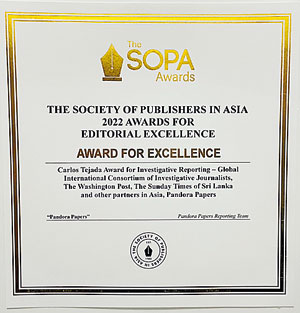 The Sunday Times is among partners in Asia of the International Consortium of Investigative Journalists (ICIJ) that won the Carlos Tejada Award for Excellence in Investigative Reporting at the annual Society of Publishers' in Asia (SOPA) Awards.
The Sunday Time's entries in this category were its reports on the secretive use of shell companies by Ramalingam Paksaralingam, a former top bureaucrat with powerful political connections, to invest in a private school in Sri Lanka and property in London.
The Society of Publishers in Asia (SOPA) was founded in 1982 to champion freedom of the press, promote excellence in journalism and endorse best practices for local and regional publishing platforms in the Asia Pacific region.
Its Board, in coordination with the SOPA Editorial Committee, oversees the annual Awards for Editorial Excellence, widely regarded as the Pulitzer Prizes of the region. They have been handed out every year since they were established in 1999.
Among other winners of the 2022 SOPA Awards are The New York Times, Financial Times, 1843 Magazine, The Economist and The Fuller Project, VICE Asia, and The Wall Street Journal.
The Sunday Time's submissions were part of the ICIJ's 'Pandora Papers' project, an international investigation into the offshore financial world using a massive trove of leaked documents. The award is shared by ICIJ, the Sunday Times, The Washington Post and other partners in Asia.
After combing through the database, the Sunday Times Deputy Editor (Investigations) Namini Wijedasa, who is an ICIJ Member, discovered that the Horizon College of Business and Technology (HCBT) in Sri Lanka was funded through a Singapore-based company owned by a Trust registered in the British Virgin Islands (BVI).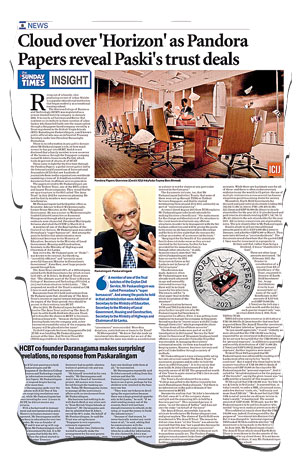 Its owner was Mr Paskaralingam, an influential Treasury Secretary under late President Ranasinghe Premadasa. He last held public office as Economic Advisor to Ranil Wickremesinghe in the 'Yahapalana' Government when he wielded influence over the Cabinet Committee on Economic Management through which projects and contracts were channeled.
There had been no previous information in any public domain about Mr Paskaralingam's role, or how much money he had put into HCBT. It was revealed for the first time through the Pandora Papers that for years he had funneled funds into HCBT through a Singapore-based company owned by a Trust registered in the British Virgin Islands (BVI).
His niece later got 80 percent of the school through St John's Pte Investments, a company that Mr Paskaralingam transferred to her in 2013. The Singaporean entity was first held by an offshore BVI Trust he created before it was settled in a new Trust the niece set up.
The Sunday Times also found that Mr Paskaralingam pushed members of the Yahapalana Government's top education committee to grant permission to HCBG to start a lucrative new Bachelor of Education (BEd) programme.
Mr Paskaralingam also backed HCBT to secure an interest-free loan of Rs 400mn from a State bank  to set up regional centres – rent buildings, build infrastructure, etc – for the BEd programmes, well before its sister group, Horizon Campus, received approval for it.
Mr Paskaralingam did not respond to requests for comments sent to him by the ICIJ.
Please click the links below for the relevant stories.
https://www.sundaytimes.lk/211031/news/460407-460407.html
https://www.sundaytimes.lk/211107/news/paskaralingam-tried-to-push-through-lucrative-b-ed-programme-during-yahapalana-govt-but-failed-461255.html
The best way to say that you found the home of your dreams is by finding it on Hitad.lk. We have listings for apartments for sale or rent in Sri Lanka, no matter what locale you're looking for! Whether you live in Colombo, Galle, Kandy, Matara, Jaffna and more - we've got them all!