Reduce at source to cut food waste
View(s):

By Nadia Fazlulhaq  

While the state-sponsored cultivation drive has begun experts believe there is a need to cut down on the troubling scale of food wastage in the country.

According to the UN Food Waste Index 2021, in Sri Lanka the per capita food waste is 76 kilograms annually. Every year over 1.6 million tonnes of food waste is generated in households.

"Sixty four percent of our solid waste consists of food waste mainly from households, restaurants, meat and vegetable markets. There is a need to create more awareness of food waste management," said Shahina Mysan, director of engineering (solid waste management) of the Colombo Municipal Council.

"There is a lot of food leftovers. Restaurants and the public need to stop over-serving or over-cooking. Even during these difficult times, food is wasted in households, restaurants, markets and after events," she said, adding that volunteer groups should collect surplus food from restaurants and events and distribute it to the poor.

Every day about 7,000 tonnes of solid waste is generated in Sri Lanka, of which 65% is food waste.

In urban areas and suburbs, restaurants are struggling to attract customers and food goes to waste.

"Most restaurants are facing losses with poor sales and fewer customers. There are times when fresh produce, fish, and prepared food are discarded," said a manager of a restaurant in Colombo.

Deliveries have been disrupted and dine-in customers have dropped.

The Hotels Association president, M. Shanthikumar said most hotels use surplus food for staff meals and supply waste food to pig farms.

"Hosts of events should be responsible to not over-order food and stick to the number of guests to reduce food wastage," he advised.

A. Yvonne L. Fernando, lecturer in food science at the Sabaragamuwa University's department of food science and technology, said: "This is the time to understand what food security is. A packed fridge may look appealing, but it may lead to food waste if the household cannot eat all of the food. It's important to think twice before throwing food away.''

She said leftover vegetable scraps can be used to make soup or a mixed vegetable curry.

Be smart with shopping, she said. "Taking an inventory of your kitchen is a must with the current situation. Use the 'first in, first out' concept," she said.

While prepared food is wasted in cities, farmers lament post-harvest waste.

Farmer organisations told the Sunday Times the fuel crisis has limited the number of traders bringing their produce to economic centres.

"We try to sell the produce even to retail shops, if not, dump the rotting vegetables or fruits on our way back. It's sad, because the vegetables could be used to feed many mouths," said a farmer from Galewela.

The lengthy supply chain is one of the major issues leading to spoilage and wastage of fresh produce, lecturer Ms. Fernando said.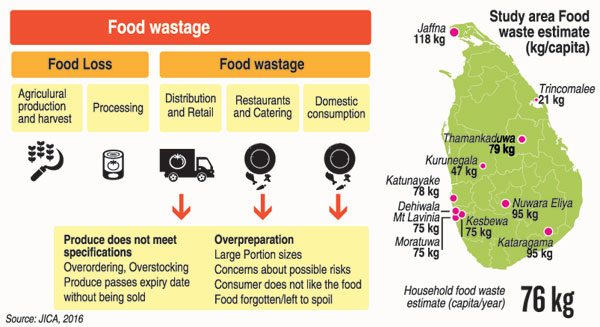 The best way to say that you found the home of your dreams is by finding it on Hitad.lk. We have listings for apartments for sale or rent in Sri Lanka, no matter what locale you're looking for! Whether you live in Colombo, Galle, Kandy, Matara, Jaffna and more - we've got them all!