Big time millers profiteering by starving market of rice, allege traders and small scale millers
By Yoshitha Perera
View(s):
Fear of a looming food crisis has seen a public already burdened by lack of fuel and gas and power outages scrambling to stockpile rice.
Orders placed four days back for local rice stocks by economic centre traders had not seen the light of day up until Friday, the Sunday Times learns. Imported rice stocks are being sold to consumers by rice traders at the Narahenpita Economic Centre, one of Colombo's largest retail and wholesale stores.
"We didn't receive the local rice stocks. Now we have to sell rice bought from India at significantly higher costs," a wholesale rice trader said.
"We own and operate a small hotel and we buy rice from the Narahenpita Economic Centre. We haven't been able to buy local rice for the past few days and have to buy imported rice at higher prices," said a hotel owner.
Last week, the Consumer Affairs Authority (CAA) set a maximum retail price of Rs. 210 for two types of domestically-produced white and red rice. Although the CAA's move to safeguard consumers is commendable, it has resulted in large-scale rice mill owners cutting down on stocks of local rice varieties being delivered to economic centres creating an artificial shortage and a hike in prices.
Agriculture Minister Mahinda Amaraweera last week instructed the Paddy Marketing Board (PMB) to issue 10,000 metric tonnes of rice per month to ease the shortage of rice in the market. According to small and medium-scale rice millers this was the buffer stock collected by the government and artificial rice shortage has forced them to distribute the buffer stock in the middle of the year.
The PMB has so far issued 1500 metric tonnes of rice every month to the market, and the recent decision was made to curb the increasing prices of rice, a PMB official told the Sunday Times.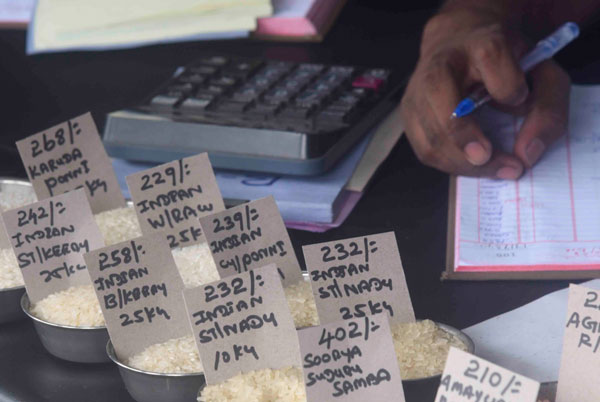 The prices of local rice have been increased unfairly and the CAA has been advised to intervene if they increase further, Minister of Trade, Commerce and Food Security Nalin Fernando said. "Rice mill oweners have restricted their supply with the imposition of maximum retail price for local rice by the government and this has created shortages," he said.
"The current rice scarcity is not caused by a lack of fertiliser. Large-scale mill owners are creating it deliberately and are profiting by starving the market," Small and Medium Scale Rice Millers Association secretary Muditha Perera claimed.
Rice is transported to Colombo only once a week due to the fuel crisis. It was normally a thrice-a-week practice. This was the initial reason for the rice shortage, now after the price control was set out by the CAA large scale mill owners have cut down their supply by about 50 percent, he alleged.
"If properly managed, the country might get by with the existing paddy stocks until next January. Normally, these millers release about 2000 metric tonnes of rice each day, but now just 700 metric tonnes are released per day," he added.
He went on to say that big-time rice millers buy paddy with their own money, whilst others have to take loans to do so. Most financial institutions, including banks, have been accused of delaying loans so that millers' mafia members can begin purchasing paddy. Nothing has been done to make the paddy market competitive through the years, and as a result, many small and medium-scale mill operators have to shut down their businesses.
The best way to say that you found the home of your dreams is by finding it on Hitad.lk. We have listings for apartments for sale or rent in Sri Lanka, no matter what locale you're looking for! Whether you live in Colombo, Galle, Kandy, Matara, Jaffna and more - we've got them all!