15 murders since May 30 and cops say they are stretched to the limit
By S. Rubatheesan
View(s):
It was mid-noon Tuesday when Nipun Chandana Perera, 23, came out from a nearby ATM booth of a private bank in Elakanda, Wattala after visiting the gym earlier as usual.
Two motorcyclists wearing full-face helmets and face masks ambushed him and the pillion rider shot him with a T-56 rifle. The youth fell to the ground, but then the pillion rider got down and opened fire again at close range. The killers then fled in less than a minute.
The youth was declared dead on admission to Ragama hospital.
The footage of police loading the body into a three-wheeler while stunned bystanders watched, was widely shared on social media.
This was the latest in a spate of some 15 murders since May 30 in which eight killings were carried out at daytime by armed assassins on motorbikes.
All shootings including the most recent one in Wattala were linked to drug wars, the police claimed.
The first shooting was reported on May 30, near Bastian Mawatha in Colombo, about 200 metres from the office of the Colombo Range DIG, where a 30-year-old was gunned down and another man was injured.
The victim and the injured man were part of a group of four on their way home after attending court and were identified as former commandos.
Two days later, a 42-year-old man was gunned down in Moragalla, Aluthgama when the victim was loading his truck with king coconuts he had purchased. The killers came on a motorbike.
Police confirmed that the victim was the crown witness in a case against Narcotic Bureau Officials for reselling drugs seized during raids.
At least seven shooting incidents were carried out by assassins on motorbikes. The police claimed these are linked to drug peddling activities from May 30 to June 6.
Police spokesperson, SSP Nihal Thalduwa told the Sunday Times that all shootings are related to drug-related disputes among gangs.
"Even though some of the victims were witnesses in drug-related cases, they were not provided witness protection since the directive has to come from the respective authority, the National Authority for the Protection of Victims of Crime and Witnesses," SSP Thalduwa said.
One of the main reasons for the frequent violent incidents is that the police have been busy protecting houses and businesses, or controlling disputes at fuel and gas queues and also trying to clear protesters who block roads.
Besides, a large number of policemen has been drawn from the provinces for security around the president's house and other vital buildings.
"We have been deployed in Colombo for weeks and naturally our duties in our respective areas have been neglected for the past few months. We are unable to carry out investigations of robberies, murders, and thefts as a result,'' a police officer deployed in Colombo from the Matale division said.
He said that even traffic duties, too, have been affected.
"You may notice that police have drastically reduced traffic duties and violations are on the increase and that is not too good for the motorist who tries to drive safely. Eventually, it will lead to an increase in deaths on the roads. Lawlessness on the roads is as bad as the increase in the crime rate.''
SSP Thalduwa acknowledged the economic crisis and demanded more police officers be assigned to parliamentarians and ministers, near protest sites, and at fuel stations.
"Our officers are trying to manage the current crisis whenever a tense situation is reported, be it near a gas or fuel queue or blocking of roads. This is an additional workload,'' SSP Thalduwa said.
Parliamentarians are now protected by six policemen compared with two before the May 9 violence.
In recent weeks, the police have reported a number of incidents of murder.
Among the incidents are several murders and the detection of illegal weapons.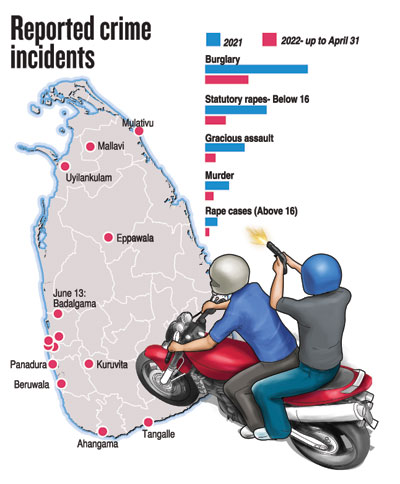 On Wednesday in the Kokkadicholai in the Batticaloa district, a man strangled his 20 year -old wife to death and the suspect was arrested.
Also on Wednesday, a man was hacked to death in the Gonapola area of the Moragahahena police area following a dispute with a neighbour.
On Monday, a 31-year-old man was beaten to death by his colleagues at a service station in the Badalgama area while another 36 year old woman was found dead under suspicious circumstances in Diyathalawa.
Last Sunday, a man who was found with cut injuries in the Palinagar area of Mallavi died in hospital. He is believed to have been attacked after a dispute over attending a birthday party without an invitation. In another incident on Sunday, a son had beaten his father to death after he tried to intervene when his daughter-in-law was being assaulted.
On Thursday, the police arrested a 38-year-old suspect responsible for the murder of a person in the Modara area on June 6. The suspect had shot dead a youth over an apparent drug dispute.
In most of the recent murders, T56 rifles have been used.
On Thursday, police said that in two separate detections, two locally-made weapons were found in the Hungama and Uhana and three were arrested.
Violence against women and children, too, has been rising.
Police in Puvarasankulam were able to make a breakthrough in a case where Rs 500,000 ransom had been demanded from a woman.
The woman who was returning from Colombo had been abducted at the Vavuniya bus stand and a man identifying himself as a CID officer had demanded Rs 500,000 for her release. Police had managed to trace the suspects and arrest them.
The police said that the woman had been collecting money, promising to send people to Australia.
In the Northern province, there were over a dozen incidents of house robberies, chain snatching and sword attacks reported this week alone. Police urged the public to be vigilant.
Nimal Lewke, retired senior deputy inspector general of police, who was also commandant of the Special Task Force, said recent violent incidents and the response from the public toward police are worrying.
"The police department should revisit its syllabus and invest more in training. As a country that has witnessed conflict for decades, society is also traumatised and needs to be disciplined. After all, we are working for the betterment and well-being of the people," he stressed.
Mr Lewke noted that more police are now assigned to protect government leaders and parliamentarians whereas in the past, three such units existed: Presidential Security Division, Prime Minister's Security Division and Ministerial Security Division for ministers and parliamentarians. "This is an additional burden on the officers," he said.
"Police should also invest more in criminal intelligence units in every police station.''
Officials in the administrative structure also have messed up their responsibilities in recent times where a secretary to the Ministry of Public Security is appointed for administrative work alone but not operational work, Mr Lewke said. "The police department should be run by highly capable professional officials, not by politicians or others.''
The best way to say that you found the home of your dreams is by finding it on Hitad.lk. We have listings for apartments for sale or rent in Sri Lanka, no matter what locale you're looking for! Whether you live in Colombo, Galle, Kandy, Matara, Jaffna and more - we've got them all!