Pandemonium at passport office
View(s):
People sleeping on the porticoes and camping out for days to get their documents stamped
  As one-day-service seekers wait for three days, department's photo uploading software crashes
By Tharushi Weerasinghe  
Thousands of people are flocking to the Immigration and Emigration Department to get their passports and go abroad to seek better prospects as Sri Lanka's economic crisis continues.
People have been sleeping on the porticoes outside the buildings and camping out for days hoping to get their documents stamped.
Mohammed Farhan had been there for five days as of Thursday night. "I am trying to leave because of the economic crisis. I am having trouble finding work," the 28-year-old from Ruwanwella said.  

He had come with more friends, all of whom had hired a room nearby so they could take a shower. When the Sunday Times team visited the premises again the next morning, he had managed to hand his documents in.
As queues grew, so did agitation and queue jumping. To avoid conflict people from the queue had begun to self-regulate the line by forming a register of sorts. People in the queue were listed in order and the queue was checked periodically to make sure everyone was in the right order.
"It is pointless working here now. We can barely save anything because everything is spent on basic needs," said Prabhath Neranjan, who works for a construction accessories company.
He said even saving was pointless because the value of money was reducing incredibly fast. He had been in the line for three days and like many others around him, was there to obtain the one-day-service for his passport.
"It is sad to see how far we have fallen," said expatriate Kavidas Chotrani referring to the scores of people that were sleeping outside on Thursday night. He felt that the department was overworked and understaffed to deal with the surge of people coming in.
While officials were working tirelessly, the demand exceeds the supply and officials agreed that meeting the sudden surge with the current resources was difficult. Department officials said around 36,000 passports had been issued in the first ten days of June alone.
"People in the line are those who did not get prior appointments," said a Department of Immigration and Emigration spokesperson Piyumee Bandara.
The passport office issues about 2500 one-day-service passports a day now, a stark rise from the 1000-1200 ODS passports that were issued each day before. Normal service passport issuance had increased from 700 or 800 a day to 1000 a day.Those who made appointments were taken in through a designated gate.
"We take as many people as possible in from the queue because we can not turn people away," she said. The rest of the people in the queue were given a date ahead so they could come back for their appointment and avoid wasting time.
But people refused to leave the queue in hopes that they would be in the next group that was taken in from the front of the line.
People were able to place an appointment online and show up to a designated gate to avoid the queue altogether. However, many people were unaware or unable to do so since access to resources to place the appointment were scarce.
"The volume of applications for jobs abroad has increased by 286% compared to last year," said Association of Licenced Foreign Employment Agencies Secretary (ALFEA) M. Arshad. About 120,000 people departed for jobs overseas last year, a low number–because of Covid-19–however as of June this year, 120,000 people have left for work overseas. According to the secretary, the domestic worker and hospitality industries were where most migrant workers were taking jobs.
People were taking opportunities below their pay grades and qualifications, to find a way to leave the country. Professional nurse Nimesha Prabhani said she was hoping to go to Italy for a job as a day care worker.
Moreover, the photo uploading software attached to the Immigration and Emigration Department crashed earlier this week.
"This is because the number of submissions is just too high. The studios in the immediate vicinity worked well but studios in the outer areas crashed," one studio owner near the Battaramulla office said. He alleged that the crash was a deliberate attempt to control the flood of applications coming in.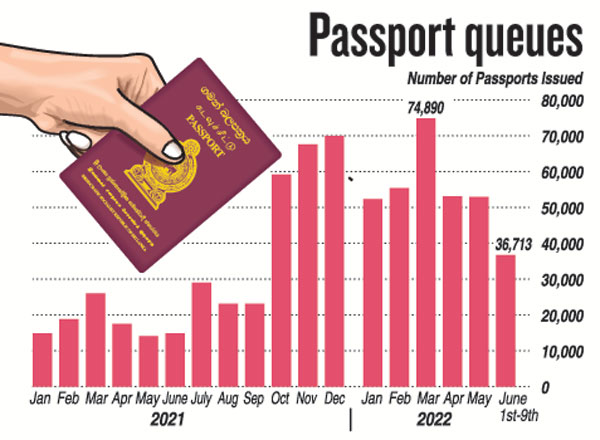 Amid the long queues innocent people duped by bogus agents

As thousands flock to get their passports from the Immigration and Emigration Department, scammers and corrupt officials, have begun exploiting hapless people desperate to get out of the queues that last for days.The Sunday Times spoke to one 22-year-old passport applicant who wished to remain anonymous.

"The security guard told me she could expedite the process if I wanted her to," he said. She had followed the statement up with a request that he "check and see how much he was willing to pay for it."

A trend of travel agents coming into the queues and paying people to let them jump the queues was also noted.

"We received complaints of this too," said Department spokesperson Piyumee Bandara. The department also reprimanded imposters and handed them over to the Police on allegations of giving out "fake seals" on documentation for exorbitant amounts. Ms. Bandara also said allegations had been made against Army and Police officers who were there for security.

"They are supposed to be there to maintain order but we have received reports that they are also accomplices in the scams going on," she said.

The Army denied their officers' involvement in the racket. Army media spokesman Nilantha Premaratne said the incident that arose had been in relation to an imposter that was impersonating Army officers at the premises.

"Officers wear their safari kit at the premises and it is similar to the Ministerial Security Division (MSD) uniform," he said.

Impostors dressed in similar outfits dupe thousands of rupees out of exhausted people and take them up to the fourth floor where they proceed to mislead and then abandon them at various locations in the building. An arrest was made earlier this month after officials perused closed circuit television camera (CCTV) footage and identified people engaged in the racket.

Another concern raised by people in the queue was that they were duped by agents who sought money to draft the documents and then disappeared.

"I paid one of these people Rs. 8000 because he said he was an agent and he can get my documents sorted out fast," said a 47-year-old person from Pitigala. The "agent" had then simply disappeared.

"There are so many bogus agents duping people out of money because of how desperate most of them are to get their documentation approved in time to get to appointments abroad," said Association of Licenced Foreign Employment Agencies (ALFEA) Secretary M. Arshad. He advised people against trusting agents without valid licences, especially if they merely turn up at the passport office offering their services.
The best way to say that you found the home of your dreams is by finding it on Hitad.lk. We have listings for apartments for sale or rent in Sri Lanka, no matter what locale you're looking for! Whether you live in Colombo, Galle, Kandy, Matara, Jaffna and more - we've got them all!