Zoo seeks sponsors and foster homes for animals
By Kasun Warakapitiya
View(s):
Sri Lankans will be asked to sponsor or take an animal into their homes from the national zoo, which is preparing for a challenging time in the wake of the unprecedented economic calamity in the country.
The National Zoological Gardens at Dehiwala is taking the measure to ease the burden of the costs of caring for the animals, which have risen. Annual operating costs run into millions.
The Deputy Director of the National Zoological Gardens, Anoma Priyadarshani, told the Sunday Times that a foster care program me is being planned to help reduce expenditure.
Fostering is available at some zoos overseas, she said.
This would involve taking care of animals, or financial support via packages ranging from lifetime sponsorships to daily donations.
She is also hopeful that people will be able to either fund the meals for an animal for a whole day or provide a meal as a 'dana' to mark a special occasion.
"We plan to give certificates for donations made to mark a birth date, or any other day. We will also accept food.''
Activities involving people and animals will be resumed to help raise revenues.
A senior official said that the sea lion show is to be held next week.
The fish spa, photo shoots with reptiles, and educational programmes are planned. Events involving children such as face painting will be held at the new tiger cub play area.
Employees said that they are planning to make up for losses from the drop in visitors during the pandemic.
Ms Priyadarshani said there are no food shortages at the moment, but the zoo is preparing for a challenging time.
Employees have begun to grow more vegetables, grasses, greens, and fruit such as bananas at the farm at Gonapola, Horana. Other lands under the zoo are to be used for cultivation.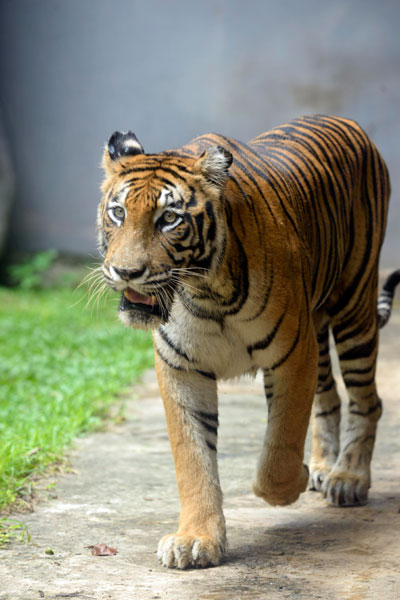 Zoo staff are substituting local food for imports to maintain nutritional needs, based on the advice of veterinarians.
Ms Priyadarshani added that there is a plan to reduce the number of animals to cut expenditure. Animal breeding is to be controlled.
"We plan to re-wild local animals such as the deer, and sambar, which have bred in excess. We are planning to do that with the Department of Wildlife Conservation,'' she explained. Rabbits, birds, fish and other animals which could be reared in domestic environment  would be sold.
Some employees said awareness programmes had been held to cut down expenditures through measures such as reducing the use of power, water, and telephones.
People can get more details of the fostering programme by contacting the zoo via the general number, social media accounts at the counter.
The Ministry of Agriculture said in a statement Tuesday that the zoo has to settle Rs 59 million overdue payment for animal feed suppliers. For the remainder of the year at least Rs 120 million is needed to feed the animals, it said.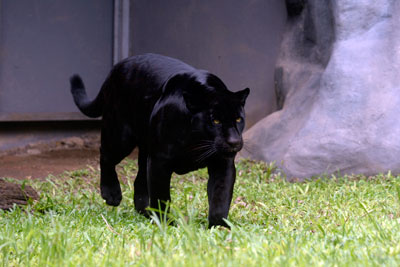 The Minister of Wildlife and Forest Resources Conservation, Mahinda Amaraweera, told the Sunday Times that animal feed suppliers are unable to provide food under the budgeted allocations as prices have risen.
A programme that encourages people to foster animals is being considered, he said. The cost of feeding carnivores has increased.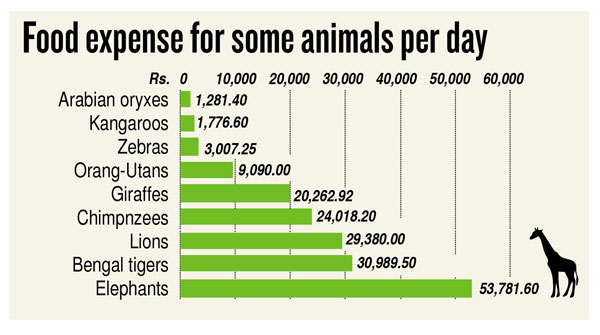 ---
Newborn Bengal tigers begin to see visitors
The three newborn male Bengal tiger cubs have begun to see visitors to the Dehiwala zoo for 30 minutes each in the morning and evening.
A senior zoo official told the Sunday Times the visitors could see the three cubs from 10.30am to 11am and again from 3pm to 3.30pm.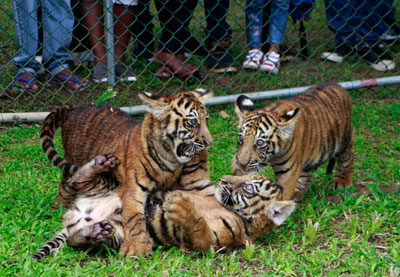 The three-month-old cubs needed rest and should be allowed to get used to the visitors only gradually, the official said.
The zoo's Director General, Thilak Premakantha, said the cubs were born on March 5 to parents brought from China in 2009.
He said the parents named by zoo officials as Robin and Kella were brought to Sri Lanka when they were two years old.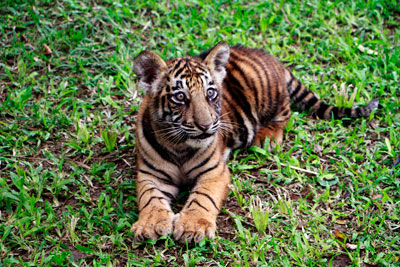 According to zoologists, a full-grown Bengal tiger weighs 200-250 kilograms. The female is generally about one foot shorter and 45kg lighter than the male. Tigers can live up to 25 years.
---
Giant tortoise is as old as the zoo
By Kasun Warakapitiya
The oldest inhabitant of the National Zoological Gardens at Dehiwala is marking 86 years in captivity.
It is a 250 kilogram Galápagos giant tortoise.
Senior officers said that the female, which had been at the zoo since the beginning, is one of two handed over to the Department of National Museum.
"We estimate her to be over a hundred years old,'' said the curator of the aquarium and reptilium, Sumeha Abeysinghe.
He said early Spanish explorers who discovered the Galapagos Islands named them Galapágo, which means tortoise in Spanish.
The zoo has replicated her natural environment as tortoises thrive in hot and humid conditions. There are shaded areas and areas with bright sunlight.
"Even though she eats 16 percent of her weight, we feed her greens, grasses, and vegetables and certain varieties of grains,'' Mr Abeysinghe said.
Tortoises which are ectotherms (cold blooded) eat less food than mammals, as they do not regulate their body temperature on their own. They depend on sunlight and shade, he said.
Mr Abeysinghe added that the animal's shell, or carapace, needs special care due to erosion with age.
He added that human exploitation of tortoises as a food source caused a decline in numbers to 250,000 to 2,500 in the wild. Serious efforts should be taken to conserve the tortoises and increase their numbers. - - Pix by Indika Handuwala
The best way to say that you found the home of your dreams is by finding it on Hitad.lk. We have listings for apartments for sale or rent in Sri Lanka, no matter what locale you're looking for! Whether you live in Colombo, Galle, Kandy, Matara, Jaffna and more - we've got them all!