Tourism sector struggles for survival; pleads for political stability and end to crises
By Nadia Falulhaq
View(s):
The tourism sector is pleading with the authorities to restore political stability and immediately address the fuel crisis, rising prices and power cuts in a bid to revive the industry and make it once again a key source of foreign exchange flow.
The year began favourably, with tourist arrivals reaching 82,327 in January. February and March were promising months with 96,507 and 106,500 tourist arrivals. However, with the economic crisis and fuel shortages, the arrivals dropped to 62,980 in April. In pre-COVID years, bout 160,000-180,000 tourists arrived only in April.
May saw a further decline in the number of tourists. According to the Sri Lanka Tourism Development Authority (SLTDA), only 18,450 tourists arrived during the first 18 days of May.
SLTDA Director-General Dhammika Wijesinghe said the violence that broke out on May 9 had hurt the industry, with high-end tourists cancelling holiday plans in the country.
"Tourism promotion has taken a back seat following concerns of violence. Mob violence, assaults and attacks spread on international media, triggering concern among tourists and future tourists. Tourists won't come if there is a threat to their lives and property. We have to make an extra effort to ensure that tourists don't cancel their booked summer holidays here," she said.
She said that the country should be violence-free to achieve the pre-COVID era tourist arrival rate, and essentials such as fuel and electricity should be readily available.
India being a significant source market, Indian tourist arrivals dropped by 62.6 percent in April compared to March.
With the current economic and political crises, combined with increased promotional initiatives by regional competitors such as Thailand, the country was facing challenges in wooing Indian travelers, Ms. Wijesinghe said.
"Not only did Indian media highlight Sri Lanka as being bankrupt, but it also showed the increased cost of living in the country," she said.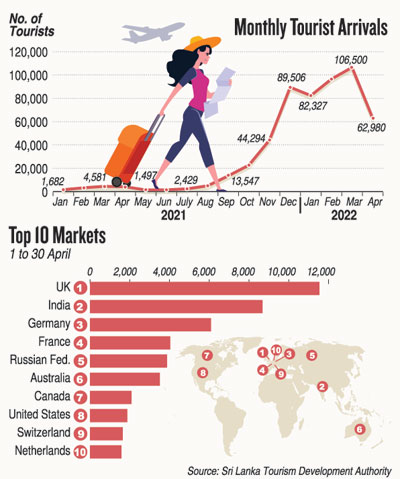 Hoteliers Association past President Srilal Miththapala said one of the major problems was travel advisories issued by several countries, warning their citizens of the many crises in Sri Lanka. The other major issue was the industry's inability to service customers properly due to shortages of gas, food, and electricity. He said fuel and transport issues were adding to their woes, especially when organising sightseeing visits.
Pointing out that TUI, one of the world's largest tour operators, recently suspended operations to Sri Lanka, Mr. Mitthapala said hotels were struggling to maintain operations.
"There may have to be a room rate increase to make operations viable. But in the post-COVID environment, when all destinations try to entice tourists back, such a rate increase may reduce our competitiveness," Mr. Miththapala said.
The veteran hotelier also drew attention to another crisis waiting to happen. He said the moratorium on loan repayments granted to the tourism sector would end soon. "The medium and small sector is suffering much more. Several micro sectors such as home-stays and small guest houses will soon go bankrupt," he warned.
With fewer tourists showing up these days, many tourist boutique hotels, resorts and inns are forced to shut up shop.
Small-scale resort owners complain about the inability to provide hot water and air conditioning facilities to tourists due to power cuts and the unavailability of fuel for generators. Some are struggling to pay back bank loans and continue maintenance.
Cultural Triangle Hotels Association President Saliya Dayananda said if the country wanted to attract tourists during the summer vacation, policymakers should create a safe and stable environment with facilities available.
"For some in the tourism industry, this summer and winter seasons are the only hope, or they would go bankrupt," he warned.
He said power cuts and the fuel shortage were also throttling the industry.
"Bigger hotels need about 300-400 litres of diesel per hour to operate generators. Therefore, providing continuous electricity is essential, especially for air conditioning during warmer months," Mr. Dayananda said.
The best way to say that you found the home of your dreams is by finding it on Hitad.lk. We have listings for apartments for sale or rent in Sri Lanka, no matter what locale you're looking for! Whether you live in Colombo, Galle, Kandy, Matara, Jaffna and more - we've got them all!