Hoarders and corrupt shed owners blamed for long fuel queues
By Niranjala Ariyawansha
Power and Energy Minister Kanchana Wijesekara alleges hoarding and sabotage
View(s):
As the queues at filling stations appeared to get longer, allegations of hoarding, selling fuel at higher prices by those collecting fuel, and political involvement in creating a scarcity have also emerged.
Appealing to the people to cooperate, Power and Energy Minister Kanchana Wijesekara said there were incidents of hoarding fuel, and attempts by political elements  to sabotage fuel distribution.
Speaking at a news conference held yesterday, Wijesekara said more shipments were expected to arrive in the next few weeks.
Despite increasing the distribution from Friday, long queues were witnessed over the weekend, and several incidents of unrest were reported around the country, with roads being blocked by people demanding fuel.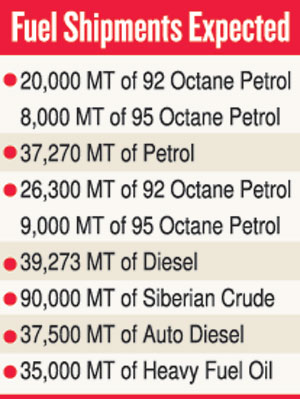 Meanwhile, a top official of the Ceylon Petroleum Corporation (CPC) said the government had decided to curtail fuel distribution during the week since the quantity of petrol in possession of the CPC was inadequate to be distributed among filling stations across the country.
The official added that the government felt distributing limited quantities would further aggravate people's agitation. "If the remaining small quantity of fuel was issued to a few fuel filling stations, that would have finished in an hour or two. That would have aggravated the situation further," this official said regarding the suspension of issuing petrol mid-last week.
Meanwhile, the CPC has received several complaints that some shed owners were selling fuel illegally, violating rules and regulations of the CPC. Accordingly, the CPC has taken steps to suspend licenses of filling stations in Makola, Naula in Matale, Kelaniya, Pethiyagoda and Meerigama. The CPC also said that a shed owner at Dompe had been hoarding a stock of 140,000 litres of fuel to be sold at a higher price. People had also complained that a shed in Ambalantota had taken steps to supply diesel beyond the stipulated amount to sand mining businessmen.
 The CPC said that these businessmen had been provided with letters by the Divisional Secretary and the Geological Survey and Mines Bureau to supply diesel without considering restrictions.
Meanwhile, a ship carrying 28,000 metric tons of petrol had been purchased from Lanka India Oil Company (LIOC) by the CPC on Thursday (19) morning. Unloading and distribution of this stock had begun from midnight Thursday.
Payments have also been made for the ship carrying 37,000 metric tons of petrol that had arrived at the Colombo Port on March
29, and unloading of fuel stocks had begun yesterday, Power and Energy
Ministry Secretary M P D U K Mapa Pathirana told the Sunday Times.
CPC sources said this ship had to be paid USD 936,000 for 52 days, at the rate of USD 18,000 a day from March 29 to May 19 as demurrage. However, he said that since demurrage had to be paid from the day the agreement was signed, this amount will be less.
As of now, all stocks of diesel and petrol which were received under the Indian credit line have been supplied. In addition, the government has allocated USD 200 million from the USD 1 billion provided by the Indian Government to purchase required food for the people, for importing fuel. Two ships carrying 37,000 metric tons of diesel and petrol purchased using this USD 200 million is due to be received.
The first diesel ship arrived at the Colombo Port on Friday and the second ship carrying diesel is due on June 2. The ship with petrol is due to arrive today (22).
 "Consumers are extremely selfishly purchasing and hoarding stocks of fuel. They do not think that they should leave some fuel for others to buy. They waste fuel, engaging in unnecessary trips. I regret this consumer behaviour. I request the people to maintain some discipline at least during these difficult times. If not, we will not be able to eradicate these queues," the Ministry Secretary emphasised.
CPC top officials stressed that the solution for the fuel crisis in the country was not to import finished products in order to fulfill the entire demand, but to import – as was usual – crude oil at lesser prices and refine them.
The Ministry Secretary said the Sapugaskanda refinery reopening was delayed further, as they have not been able to pay USD 65 million for the ship carrying 70,000 metric tons of Siberian crude oil, which arrived at the Colombo Port on April 29. He also said that the relevant shipping company had at the beginning agreed to unload the crude oil on the basis that a part of the amount owed would be deposited in rupees and the entire amount be converted into dollars in a month.
"But now, they have changed their minds and are asking for the entire pound of flesh. That is, they want the total amount of USD 65 million to be deposited in dollars. Doing that is a big problem for us," he said.
USD 2.76 million has to be paid up to now for this crude oil ship, at the rate of USD 120,000 per day. CPC sources said that USD 120,000 is the highest rate of demurrage to be paid per day so far.
"The lack of dollars is only one reason for this fuel crisis. The other important reason is the closure of the Sapugaskanda refinery. Dollars are required to bring in crude oil too. However, if we import crude oil even with difficulty, and refine it and make finished products, at least to a certain extent it would be very profitable. Then we would not need such a large sum for importing fuel," the source said.
He also said if the Sapugaskanda refinery was in operation, they could have minimised even the power cuts as the refinery is able to provide more than the daily requirement of Naphtha and Furnace oil needed for the thermal power plants.
Rising fuel consumption and Sapugaskanda modification

The daily petrol consumption of 3,700-4,000MT and diesel consumption of 5,500MT have increased to 6,000MT and 6,500 MT respectively, a CPC official said.

Generally, the daily consumption of kerosene was 300MT, but it has increased to 1,000MT. The CPC pointed out that this was mainly because urban people were using kerosene for cooking due to the gas shortage.

Also, since the price of kerosene is less, private bus owners are mixing kerosene with diesel. This has increased the demand for kerosene.

According to a feasibility study conducted by the CPC in 2010, US$ 2 billion was required to double the production capacity of the Sapugaskanda oil refinery. The study was carried out by a Singaporean company and it cost USD 1 million.

It was also pointed out during the study that the modification cost of USD 2 billion could be recovered in 8 years by selling refined products. Based on this feasibility study, another financial calculation was done in 2016, and it was proved that the modification cost could be recovered within 5 years, the Sunday Times learns.

Nevertheless, due to there being no accurate and country-friendly policy, the CPC was unable to implement any of these proposals, the official said.
The best way to say that you found the home of your dreams is by finding it on Hitad.lk. We have listings for apartments for sale or rent in Sri Lanka, no matter what locale you're looking for! Whether you live in Colombo, Galle, Kandy, Matara, Jaffna and more - we've got them all!