Boats stay on land, livelihoods dry up
View(s):

The wind usually brings fortune to sailors, but the present situation is keeping them ashore
The wind on the sails and the water combine to propel a boat through the water. The aerodynamics are simple: The wind blows against the boat at an angle, inflates the sail, forms a similar foil shape, and it pushes the sail perpendicular to the wind direction.
How wonderful a sailboat is when it sails without the fuel – petrol – but the wind which is still freely available to man!
It is nature that brings fortune or misfortune to many people, especially to fishermen, or seafarers.
Apart from the fishermen, others who depend on the sea for their livelihood are those who use sailboats to take tourists – local as well as foreign – on pleasure trips.
Mohomad Kiar Mohamad Ameer of Poruthota, Negombo, aged 66 years, father of three children, has been steering a sailboat for about 40 years as his main occupation.
Speaking to the Sunday Times he said, "On my sailboat, I have been carrying people both local and foreign for most of my life – about 40 years. Those days we spent about Rs 10,000 on a sailboat. We used wood like domba, kos, mara etc. But now we can hardly find such wood. Therefore we use fibre boats. Some years back, a kilo of resin used to make fibre boats was Rs 80. Now it is about Rs 1,400."
"Those days a yard of sail was Rs. 15, now it is about Rs 320. Nowdays we are charging Rs 4,000 per head for a one hour boat ride. The trip covers about 6 km." Speaking about his experience he said, "We are experienced and have a licence for our boat. We know how to transport people safely. Sometimes they come with their whole family."
"When Covid-19 hit our country, we lost our livelihood. But with the country recovering slowly, people started coming again to the beach, and we earned money by taking them on boat trips.
"But the problem is we have this job only for 3-4 months a year. When the sea is rough we can't take them. We need the wind. It is an essential part of our business. But the problem is that we can't do our sailing with less wind or strong winds. It should prevail at a moderate level."
Now we are helpless. I have borrowed Rs 200,000 from a foreign tourist to repair my boat. I promised to pay it back but now am unable to do so with no earnings.
"My grandson, now 13 years old, is paralysed. He is given Rs 5,000 through the Divisional Secretariat, Negombo. But no other help came our way. I asked the grama niladari several times but nothing happened. It is not fair that while some families with members working abroad are getting Samurdhi, we are given nothing. So please help us.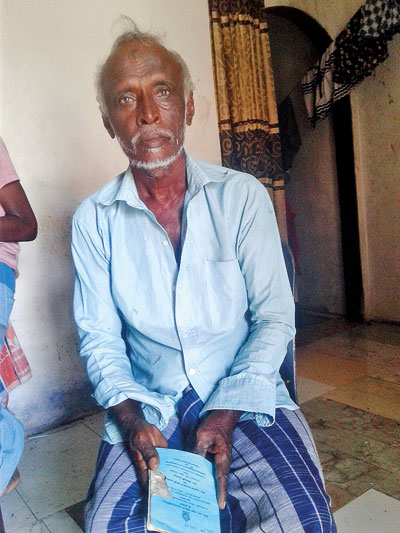 "This is my ancestral home. Now it is in a dilapidated condition. Throughout my life I could not build anything of my own," he concluded.
Speaking to the Sunday Times, 65-year-old Rajin Mazoor of Poruthota said, "I am also a sailboat rider. I have taken to this job since my childhood. I have done this for about 35 years. We don't want to quit this. When the country was normal we earned something. There were days when tourists gave us Rs 5,000 per head. But now we have lost our earnings."
"Another injustice is that there is foul play in distributing relief. We didn't get the Rs 5,000 given during the Covid-19 pandemic. So please help us."
The wind blows over the sea. It brings a smile to the faces of the little ones in the arms of their mothers, joined by the whole family ready to set off on a sailboat, safely handled by experienced sailors hopeful of earning something.
Story and pix by
K L Richard Walter Perera
The best way to say that you found the home of your dreams is by finding it on Hitad.lk. We have listings for apartments for sale or rent in Sri Lanka, no matter what locale you're looking for! Whether you live in Colombo, Galle, Kandy, Matara, Jaffna and more - we've got them all!