Tearing apart myths and fake stories about Pfizer booster as Omicron surges
By Kumudini Hettiarachchi and Ruqyyaha Deane
View(s):
"Only way" to escape severe disease, hospitalisation and death is to get fully vaccinated – the two-dose vaccine topped up by the booster, reiterates expert Prof. Neelika Malavige
Urges those who say Omicron is causing mild disease and not taking their vaccines to look towards the USA, where each day nearly 2,000 people are dying due to COVID-19
Says more than a billion people across the world have got Pfizer and there is no record of blood-clotting
Spreading like wildfire seems to be the apt description for the rampaging Omicron variant in Sri Lanka right now, with positive numbers and hospitalizations on the rise.
Rapid and danna-danna ekkenata hedenawa, with many not even aware how they have come into contact with a positive person, many told the Sunday Times.
"The rapid spread of Omicron was expected earlier in January, but has come soon after the long weekend in mid-January," said Prof. Neelika Malavige, Head of the Department of Immunology and Molecular Medicine, University of Sri Jayewardenepura.
Reiterating that the "only way" to escape severe disease, hospitalization and death is to get fully vaccinated – the two-dose vaccine topped up by the booster, this expert urged people to arm themselves against Omicron with full vaccination and strict adherence to preventive measures – face-mask wearing, hand hygiene, keeping a metre distance and avoiding crowded and closed environments.
Prof. Malavige says that data from other countries gave Sri Lanka a heads-up about six to seven weeks earlier – COVID-19 case numbers shooting up, along with more and more admissions to Intensive Care Units (ICUs). These ICU admissions and deaths in other countries were fewer than during the Delta wave. However, with Omicron too other countries have slid down the abyss.
She urges those who are clinging to the belief that Omicron is causing mild disease and not taking their vaccines to look towards the United States of America (USA), where each day nearly 2,000 people are dying due to COVID-19. Yes, Omicron is milder than Delta, but this does not mean that it is milder in all people, especially in the unvaccinated.
A large proportion of the population is unvaccinated including a significant proportion of those over 65 years old in USA. The logic is that if unvaccinated, even a mild virus can cause severe disease and the chances of dying would be high, she warns, pointing out that even those who have been infected by earlier virus varieties and have developed natural immunity are not protected – they are getting re-infected by Omicron.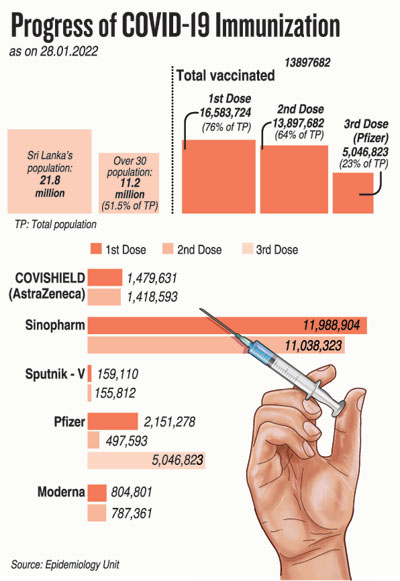 Referring to the "good news", Prof. Malavige says that if a person is fully vaccinated, the risk of hospitalization due to Omicron is significantly lower. The numbers speak for themselves:
If vaccinated with two-doses of a vaccine, the risk of hospitalization for all age groups drops by 50%.
If booster has topped up the two-doses of a vaccine, the risk of hospitalization for all age groups drops by a whopping 90%.
With vaccines reducing the severity of COVID-19 and helping to keep the illness mild, they also prevent people suffering Long COVID, where symptoms such as headache, fatigue, joint pain and loss of concentration persist.
Focusing strongly on the myths and fake stories going around about severe adverse repercussions due to the Pfizer booster, she tears them apart with scientific evidence.
Some people when given the Pfizer booster get fever for a few days. Yes, they do and they can stay at home and recover. But if they get COVID-19, especially those sans the vaccine, they will suffer severe disease and require hospitalization for days and weeks. This would be a "significant" stay in hospital while there would also be a risk of death.
Some people fear that they would get blood clots followed by heart attacks or strokes. No such blood-clotting has been linked to the Pfizer vaccine. This was an issue with AstraZeneca. More than a billion people across the world have got Pfizer and there is no record of such blood-clotting.
Concerns that the Pfizer vaccine can cause death. Prof. Malavige looks at the 2019 Annual Health Bulletin of Sri Lanka and states that even before the coronavirus made its appearance, many people died of heart attacks. This death toll was from heart attacks in Sri Lanka before COVID-19 hit and the booster doses will neither change nor worsen this trend even though people are linking them to it.
Even if a person dies of a heart attack, like he/she may have earlier, if he/she has taken the jab a few days or even weeks earlier, an immediate misconceived link is drawn. If a person dies in an accident after receiving the booster, would people link them together?
It is the same with stroke statistics – as such, how can this be linked to the vaccine? Such incidents are wrongly attributed to the vaccine," says Prof. Malavige.
Vaccines cause impotence, some claim – Prof. Malavige stresses that what causes impotence is not vaccines but COVID-19 infections. Studies have shown that COVID-19 is a risk factor for the new onset of impotence as the sperm count of men can drop to a low level for six months, preventing them from fathering a child.
Vaccines cause fertility issues in women, others claim – Studies have shown that if an expectant mother gets COVID-19, there could be maternal complications and quite a high number of stillbirths and miscarriages have been recorded among those affected by COVID-19. These would be prevented by vaccination.
Many have also questioned the need for boosters, calling them useless on the grounds that they are not preventing infection. If we double back to December 2019, the only reason that COVID-19 received international attention and was later declared a pandemic was because so many were hospitalized, developed severe disease and died. If the virus merely caused a sore throat and fever, no one would worry about it, points out Prof. Malavige.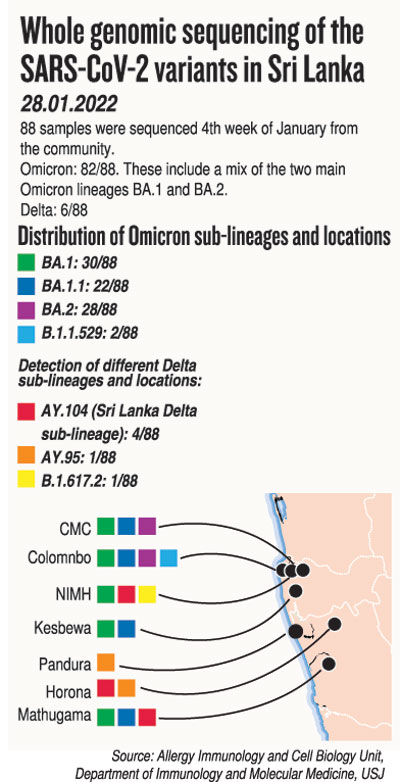 Vaccines, especially topped up with a booster are 'very' effective in preventing hospitalization and death. Therefore, there is absolutely 'no' basis for claims and arguments that vaccines are useless.
Prof. Malavige says that these myths and fake news have originated from a majority of anti-vaxxers who have been around in the US and in some European countries for a long time.
"Here, in Sri Lanka, we give our children their vaccines to prevent death," she says, pointing out that in some US states in 2018 many children (as much as 50% in some states) had not been given their measles-mumps-rubella (MMR) vaccine and many died in an epidemic that was completely preventable.
"There is public trust in the vaccines being administered by the Health Ministry in Sri Lanka and this is why we have almost 100% uptake of all childhood vaccines. The ministry has not let the people down and the public has absolute trust in it. However, in other countries, people with vested interests and some bent on selling so-called immune-enhancing products carry out spurious campaigns against vaccines," adds Prof. Malavige.
Friday's numbers show Omicron dominance
The whole genomic sequencing of the SARS-CoV-2 variants in Sri Lanka performed by the Sri Jayewardenepura University's Allergy, Immunology and Cell Biology Unit, Department of Immunology and Molecular Medicine on Friday (January 28) shows the following:

88 samples from the community had been sequenced in the 4th week of January
Of these 88 samples, the Omicron variant was found to have infected 82 samples – a mix of the two main Omicron lineages BA.1 and BA.2
Of the 88 samples, only 6 were infected by the Delta variant.

More transmissible Omicron sub-variant taking hold of SL


Omicron, a high-intense transmissible variant, has ousted Delta, says Prof. Neelika Malavige, explaining that it has several sub-variants.
They are:

BA.1 and BA.2 – Even though BA.1 was dominant a while ago, BA.2 is displacing it in several countries
This is a pointer that BA.2 is more transmissible than BA.1
In Sri Lanka, BA.2 is making a rapid move upwards.
The best way to say that you found the home of your dreams is by finding it on Hitad.lk. We have listings for apartments for sale or rent in Sri Lanka, no matter what locale you're looking for! Whether you live in Colombo, Galle, Kandy, Matara, Jaffna and more - we've got them all!