Local rice prices leap amid influx of cheap Indian imports
By Kasun Warakapitiya
View(s):
Retail prices of local rice varieties are continuing to jump from one week to another, despite the availability of Indian produce.
The Government claims that imports are being allowed to stabilise prices.
More than 30,000 metric tonnes of Indian rice varieties, not known to be organic, have been imported in the past few weeks, and more stocks are expected in the next few weeks. Imports were permitted to make up for the local production shortfall due to the fertiliser crisis stemming from the government's ban on chemical fertiliser and pesticides.
The special commodity levy of Rs. 65 per kilo was slashed to 25 cents to allow rice imports.
In December, consumer prices surged to 12.1%.
State Trading Corporation, General Manager, Chamila Iddamalgoda said 17,410 MT of Indian nadu and 13,416 MT of samba have been imported so far.
She said the cabinet has approved imports of 200,000 MT of nadu and 100,000 MT of samba from India.
Also, under a government-to-government agreement with Myanmar, the first consignment of 20,000 MT of rice is due soon. An agreement was signed to import 100,000 MT.
Meanwhile, the price of local varieties is rising. Red rice, earlier sold for Rs 115, is selling at Rs 155, while samba, which was Rs 150, has risen to Rs 165. White kakulu rice is also pricier.
Importers confirmed that Indian varieties of rice were flooding the market because taxes have been reduced.
Spokesperson for the Essential Food Importers Association Nihal Seneviratne, told the Sunday Times imports are continuing, despite the shortage of US dollars.
He said importers are also paying demurrage because of delays in clearing the rice cargo.
"Imported Indian rice is available from Rs 100 to Rs 125. These varieties are substitutes for kekulu, nadu and samba. The superior quality substitute for keeri samba is Rs 150 wholesale, whereas local keeri samba is over Rs 250,'' he said.
Farmers complain that imports during the harvest period is directly impacting their sales of paddy as the millers claim that there is an abundance of rice.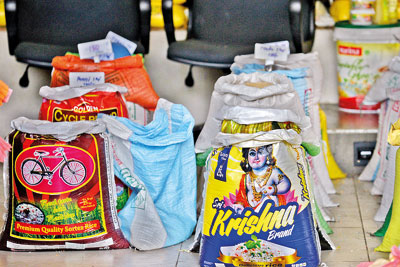 They say even farmers who planted despite the shortage of fertiliser are now unable to get a high price for their produce.
The All-Island Farmers Federation (AIFF) secretary, T.B. Sarath, told the Sunday Times that when rice is imported during harvest season, millers buy paddy at a lower price.
He said that even though the President had ordered that paddy be bought at Rs 95 and the Agriculture Minister had said Rs 75 would be paid, this has not happened.
Paddy farmers in Vavuniya, Batticaloa and Ampara have started harvesting, yet the big millers have only agreed to buy a kilo of paddy for Rs 60.
"We were a country which had excess production, but today we depend on one million metric tons of rice produced from China. No one knows whether it is organic or not. This shows that organic farming has failed," Mr Sarath said.
Small-scale paddy millers say imports mean the demand for local rice varieties will plummet.
They have decided to halt operations because they can't compete with cheaper imports.
The chairman of United Rice Producers Association, Mudith Perera, told the Sunday Times that they suspect that the government had allowed import volumes that exceed the demand.
The demand for local rice has dropped by about 75% he estimates.
"Due to lack of demand for local rice varieties, small-scale millers have decided to temporarily halt milling. Even my mill was closed 10 days ago," he said.
Mr Perera said there are fears that the large-scale millers could buy imported rice and claim their stores are full and purchase local paddy for lower prices.
A wholesaler at the Pettah, who declined to be named, said large volumes of Indian and Pakistani rice have been imported and the varieties are Rs 25 cheaper than local produce.
He said that a kilo of Indian ponni samba is sold for between Rs 130 and Rs 150, while polished 'swarna' nadu rice sells for Rs 130 to Rs 140, while white kekulu is Rs 120 to Rs 140.  
"Swarna' is a variety commonly grown in Tamil Nadu.
The senior research officer of Hector Kobbekaduwa Agrarian Research and Training institute, Nalaka Wijesuriya, said that imports are being allowed to stabilise prices.
He claimed that stocks are plentiful.
However, farmers expect a reduced harvest because pesticides and chemical fertiliser were not available at the right time. They claim the government allowed imports for politicians to pocket illegal commissions.
Mr Wijesuriya said that in 2021, farmers produced 3.1m MT of rice exceeding the annual requirement of 2.5m MT.
"The farmers, paddy collectors, and millers are hoarding rice due to uncertainties in the market. Sometimes, this is done for commercial reasons, such as to create bigger demand. As a result, the price of rice keeps rising," he said.
The government has already imported 74,891 MT of rice in 2021, he said.
The government reduced taxes on imports as the rice prices soared, after price controls were removed in September, he said.
Mr Wijesuriya said harvesting has begun in the north and northeast. Now that foreign rice varieties are being sold, the local millers would not be interested in keeping rice prices high and retain large stocks.
He said that if millers decide to stock up and release less, the consumer demand will be met with imports.
However, farmers claim that millers would purchase imported rice, while urging farmers to sell paddy at a lower price. And they would also maintain their own prices knowing the product loyalty of local buyers.
Trade Ministry secretary, J. M Bhadarani Jayawardhana, claimed that there is no shortfall in local production of rice, and imports were allowed to help control soaring prices.
She said that China and Sri Lanka are preparing documents to import the grant of one million MT of rice.
The best way to say that you found the home of your dreams is by finding it on Hitad.lk. We have listings for apartments for sale or rent in Sri Lanka, no matter what locale you're looking for! Whether you live in Colombo, Galle, Kandy, Matara, Jaffna and more - we've got them all!