Local beetroot farmers beaten by smugglers who brought in 16,000kg
By Kasun Warakapitiya
Customs Spokesman says stocks were hidden in containers containing potatoes
View(s):
Farmers have expressed concern over the smuggling of beetroot into the country with the harvest due to come up next week.
Vegetable farmer Welandage Reginald Kristy, who was waiting to collect the harvest of his beetroot cultivation lamented that he would be forced to sell beetroot for lower prices as imported varieties were already in the market.
"I only cultivated an acre of farm land, but there are 400 to 500 acres of beet cultivation at the Daluwa village in Norochcholai. We had to pay more for fertiliser," he said.
Mr Kristy said they at least expected to sell a kilo of beetroot for Rs 150 to cover costs. He said when there was excess produce in markets they were forced to sell a kilo of beetroot for price Rs 20.
Another farmer, W. N. M Fernando, who also cultivated beetroot said the Government should stop importing vegetables when farmers were about to produce their crops to the market.
He said even though the Government was strict with farmer on organic fertiliser, the Government was showing double standards and allowing imports.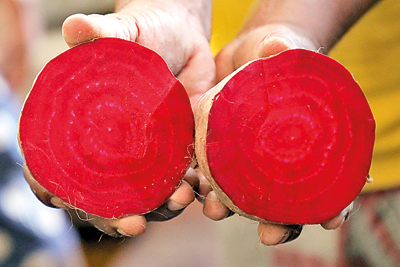 Dambulla traders also said several merchants sold beetroot imported from Pakistan along with potatoes last week. They claimed that the imported variety was sold at half the price of the locally cultivated variety.
Dambulla Economic Centre traders union chairman U. B. Ekanayake said he too learned that a few merchants had brought beetroot from Pakistan and sold it at the market.
Dambulla Economic Centre merchants said even though a kilo of local beetroot was sold at between Rs 320 and Rs 350, imported beetroot was sold at between Rs 220 and Rs 280.
Meanwhile Customs found 16,000kg of beetroot imported at a market value of Rs. three million hidden inside containers which were declared as 53,000kg of potatoes.
Customs officers at the Gray Line 2 container inspection yard under the Central Cargo Examination Division had inspected two suspicious chilled containers which were declared to contain potatoes imported from Pakistan.
However upon examination the officers had found 16,000kg of beetroot hidden among gunny bags filled with potatoes.
Customs Deputy Director and Media Spokesman Sudatha Silva said the beetroot was packed in bags similar to bags containing potatoes and hidden at the far end of the containers.
It was revealed that the two containers were imported from an Indian company by a company based in Wattala.
He said they took into custody wharf clerk who came to clear goods and he was questioned. He said further investigations were held by Customs officials.
The spokesman said following the Customs inquiry the two containers would be forfeited and action taken against the culprits.
The best way to say that you found the home of your dreams is by finding it on Hitad.lk. We have listings for apartments for sale or rent in Sri Lanka, no matter what locale you're looking for! Whether you live in Colombo, Galle, Kandy, Matara, Jaffna and more - we've got them all!