Decreasing water levels at reservoirs deepen power crisis
By Namini Wijedasa
View(s):
At Ceylon Electricity Board's major hydropower reservoirs, water levels are dropping with total storage capacity down on Friday to 56.8 percent from 95.8 percent on November 15, 2021.
Of the six reservoirs–Castlereigh, Maussekelle, Kotmale, Victoria, Randenigala and Samanala Wewa–three (Victoria, Kotmale and Randenigala) cater to the irrigation needs of the Mahaweli zone farmers and, therefore, must minimise the use of water for power generation.
"The Mahaweli Authority has advised the CEB to minimise the use of Victoria and for Randenigala," authoritative sources said. "Separately, Castlereigh and Maussekelle feed the Kelani River and they need to ensure sufficient water is available until rains come. There is a minimum discharge level at these two reservoirs to ensure adequate flow in Kelani."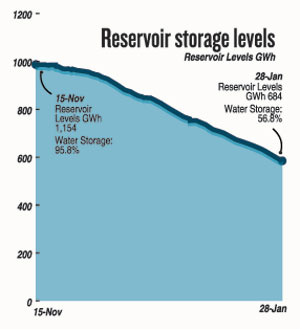 Total hydropower capacity declined from 1,125GWh on November 28, 2021, to 683GWh on January 28, 2022, a reduction of 442GWh or 37 percent in two months. Water must be conserved till at least early June, provided the rains arrive by then.
Use of hydro resources grew rapidly after the massive countrywide blackout on December 3, 2021, which caused serious damage to Norochcholai Unit II. It is still under repair with the date for reconnecting it to the grid put off several times.
This is combined with insufficient foreign currency reserves to procure oil for existing thermal power plants. Electricity is being supplied on a hand-to-mouth basis with power cuts threatened every week.
Nevertheless, the CEB is now running an expensive gas turbine of 115MW 24 hours day and another 16M gas turbine was operated for a total of around 20 hours last week at high cost. When all variables, including diesel, are taken into consideration, the CEB has been forking out about Rs 84.50 per kilowatt-hour for the smaller turbine and Rs 65 per kilowatt-hour for the larger one. The CEB also incurs a fixed cost of Rs 94mn a month for GT7.
Meanwhile, the Government has issued guidelines to expedite renewable energy projects. Guidelines to accelerate the approvals process for renewable energy projects were gazetted by Duminda Dissanayake, State Minister of Solar, Wind and Hydro Power Generation Projects Development. The Government policy is to meet 70 percent of electricity demand through renewable sources by 2030 and the new procedure aims to expedite approvals for projects of a capacity of 10MW or less.
The plan is to quickly sign power purchase agreements under a feed-in tariff method, thereby incentivising private sector developers who are willing to develop projects of 10MW or less.
The Sri Lanka Sustainable Energy Authority (SEA) has been mandated to obtain approvals from other agencies on their behalf. And ministerial-level support will be provided to resolve issues in power project development, the guidelines say.
The project categories are hydro, solar, wind, biomass, and municipal solid waste, agricultural waste and "other" power. Time limits are set for most stages of the approvals process. There are also construction deadlines: hydro, wind, biomass, municipal and agricultural waste power projects must connect to the grid within two years while solar power is given one year.
The best way to say that you found the home of your dreams is by finding it on Hitad.lk. We have listings for apartments for sale or rent in Sri Lanka, no matter what locale you're looking for! Whether you live in Colombo, Galle, Kandy, Matara, Jaffna and more - we've got them all!