Wild weather kills dozens, displaces hundreds of thousands
By Kasun Warakapitiya and Nadia Fazlulhaq
View(s):
More landslides and the danger of coronavirus disease and water-borne illnesses loom large over hundreds of thousands of Sri Lankans across 17 districts made homeless and helpless by the downpours that killed 26 people this rainy season.
Many were caught unprepared.
Inter-monsoon rains in October-November have so far damaged 1,300 houses while 12,000 people have been evacuated to shelters. And another 50,000 have sought safety in the homes of relatives.
Thirty nine houses have been completely destroyed and another 1,390 houses partially damaged. The biggest damage is in Badulla where 658 houses have been damaged. In Kegalle District, 279 houses are wrecked. Floods damaged 112 houses in Jaffna, 112 in Puttalam and 87 in Gampaha.
So far, 12,349 people are in 88 temporary shelters and another 50,602 are with their relatives and friends, according to the Disaster Management Centre.
Its director, Maj. Gen. (Retd) Sudantha Ranasinghe said 230,185 people from 65,580 families in 17 districts have been badly affected by floods/flash floods, landslides, heavy rains and strong winds this week.
Extreme weather has caused havoc. Flooding has destroyed personal property, submerging homes, shops, vehicles as well as public roads. Landslides have buried some homes before rescuers came. In some cities, the floods reached roof level.
Navy and police divers searched for missing people, while villagers and rescuers found bodies under mud and debris in landslide-struck areas.
Jaffna, Mannar, Puttalam districts received heavy rainfall triggering floods.
The biggest number of shelters is in Puttalam where there are 58. Flash floods badly affected more than 139,000 people in the district. Over 10,000 displaced in the district are in shelters, while another 47,710 are staying with relatives. Rainwater filled up the Aruwakkalu garbage landfill.
The Maha Oya overflowed, triggering floods in Alawwa, Divulapitiya, Meerigama, Pannala, Wennappuwa, Negombo, Katana, Narammala and Dankotuwa D/S divisions.
Navy teams helped to evacuate affected families, while police along with local authorities in these areas were seen distributing food.
"Navy crews rescued 95 people in Palaviya and Karambe in Kalpitiya following torrential rains. Similarly, another 77 were evacuated as they had been trapped in floods with the spilling water levels of Ma Oya. Rescue teams reached out to 93 flood victims in Wanathawilluwa, Eluwankulama and Tharawilluwa in Puttalam to rescue them from increasing flood water with the swelling water levels in Kala Oya and Baththulu Oya," the navy media said.
Some navymen rescued another 23 people in Udubaddawa area. Flash floods had been caused by the overflowing of Karambalan Oya. Also, 288 people were evacuated.
The DMC director said due to the pandemic, public in vulnerable areas were asked to stay at relatives' houses if possible to prevent overcrowding at shelters.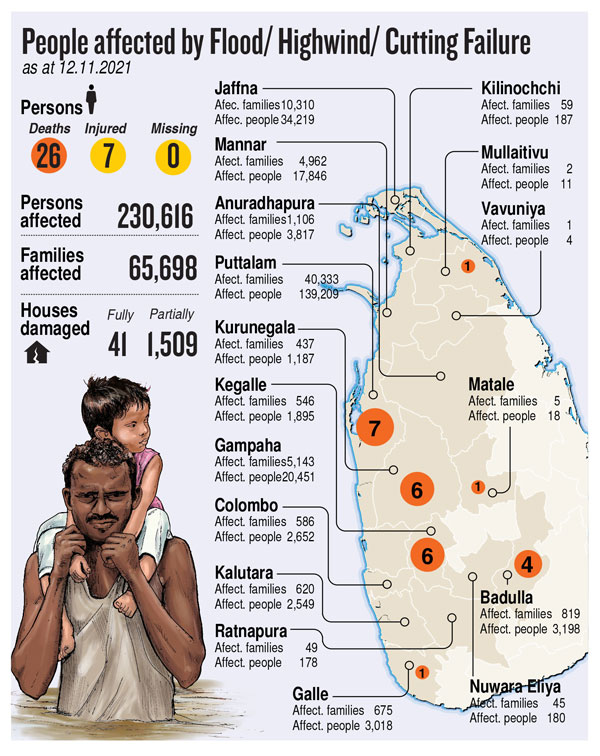 The additional secretary (public health services) of the Ministry of Health, Dr. Lakshmi Somatunga told the Sunday Times that the people and authorities should ensure that health and safety precautions are followed.
"Usually after floods, it's common to have water-borne, mosquito-borne diseases, but now with the fast spreading pandemic, extra precautions need to be taken. Medical Officers of Health are told to continuously monitor with PHIs visiting all shelters to ensure people are maintaining distance, wearing masks, washing hands, and using sanitisers," she said.
The National Building Research Organization (NBRO) issued a red alert (evacuation) warning to Pasbage Korale, Doluwa, Ganga Ihala Korale, Udupalatha, Udunuwara, Gangawata Korale, Harispattuwa and Yatinuwara Divisional Secretariat Divisions and surrounding areas.
An evacuation alert was also issued to Yatiyantota, Bulathkohupitiya, Galigamuwa, Warakapola, Rambukkana, Deraniyagala, Dehiowita, Mawanella, Ruwanwella, Kegalle and Aranayake in the Kegalle District.
A red alert was issued to Polgahawela, Narammala, Mallawapitiya, Alawwa, Mawathagama and Rideegama in the Kurunegala District.
Director (landslide research division) of the NBRO, Dr. Gamini Jayatissa said the red alert warning doesn't mean everyone has to evacuate.
"Families in vulnerable DS divisions are separated into three categories and only high risk families are evacuated. Others are warned and told to be vigilant. High risk areas are identified by NBRO officials along with divisional secretariats and disaster management officers in the respective areas.''
He said there are about 15,000 families in high risk areas and only about 300 families have been permanently evacuated.
"It is not easy to find safe, state-owned land in these areas to be purchased at the given amount. Some people just do not want to leave," he said.
The DMC also announced that legal action will be taken against those who do not heed evacuation orders in high risk areas.
It did not say where families at risk should move to.
A number of roads were blocked due to rock falls, soil erosion, flooding, and fallen trees.
The Chilaw-Colombo main road was blocked after a huge maara tree fell on the main road near Moodukatuwa area.
A video of a hotel on the Gampola-Nuwara Eliya road slipping into the Atabagaya Oya went viral this week. However, police said people around the area had been evacuated.
Additional District Secretary of Kurunegala, W.M.C. K Wanninayake said plans are being made to reduce the number of people coming into shelters to reduce the possible spread of coronavirus disease.
"We planned to keep most displaced in their relatives' houses, and planned to provide more dry rations instead of cooked meals, to reduce the spread of COVID-19 within the nine shelters," he said. "The floods have affected 216 Grama Sevaka divisions. There are about 134 families and 422 people in shelters.''
Kegalle District Secretary, Mahinda S. Weerasooriya said that there are landslides in the district, and the Kandy-Colombo main road via Kadugannawa will remain closed until further notice.
"Officials of the Geological Survey and Mines Bureau, Disaster Management Centre, NBRO and the Road Development Authority are doing surveys to see if the road could be damaged due to a landslide," he said.
Jaffna District Secretary K Mahesan, said one house was completely damaged and another 92 were partially damaged due to floods. He said 48 families are in shelters.
Athula Karunanayake, the director general of the Department of Meteorology, said the low-pressure area formed in the southeast Bay of Bengal has intensified into a depression and is moving West-northwestwards towards northern Tamil Nadu.
"While there will be a reduced rainfall from the low pressure, there will be rough seas and strong winds. We have issued a red alert to the fishing community telling them to not to engage in fishing in northern waters from Trincomalee to Puttalam. The northern areas would experience 150mm of rain due to the depression," he said.
"Western, Sabaragamuwa, Central and Uva provinces as well as in Galle and Matara districts will experience sudden heavy showers and thunderstorms," he said.
Rains from the northeast monsoon are also expected, he said.
Farmers are struggling to protect their crop from fungal disease.
"The crop is infected by fungus due to heavy rains, as there is no good fertiliser to nourish and strengthen the plants. There are no chemical treatments," said the secretary of the All-Island Farmers Federation, T.B. Sarath. "We thought we could grow crops with the rain, but now the rains have damaged the vegetable crop and flooded the paddy fields," he said.
(Additional reporting by Hiran Priyankara Jayasinghe)
It will take at least a week for train operations island-wide to return to normalcy after rail lines were damaged by landslides and floods, said the General Manager of Sri Lanka Railways Dammika Jayasundara.

He said operations on the Rambukkana line have been halted due to landslides especially at Kadigamuwa railway station.

"We are repairing the Rambukkana railway line. In addition the Palavi-Puttalam line was affected by floods. A small portion of the rail line was washed away. This needs to be repaired next week," he said.

---

Rain wrecks northern rice fields

For northern rice farmers who have struggled for months without fertiliser, the flash flooding within weeks of the start of the 'Maha' rice growing season, spells further agony.

Farmer K. Kanapathipillai, from Thiruvaiyaaru, Kilinochchi told the Sunday Times that this week's downpours were another blow.

"We were not able to spray the imported liquid fertiliser because of the bad weather, but we hope to apply them once the weather returns to normal," Mr Kanapathippilai said. But, he said, many farmers do not know how to apply the Indian made "nano'' fertiliser.

In Ampara east, many rice farmers have been forced to sow their fields again after flash floods washed away seedlings.

Mohammed Ismail Mohaideen, president of Sadayaththalawa Farmers Federation which comes under the purview of Navithanveli Divisional Secretariat, said that he will have to re-sow paddy after the water levels drop.

"Now we have to pay more to get seeds. This puts farmers further in financial difficulties. Many are already struggling to get fertiliser and alternative pesticides," Mr Mohaideen said.

---

Eight year old Hasini Bhagya's lifeless body was dug out from the mud and debris of what once was once her home. She died in an earthslip in Dombemada in Rambukkana in the Kegalle District, along with her mother Surangi Lakmali, 34, and cousin Madushika, 13.

Disaster management authorities claim a landslide warning had been given and the family did not evacuate. But there are questions about where villagers, thus warned, can move to. Where are the shelters, and who would look after the abandoned homes.

Hasini's father survived and is in Rambukkana Hospital.

In Wennoruwa, Narammla, nurse Kalani Jayasuriya, 23, died when an earthslip damaged her house. She worked at a private hospital in Colombo and was on leave when the disaster struck.

Her mother and brother narrowly escaped.

Also, an elderly couple from Maduragoda in Kurunegala, were buried in their home when an earth embankment collapsed.

Rescuers searched in piles of mud to recover the bodies of a 72 year old man and his 33 year-old-son after a mound of earth collapsed onto their house in Pussellawa, Galigamuwa. The mother had escaped the natural disaster.

In Wilpola, Paranagama, Kuliyapitiya, a father and son who were returning from a class had been swept away by flash floods while a man gathering coconuts, had been dragged away by a sudden rush of flood waters in Kuliyapitiya.

K.G. Nalin Hemantha, 24, of Alukumbuka Yaya in Rantambe, had been fishing close to the sluice gate of the Randenigala reservoir and was swept away by a strong current.

Indika Tharanga, 48, a father of five, a resident of Kurunda Kanda, Akmeemana drowned in flood waters while attempting to cross the Thotagoda canal in Matara.