The disturbing truth behind social media body pics
View(s):

Body images seen as perfect in Instagram, Facebook  and other platforms make many  Lankan youths feel insecure about their own bodies and drive them to take extreme measures. Renishka Fernando examines the issue and speaks to victims and experts who offer advice to overcome the problem

There was a point in her life when 19-year-old Yehana Somaskanthan's perception of her own body was so bad, she starved herself for days, cried for nights at a stretch and injured herself. She will soon be sitting her A/Levels. "All I saw was this perfect image of how the human body should look like and it was so traumatising," she recalls.

For Sayuru Wellalage, 21, his insecurities started with the memes and jokes shared regarding people who didn't fit into society's "ideal" body types.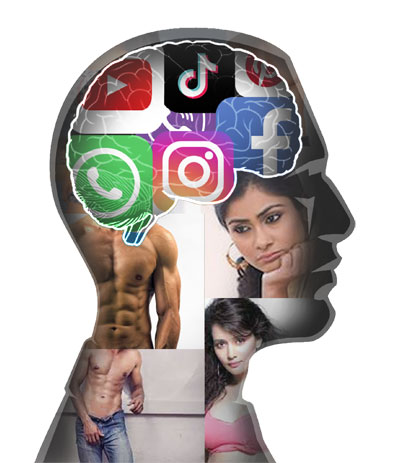 Each time Sayuru visited the social media site Instagram, he saw bodybuilders working out. "It both motivated and demotivated me, because I wanted to go to the gym but I knew that a body like that was impossible to achieve," he said.
Yehana and Sayuru are just two among many of their generation who spend between four and seven hours a day on Instagram. But there are also people who spend just 30 minutes to two hours and still feel unsatisfied with their bodies. Statistics from the Telecommunications Regulatory Commission of Sri Lanka (TRCSL) show that seven million Sri Lankans have access to social media–and that 1.5 million of them are Instagram users.
According to a series of Wall Street Journal revelations dubbed 'Facebook Files', Facebook did little or nothing to regulate harm caused to its users. Memos and internal research presented to US Congress by Frances Haugen, a former Facebook engineer turned whistleblower, uncovered that the tech giant had contributed towards exacerbating teenage mental health troubles. Company data revealed that one in three girls found Instagram made body image issues worse.
A Sunday Times  investigation found the issue also affects boys and LGBTQ people in Sri Lanka. "I just started comparing myself to fitness trainers and I hated it because I knew they use steroids and that I couldn't get there even with hard work," said Eshan Eardly, 20, a sales representative.
"I felt uncomfortable in my body for years because I thought I was cisgender and wanted to work out to alleviate the disconnect I felt by just living in myself," said Vasi Samudra Devi, 26. "I only started feeling better after I began my hormone replacement therapy after coming out as a trans woman publicly. The fitness influencers on Instagram made everything worse." Cisgender describes a person whose gender identity is the same as their sex assigned at birth.
Ammarah Ashraf is a clinical psychologist. Nobody talks about transgender identity issues, she explained, but they are prevalent issues too. "Trans youth tend to struggle when they are confronted with stereotypical gender norms," she said. "However, they are quite resilient because they challenge gender norms as opposed to other youth that compare themselves with girls and boys within a certain age."
Instagram, Ms Ashraf pointed out, had positive aspects. It helped young people stay connected, especially during the pandemic. It allowed them to showcase and explore themselves.
Among the users who had a happy experience with Instagram was Milesh de Silva, 20. "My experience with body image was positive," he said. "I was pretty chubby back then and seeing other people look and feel good made me want to work on myself."
"I definitely had a phase where I just ate grains for breakfast and reduced my lunch and used filters on every other picture but it motivated me to work out," he continued. "Now I don't use filters, manage to eat healthy and stay in shape."
But Instagram also had significant negative impacts because of its strong association with teen depression, Ms Ashraf warned. Studies show that teens using social media for over seven hours were twice as likely to be diagnosed with depression.
The overuse of social media can lead to "constant overstimulation" which can cause the body to be in a continual state of fight-or-flight, leading to physical and mental burnout. "There's a myriad of issues stemming from overuse, like the development of body image issues, depression and anxiety, FOMO (fear of missing out), cyber-bullying and even physical issues like tooth decay, menstrual problems, organ damage and heart problems in the worst-case scenario," Ms Ashraf said.
The Sunday Times conducted an Instagram poll. Of 80 participants, 69% had negative experiences with their body while 31% had positive experiences. The most common reason given by those with negative experiences was that Instagram sets unrealistic body standards and a façade of perfectionism. Filters promoted the illusion of flawless skin and caused comparisons to be made, one poll participant said. The social comparison between the idealised body on Instagram and what he looks like in real life resulted in him having a negative experience, another related.
We conducted another poll that asked whether experiences with Instagram led to extreme measures. There were 55 replies of which 40% said it did lead to extreme measures while 60% said they didn't. Restrictive diets, starvation, excessive exercise, self-harm and binge eating were some
of these harmful habits, besides anxiety and depression.
This problem cannot be regulated by any authority, said Oshada Senanayake, TRCSL Director-General and Chairman of the Information and Communication Technology Agency. The onus was on individuals who must control what they want to see and who they want to follow on Instagram.
"The internet is now equivalent to a 15 billion-lane highway. It is impossible to monitor all of these interactions. We also have a question of infringement of privacy."
Mr Senanayake acknowledged the impact of influences on young people. "What we need to understand is that influencers are monetising, they have a certain agenda," he said. "Brands use this to propagate certain sentiments."
Today, influencers are used by major companies to manage their digital marketing services. Is there a way to regulate harmful content? It depends on the accounts a person follows, Mr Senanayake said. "The best way to ensure that you have a positive impact through your social media is to unfollow, block or unfriend content that you feel is harmful. Self-regulation is the key."
Ms Ashraf called for a safe and healthy home environment where children were accepted and taught to be comfortable in their own skin. "Parents play an important role in teaching children to love and accept themselves," she asserted. "Children in such environments are more resilient when they grow up."
Accept your children, Ms Ashraf urged. Give them verbal affirmations and celebrate them. "Kids should not be shamed," she concluded. "They should be positively encouraged."