Skills and Thrills: Virtual Talent Hunt organised by ICBT Campus
View(s):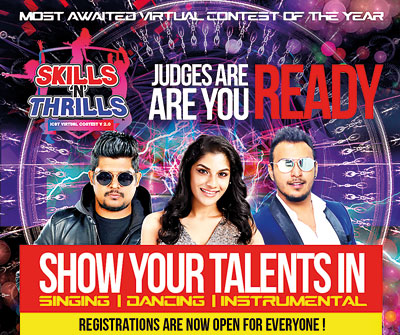 Are you a musician or a singer? Perhaps a dancer? Why not virtually showcase your talent through an online platform with no cost?
ICBT Campus has given the opportunity for talented individuals all over the country to exhibit their talents to the world through the support of "Skills N Thrills" event organised by ICBT Campus.
The competition is accessed based on talent categories in Singing, Dancing and Instrumental Performances. Anyone who is either or between the age of 16 to 30 can apply for this competition at no cost.
There are no registration or participation fees that the contestants need to incur to register for the event. ICBT grants two months to upload their videos to the respective links and the top 40 videos will be selected based upon a voting system in social media online platforms.  The panel of Judges include Mr. Sanuka Wickramasinghe, Mr. Nadeemal Perera and Ms. Windy Goonathilake who will closely examine the talents of participants and select the top three contestants based on considering all the categories.
At the end of the series of competitive sessions ICBT Campus offer cash rewards for the winners; Rs. 500,000 for the winner, Rs. 200,000 for the 1st runner up and Rs. 100,000 for the 2nd runner up respectively.
This event will enhance the ability of the contestants to express their unique artistic abilities to the world. At ICBT Campus with the collaboration of the Judges we ensure the competition is held in a manner in which a fair judgement is being given based on a transparent voting system and true talents.
Registrations are now open. Please use this link to register for this event
www.icbtskillsnthrills.lk. For more information,
contact us on 0114-777888.