AIS STUDENTS AWARDED SCHOLARSHIPS BY PRESTIGIOUS US UNIVERSITIES
View(s):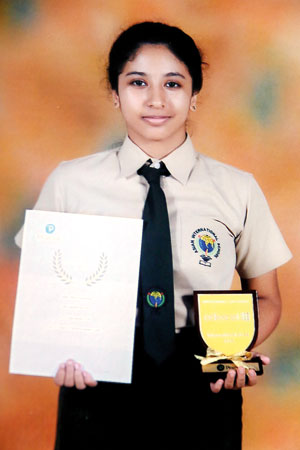 Students of Asian International School have been recognised by prestigious global universities for many years through generous scholarships for undergraduate study programmes.  This year has been no exception as outstanding young ladies and gentlemen of AIS have been successful in securing generous scholarships to top notch US universities.
Seheni Kariyawasan has secured a 100% scholarship to the prestigious Boston University which is one of the most sought-after universities in the East Coast of the United States.  Seheni has been selected as a Trustee Scholar of Boston University which covers full tuition fees for undergraduate students.  Trustee Scholars are selected on their outstanding academic record, their contribution to the school, community and their ability to contribute to Boston University and society at large.  Seheni has also entered the Honors College of Boston University which is a significant achievement.
Apart from her outstanding academics, Seheni made headlines as one of the youngest authors to be shortlisted for the Fairway National Literary Award in 2018 for her book The Chameleon.  Seheni has also been recognised for her wide and varied interests in community service and demonstrated leadership.
These outstanding achievements are a testimony to the all-round holistic education provided by Asian International School which propels students to be recognised as the best in the world by respected seats of higher learning.