After A/L?
Most Important factors when studying Medicine/Engineering /Management /Marin and Maritime abroad
View(s):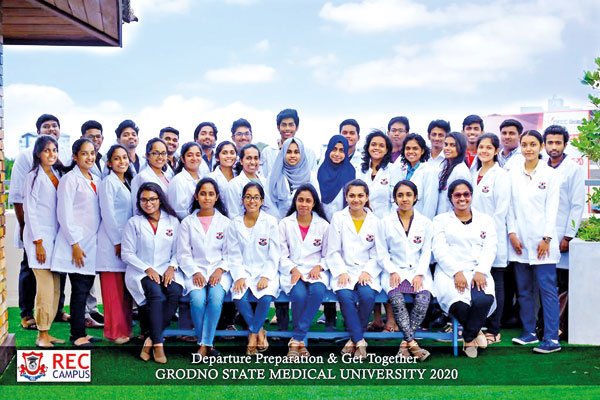 Parents will not hesitate to achieve their child's dream of getting a better higher education after receiving A/L results. It is important for parents to have some understanding of how to guide their child towards foreign education, as a significant number of pseudo-educational service providers have also joined through important areas such as foreign education. Not only that and highly advertising educational institutes mislead students and most of the students come to us to settle their matters after paying a huge amount unnecessarily.  Therefore, it is your responsibility to choose the right educational pathway for your child, and it is as if you're responsible for choosing a trustful institution that works for foreign education with excellent service for many years such as REC Campus, which has over 25 years of extensive expertise of foreign education.
These are the main requirements which should be considered before selecting a foreign education provider for Medical Education.
Minimum A/L results should be 2 credit passes and 1 simple pass (2C, 1S) according to the Sri Lanka Medical Council. (SLMC)
The applying university should be recognized by Sri Lanka Medical Council (SLMC) and World Health Organisation (WHO)
(Foreign medical universities which are represented by REC Campus are recognised by SLMC and WHO)
The most important factor is affordability (REC is a service provider for the lowest fee with no hidden charges.)
 Another important factor is the availability of a Sri Lankan service representative who can work 24 hours a day for the safety of the child in those universities.
(REC Campus has been fully committed to this service for parents and students for more than 24 years.)
How child protection activities are organised during the COVID season
Preparation after graduation for ERPM Examination (Examination conducted by the Sri Lanka Medical Council)
(Full guidance is given on this from Year 3 onwards.)
 How to guide for exams in countries such as England, USA, and Australia after graduation.
(A separate agency has been set up at the REC Campus for this purpose
 Educational Bank loan facilities.
 Special offers and scholarships for best performance in A/L
 Preparation before Departure
(A totally free introductory course in Medicine and Languages is offered for the registered students and the class is conducted every Sunday at 9.00am to 1.00pm. Call 0711-101010 for more details and registrations)
 Can you choose a university that suits your affordability?
 Students can start the medical degrees at the lowest cost from $2250 onwards. (Rs.450,000)
Tver State Medical University, Russia
Grodno State Medical University, Belarus
1st Moscow Medical University, Russia
 2nd Moscow Medical University, Russia
n Peoples Friendship University, Russia
n Stradins University, European Union
n Tbilisi University, Georgia.
n When should the registration be done?
This should be done expeditiously as there are limited registration opportunities. Call 0711101010 for details.
The Riga Information and Study Centre, set up to pursue a degree in engineering or management at REC Campus, has already attracted a large number of students to Europe, with the possibility of finding part-time employment during studies. Students with A / L results of 3 simple passes, can apply for September intake directly and must register before June 30th. Most children afraid and worry about their English Language skills when applying to Europe. Now no need worry at all as at the special request of REC Campus, the university has started the 1st semester in Sri Lanka and then direct students to the university for the 2nd semester. The Sri Lanka based study programme has been conducting successfully since 2015 under the supervision of the university officials and the Sri Lankan experienced lecture panel. It costs around Rs. 350,000 to start the first semester for this course.
Riga Technical University – Latvia, in the European Union offers bachelor degrees in aeronautics, computer science, industry, electrical and management, and hospitality management degrees from the University of Turiba. Latvian Maritime Academy is providing a valuable opportunity for a degree in the field of shipping as well.
Marine Engineering
Navigation
Port & Shipping Management
Marine Transport (Logistics)
REC Campus has now introduced a number of golden educational opportunities for Sri Lankan children, especially for those with the highest earning naval degrees.
The Russian Educational Centre at the REC Campus also offers Sri Lankan students the opportunity to pursue a degree at world-renowned Russian state engineering universities.
Dear Parents, As you strive to make the dream of your son's or daughter's higher education a reality, REC Campus guarantees that you will be with us not only for the bachelor degree but also for post – graduate and professional opportunities.
Join now with the only institution in Sri Lanka that offers world renowned foreign medical education at the lowest cost.
Join the Free Virtual meet up
on 6th of May at 7.00pm.
For webinar registration
Call -  0711101010 / 0711-707070
www.reccampus.com,
www.russianec.com,
Visit Facebook: Russian Educational Center, REC Campus,
Grand Royal Education.
Address: No.181,
High Level Road,
Nugegoda
The Riga Information and Study Center, set up to pursue a degree in engineering or management at REC Campus, has already attracted a large number of students to Europe, with the possibility of finding part-time employment during studies.