Congratulations to the Graduates of IVY Girls Lead – Sri Lanka Edition!
View(s):

Academics Group together with IvyPlus Network transforming young women into inspiring future leaders!

On 26th March 2021, the IVY Girls Lead – Sri Lanka Edition held their graduation ceremony virtually, celebrating 25 ambitious young female leaders that successfully concluded the intensive, 10-day virtual programme presented by the Academics Group together with IvyPlus Network.

Ivy Girls Lead – Sri Lanka Edition is crafted for young females aged 15-21 and aims to inspire, engage, guide and empower their new perspectives, entrepreneurial spirit and exciting ambition.

The intensive 10-day programme includes group discussions, talent-analysis activities, a powerful panel of global female industry leaders as keynote speakers and mentors, ready to inspire ambitious female participants that have the potential and the enthusiasm to revolutionize the future.

The programme was pioneered in Sri Lanka by Academics Group – Sri Lanka's first cross-sector education think tank. Academics Group – based in Colombo and spearheaded by Balendran Kandeban, an alumnus of Harvard Business School – was founded by a group of top professionals from cross-sectoral disciplines focusing on education reform, technology, and innovation. IvyPlus Network – founded by Swati Sahni, a Harvard Alumni is a renowned global professional network that brings alumni from Ivy League and top global universities together.

The graduation was a joyful ceremony and the night's conversation highlighted the importance of empowering a generation of young girls to follow their entrepreneurial instinct with the right tools and knowledge to become leaders of positive impact.

Through the programme, graduates learned valuable lessons in cultivating strong leadership traits, sharpening business skills, being in tune with your interpersonal relationships and more through different themes that structured their learning.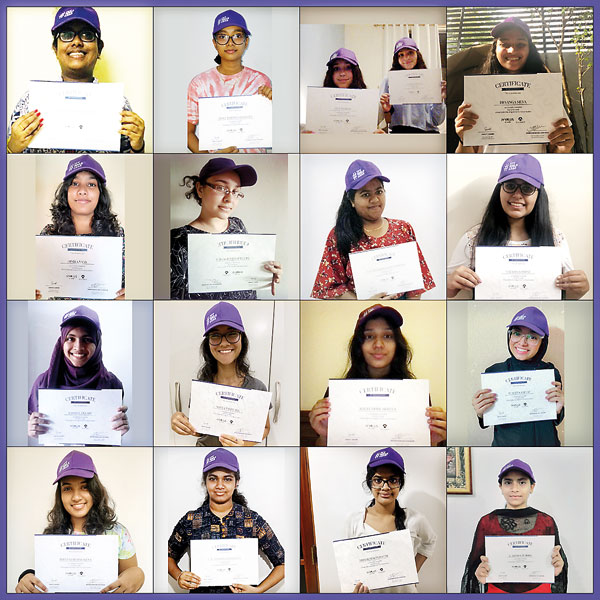 They also had the chance to connect with internationally acclaimed female leaders such as – Kasturi Chellaraja Wilson (Sri Lanka) – Group CEO, Hemas Holdings PLC; Christy Rutherford (USA) – Founder, Vision Finder International; Inakshi Sobti (India) – CEO of Asia Society India Centre; Dr Shanika Arsecularatne (Sri Lanka) – Director, Christell Luxury Wellness; Selyna Peiris (Sri Lanka) – Business Head & Director of Selyn; and Sonia Dandona Hirdaramani (New York/ Sri Lanka) – Board Member of United States-Sri Lanka Fulbright Commission, Ruchi Sharma (India/ Sri Lanka) – Founder & CCO, Human Sence; Achala Samaradiwakara (Sri Lanka) – Co-Founder & Managing Director, Good Market Global.
Young female students across the island had the opportunity to be part of the Ivy Girls Lead programme and our graduating class consisted of ambitious future leaders from Bishop's College, Overseas School of Colombo, Ayesha Muslim Ladies College – Akkaraipattu, NIBM, Stafford International, Lyceum,APIIT, Royal International School – Kurunagela, NSBM, Amina Girls'National School – Matale, Asian International School, and more.
One of our participants, Devanga Silva of Overseas School of Colombo mentioned, "this programme has been one of the most holistic ones I have attended thus far; I came into this experience open minded setting my expectations at a fairly average mark only for them to be exceeded in a plethora of aspects. It was amazing getting to interact with the guest speakers; a selection of women who have found their success as empowering roles in the corporate world and day to
day life."
Geethmani Bandara, of Royal International School Kurunegala shared her thoughts of the programme saying "thank you for giving me a marvelous experience with IVY Girls Lead programme. This is truly a turning point in my life and I am excited to apply everything I have learned to reach my goals in the future"
Mallika Shankarnarayan, The Key Note Speaker and the Programme Director at Miami Ad School Sri Lanka & Maldives – joined the graduation to celebrate the girls who have shown remarkable talent and fresh perspectives of an impactful leader.
Sharing her insights and experience as a pioneer in the global strategy arena who has revolutionized brands such as Unilever, Coca Cola, Heinz, Johnson & Johnson, and more, Mallika said "Sri Lanka is a force to be reckoned with,
and it has a history of really strong women".
"To be a strong female leader, you have to be a strong woman first. You will also have to be strong to be a force to be reckoned with and to shatter glass ceilings. And today I will share three important things that build the foundation of a strong woman – one, authenticity – being true to who you are from your origins, culture and community. Two, speak your truth – with grace and without an apology. And third, feed yourself – physically, emotionally, socially, spiritually – and nurture yourself with positive relationships" said Mallika, congratulating the young graduates.