Young family lost because authorities didn't care enough
By Nadia Fazlulhaq
Hills are alive with unsound buildings - 'Boowella' ground could not support five storeys
View(s):
Lack of finance for geosurface analysis, political interference at local authority level, failure by the State to obtain professional assistance and the absence of continuous reviews of buildings is putting lives in the central hills in danger, experts warn.
The tragedy this week at Sangamitta Mawatha in Buwelikada, Kandy that took the lives of a young family could have been prevented if early preventive measures had been taken, experts said.
Today, the house and boutique hotel owned by lawyer Achala Ekanayake, 32, and her husband, businessman Chamila Prasad, 35, is a huge pile of debris. Where once was heard the sound of lullabies and baby cries and giggles, there is now silence.
The catastrophe occurred when the adjoining five-storey building collapsed in the early hours of September 20, burying one-and-a-half-month-old baby Onela and her young parents. Army and police rescue teams first recovered the baby but she died on admission to hospital. The bodies of the parents were recovered almost eight hours after the collapse.
The owner of the five-storey house, Anura Lewke, his wife and children, escaped unhurt when their house collapsed. They gave no warning of impending collapse to their neighbours.
University of Peradeniya Senior Professor of Geology, Athula Senaratne said the name of the suburb where the house lay, Bhuwelikada, means " boowella" or loose soil, which would indicate the ground could not support a weight of five storeys.
"The foundation itself is in question," Dr. Senaratne said. "It is clear that it was not built according to construction standards, and not even included in the original plans is the fact that the intention was to put four more storeys.
"Since 2011, it has been compulsory to obtain NBRO clearance. But this building was constructed in 2006-7. We have doubts about the foundation," Prof. Senaratne said.
A circular was issued in 2011 (No. NBRO 2011/1) following a Cabinet decision giving powers to the NBRO to issue Clearance Certificates through Landslide Risk Assessment Process (LRAP) for any construction activity proposed in 10 landslide- vulnerable districts: Nuwara Eliya, Badulla, Kegalle, Kalutara, Kandy, Matale, Matara, Galle and Hambantota. It is compulsory to obtain NBRO clearance at the initial stage of any development activity.
"It was noticed that some gullies coming down the slopes were blocked both above and below by houses," Prof. Senaratne said. "There is also evidence of a pipeline leakage. There have been multiple failures that have led the ground to let go of the construction that it could not bear any more."
He said the government should not wait for an emergency to call on the advice of experts, whether geologists, structural engineers and planners, but obtain their support continuously, eliciting assessments and recommendations.
"Our universities are geared with the most qualified persons – there are so many volunteers from the Peradeniya University itself. It is saddening that our expertise is rarely requested," he said.
Local authorities, the main approval bodies, especially ones run by pradeshiya sabhas, have greater political influence in construction in Badulla, Kandy and Nuwara Eliya districts.
Prof. Senaratne said the Tourism Ministry also should initiate a general assessment of properties in the Central and Uva provinces.
"There are many risky constructions in the Ella, Bandarawela and Haputale areas. Not all need to be removed or relocated; there are plenty of remedial measures to strengthen the structure," he said.
The head of the National Building and Research Organisation's (NBRO) Landslide Division, R.M.S. Bandara, said approval agencies, namely local authorities, had failed to conduct post-construction reviews.
"This young family fell prey to a construction of a multi-storeyed building that was built in a way that the soil of the valley could not cope with. The foundation was laid for two floors but ended up supporting five storeys. The soil failed to carry the weight of five floors. With rains, the valley can have a certain amount of erosion. This collapse is not due to a landslide or land subsidence but mainly to a construction default," he said.
Mr. Bandara said since the guidelines were issued in 2011, more than 90,000 building reviews have been conducted and recommendations made.
"But then approval agencies should make sure the owners follow the recommendations," Mr. Bandara said. "The absence of this has led to building owners putting up storeys without informing the approval agency."
Kandy Municipal Commissioner Chandana Tennakoon said cannot comment as a report on the accident is being prepared for the Central Province Governor.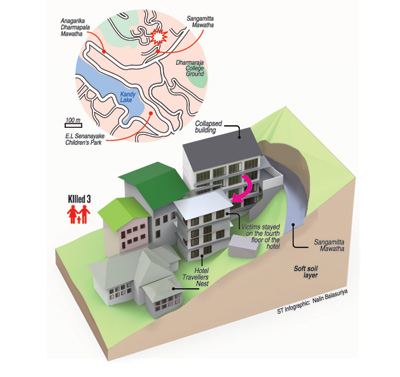 The senior geologist attached to the NBRO's Kandy district office, Samantha Bogahapitiya, said at present the soil is observed by its outer appearance. Geo-technical analysis of a slope needed drilling to bedrock.
"It is a good move to conduct a building survey for buildings before 2011. That won't be an easy task as Kandy itself has about 35,000-40,000 buildings," he said.
Senior Superintendent of Police (Kandy), Sudath Masinghe said as this was a construction failure, original documents including plans are to be submitted to court for further action to be taken.
"If it is proven that the owner has not taken precautionary measures or has misled authorities, it will be deemed a criminal offence due to the deaths of three people," he said.
He also said the owners had acted irresponsibly by not informing police or neighbours when there were signs that their house could collapse.
Officials from the Kandy Municipal Council refused to comment on this.
Additional reporting and pix by our Kandy Correspondent Shane Seneviratn
How a five-storey house started from the bottom

By L.B. Senaratne in Kandy  

The owner of the collapsed five-storey building, Anura Lewke, a former Basnayake Nilame, had obtained approval for the building in Bhuwelikada in 2007 stating he intended to build a basement and one floor, according to the records now in possession of the Urban Development Authority.

The Bhuwelikada area has become increasingly popular among local and foreign tourists visiting Kandy. Guesthouses and rest rooms are mushrooming in the area.

The Director of the Urban Development Authority (UDA) in Kandy, N.A.S.N. Nissanka, said only a detailed investigation by qualified engineers could reveal the cause of the collapse.

"The first application for this building was made in 2006 to the Kandy Municipal Council's (KMC) planning committee. In 2007, approval was given by the planning committee, where the UDA has a representative, for a basement and one floor.

"Then in 2009, another application was made for a basement and two floors. Then, in 2016, another application was made for a basement and two other floors," he said.

Each time, approval for the building work was granted by the municipal council.

Mr. Nissanka said the problem lay with many applications being submitted with the basement being mentioned in all of them.

"The KMC's planning committee should also be held responsible," the UDA Director said. "There is a shortage of staff to monitor such constructions but, then, this building stood out prominently, being a huge, five-storeyed building.

"It is also a concern that the KMC granted approval for another basement on top of a basement. This is highly suspicious," he said.

The UDA has reportedly sent its findings to the Presidential Secretariat.

Central Province Governor Lalith B. Gamage said plans are underway to identify all unauthorised buildings or parts of buildings.

---

Mother weeps for the family buried alive

Building collapse survivor Jayanthi Kumarihami Ekanayake, 59, wept as she described how she visited her late daughter, Achala Ekanayake, to help take care of baby Onela.

"That night," she said, "we went to sleep at about 11pm. When I woke at 1am there was no sound. Later, still early in the morning I woke up hearing a loud crash to find the wall of my room slanted over and the ceiling fan hanging by wires.

"I immediately took my phone and called 119. Only after two hours did I realise that the five-storey house next door had collapsed onto ours. I kept shouting out that there are three others in the house," she said.

"I plead with President Rajapaksa to instruct officials to take strict action against those who do not adhere to safety measures despite their position or rank," Mrs. Ekanayake said.

The young woman who died, Achala, from Keppetipola, Welimada, came from a family of vegetable farmers. A bright student, she passed the Grade 5 scholarship examination and entered Bandarawela Central College from the junior school in Welimada.

Obtaining a law degree from the Open University, she took oaths as an attorney-at-law in 2018. While working as a lawyer in Nuwara Eliya she met Chamila Prasad through a mutual friend. They were married in November last year and on August 1 this year, baby Onela was born.

"Both of them lived on the top floor of the hotel owned by my son-in-law," Mrs. Ekanayake said. "After the Easter Sunday attack and COVID, the income from the hotel was limited. Because she was expecting a baby and because of the COVID threat Achala decided to stay at home while her husband ran a small eatery in Kundasale," the distraught mother said.

Chamila Prasad had lost his father recently and his mother died when he was just five years old.   "Chamila was overjoyed when his daughter was born; he was a hands-on father, always helping his wife whether it was cooking, sweeping or even singing lullabies to his newborn daughter," Chamila's relatives said.

His eldest brother, who lives in the United Kingdom, was permitted to attend the funeral under strict quarantine regulations and allowed to pay his last respects while in an ambulance. The sight of the weeping uncle showing a smiling photo of baby Onela brought tears to many at the funeral.
Suspect building application bypassed most officials
Central Province Governor Lalith B. Gamage said everyone who had given approval for the construction of the five-storey building that collapsed should be at fault."By Monday (28) we will receive the complete report from the NBRO on the possible cause of the collapse," he said.

The Sunday Times has learned that although all members of the Planning Committee of the Kandy Municipal Council should sign documents of approval of construction applications, only two officers had signed one of the applications to build additional floors onto the building at the centre of the inquiry.

According to a municipal engineer, there are 256 illegal constructions in the Kandy municipal limits.

A lobby group, the Organisation for the Protection of Public Property, said it had raised questions of the number of illegal buildings  in Kandy and the number of cases filed in the courts to demolish property built over public drainage lines.

Organisation Secretary Anura Gonawela said demolition orders for nearly 250 unauthorised constructions have been obtained from the Magistrates Court, but these orders had not been implemented. "That makes it contempt of court as well," he said.