Part of Jaffna's heritage in stone disappearing
By N.Lohathayalan
View(s):
In the north, monumental stones built centuries ago, for the common good are in danger of disappearing.
No effort is made to protect them, and the young are not being taught their cultural value.
In the past when there was no modern transport, men carried loads on their back and shoulder-high chumai-thaangi (load carrier) stones allowed them to rest a load and carry it again without help from others.
There were also other stones for cattle to scrub themselves against (back-scrub stones), stone water-troughs for cattle, rest-houses for travellers to rest, and pools for bathing and cooling off.
Well before motorised transport was available, rest houses, bathing pools, chumai-thaangis and yes, back-scrub stones were introduced, over two millennia ago, says Jaffna University's Professor of history, P. Pushparatnam.
"These landmarks have been vanishing with the introduction of bullock carts. These were put-up by the rich benefactors among us; some as memorials and even as Shiva temples.
In Vadamaratchy, just one person has put up these fixtures in seven places," Prof Pushparatnam said, while stressing that in Portuguese times these stones were spared because they were not seen as idols.
Prof. Pushparatnam believes that back-scrub stones together with monastery-like rest houses, chumai-thaangis, and water troughs for cattle, all worked in unison to create a unique culture. This was visible only in Jaffna. There is evidence that in the 17th century, back-scrub stones were erected. The evidence is found in stone inscriptions called Veeraaththai.
Currently, the Archaeology Department has put up sign boards around those monumental stones and in some places fenced-off the area from public access.
Even today, such cultural treasures are now seen in Jaffna's Kayts (Karaitivu) and Delft (Neduntivu) but 60 years ago over 1,000 of these were scattered across the peninsula, according to Prof Pushparatnam.
"These were centred around the road system of the time, that is to ease the thirst of stray cattle and rest houses for pedestrians. As pedestrian pathways were widened into streets, those who did not recognise their importance and greatness as cultural landmarks, destroyed them to our great detriment," he explained.
Three years ago, 36-year old R. Nishanthan, a building contractor who lives on Changiliyan Road in Nallur, erected a back-scrub stone in front of his house with a water trough next to it.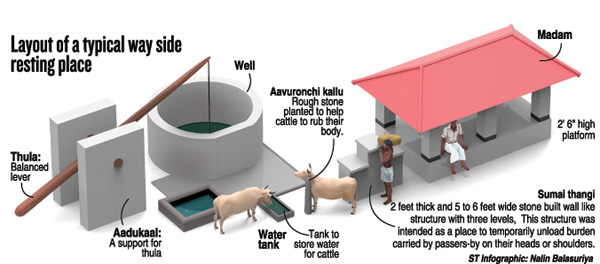 Asked for his motivation, whether he knew the cultural importance of the stone and from where he got it, he said that in the times of kings and colonial rulers, these symbols showed how our forebears looked after cattle.
"They are a symbol of that heritage, a monument to our kindliness from the time of Asoka's missionary monks who built animal hospitals [third century BC] to the Tamils' Buddhist period. Wherever we had water in Jaffna, back-scrub stones were built," he said.
Mr Nishanthan alleged that those terrorising people by moving fences near water resources, struck down the chumai-thaangis and discarded the rubble.
"This stone that I planted is from the rubble of such a monument that I picked up," he said.
By the entrance of Shroff's Rest House in Naguleswaram temple, Keerimalai, Jaffna there used to be chumai-thaangi, a back-rub stone, and a stone trough but the chumai-thaangi is now missing.
According to an inscription in the area, they were built over 150 years ago because their creator was Kathiravelu Shroff of Hong Kong Bank. It is over 110 years since his demise in 1909. It is he who established the back-scrubbing stone at the Sandilipai school, and the scrubber next to it.
Locals noted that it has not been possible to get permission from the Archaeology Department to renovate the rest house.
Elders of the area say heritage must not be sacrificed for progress.
Registrar A. Senthilkumaran, 58, said that as a schoolboy travelling from the Jaffna Post Office to Kankesanturai, he had seen more than 15 of these heritage monuments, but all of them had disappeared.
Similar monuments in front of the Nanthavil Muniappar Temple have all vanished except for the water-trough.
Markandu Arulchandran, a cultural officer of the Jaffna District Secretariat, said there are many such load carrier stones that are still protected by the Archaeological Department.
According to him, those load carriers, back-scrub stones for livestock, and rest houses for travellers were setup centuries ago for people who walked to their destinations.
"There were instances where load-carriers were built by influential families in the belief that the women in those families would be able to give birth without problems,'' Mr Arulchandaran said.