Reaching Greater Heights with a BSc (Hons) Business Administration Degree from BCAS Awarded by the Solent University, UK
View(s):

The BSc (Hons) Business Administration degree is offered in Sri Lanka through the BCAS Campus- School of Management and awarded by the Solent University, UK. The British College of Applied Studies (BCAS) has over 21 years' experience in the private tertiary education sector, and its collaboration with the Solent University, enables Sri Lankan students to study for the BSc (Hons) Business Administration degree right here in Sri Lanka!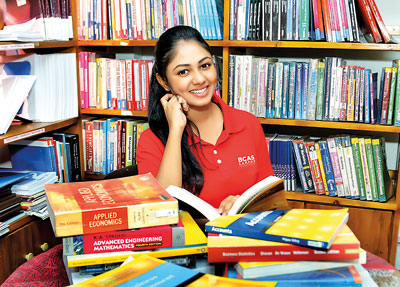 This is a prestigious Top–Up degree that encompasses an in depth syllabus covering key business related subjects, and focuses on harnessing the student's managerial and entrepreneurial skills. The programme concentrates on the major topics: "Strategy for Management and Marketing", "Business Finance Management", "HR Management" and the relevance of "Cross-cultural Management" in the context of today's challenging business world.
Earning a BSc (Hons) Business Administration degree will improve your business prowess in the managerial sector while adding value to your organisation. To enroll for the degree, you would require an entry level qualification of BTEC HND or its equivalent.
The Degree is of one year duration, delivered through convenient lecture schedules and focuses on providing students with the opportunity of developing their knowledge of the main business functions in relation to an international environment. By enrolling for the BSc (Hons) Business Administration, you become an internal student of the Solent University, UK. Upon successful completion; the degree will be awarded directly by the university as an internal degree which is recognised by the UGC in Sri Lanka.
BCAS Campus was established in 1999 and is a highly ranked private higher education institution in Sri Lanka, offering more than 30 academic and vocational courses in a wide range of streams from Civil Engineering to Hotel Management. These programmes are offered at Degree Foundation, BTEC HND, Undergraduate and Master's level. Prof. Swarna Piyasiri – Dean, Academic Affairs at BCAS (Former Dean at Sri Jayawardenepura University) and Prof. Kshanika Hirimburegama (Ex-VC, University of Colombo, Ex-Chairperson, UGC, and lead member of the Board of Governors-BCAS Campus) lead the acclaimed academic programmes department.
BCAS provides a student-friendly environment with modern learning facilities and has established itself in Sri Lanka with key campuses in Colombo and Mount Lavinia, along with three regional campuses in Kandy, Jaffna and Kalmunai. With its exemplary record in academic achievements and teaching excellence, BCAS has won more than 18 local and international awards. Choosing to join the BSc (Hons) Business Administration from BCAS will enhance your career prospects and determine your future success in the world of business!
For further details please contact: Ms. Divya on 077 283 4595 or Ms. Olivia on 077 711 0833.