Equipping Young Adults to Shine with Public Speaking and Soft Skills
View(s):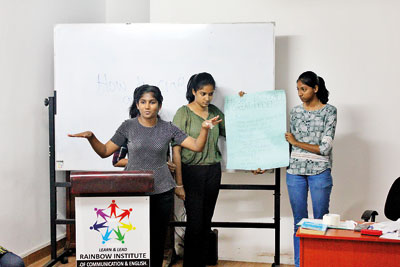 How do you get that cutting edge to face the next steps with confidence in the competitive environment of today?
Whilst  the school curriculum focuses on academics with some extra- curricular activities, it is mostly outside the school that one acquires the soft skills that are critical  to make one a true lady or gentleman who can make an impact in society,
The Rainbow Institute, a centre of excellence in training in Public Speaking, Soft Skills and English, is committed to help you.
Many youth, adults and children who have gone through its' doors now shine as confident communicators with sound values.
Enrolment is now in progress for the new batch for the popular Rainbow Institute Soft Skills and Public Speaking training.
SOUND VALUES
The training provides youth with important life skills and sound values, as well as skills in public speaking.  While you learn and practice the art of being a confident and powerful public speaker, our training is designed to inculcate in participants the soft skills needed to be a leader who makes an impact in society.
PROESSIONAL WRITING
As you prepare for your next steps, our training will also provide a  foundation  in professional and academic writing in English.
FUN- FILLED LEARNING
In the highly competitive academic environment that young people   have to deal with, Rainbow Institute provides two refreshing hoursof exciting and fun – filled learning and skills development.
PERSONALISED COACHING
This    training provides personalised coaching over a duration of 30 hours. (approximately, 4 months,)
As sessions are limited to small numbers, each participant gets individual attention and is guided to bring out the best of his or her own distinctive strengths.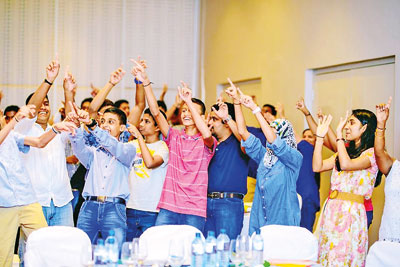 INDIVIDUAL COACHING
Rainbow Institute also offers individual coaching forstudents want to excel in English and also for those who take part in Speech, Debating and Oratorical competitions.
Many students from the Rainbow Institute have shone at school and won awards at national level competitions.
COURSE DIRECTOR
The empowerment programmes at Rainbow Institute are directed by eminent University academic, trainerand mentor of young people – Dr.MahimMendis.
Dr Mendis has a BA (Hons); Kelaniya, Sri Lanka, MA (Lancaster) UK; Phil (Leicester) UK, and Phd (NUS) Singapore. He is also a Post- Doctoral Scholar, University of Northern Illinois, USA and University of Massachusetts, USA
DrMahimMendis, a product of St Thomas' College, Mount Lavinia, has been mentoring and teaching   in Sri Lanka and abroad for three decades.  Dr. Mendis, the former Spokesman of the Federation of University Teachers Associations (FUTA), is well known as a powerful public speaker.
DrMendis is supported by dynamic young trainers with high credentials and international exposure.
They are now ready to bring about a life changing turning point for a bright future for young adults.
Act Now.  Call   Lovelyn   on 077 509 0400 Ruth on 077 341 4683  for further information to arrange personalised coaching or join a small group class to suit your specific needs and convenience.
RAINBOW INSTITUTE OF COMMUNICATION
28, School Lane, Colpetty, Sri Lanka 
Web: www.rainbowinstitute.lk
Facebook: Rainbow Institute Lanka Pvt Ltd
E mail : Info@rainbow.lk
Rainbow Institute Lanka Pvt. Ltd
No.28, School Lane, Colpetty
www.rainbowinstitute.lk |
www.facebook.com/RainbowInstituteSL