The 'Creative Future of Tomorrow' is Visual Communication Design
Interview with AOD's new Dean of Academics, international design educator Derrek Black
View(s):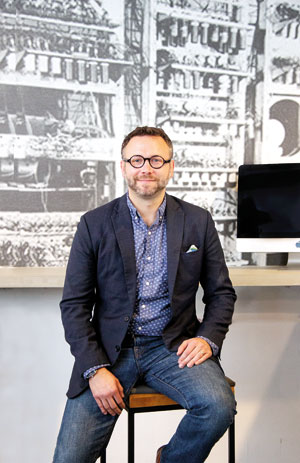 Derrek Black M.F.A. has an impressive history in design and education with partnerships and networks weaving throughout the world. He says that his passion for education was uncovered by accident, after accepting an invitation to lecture in the visual communication programme in Indiana (USA). Following a presidential fellowship and an M.F.A. in graphic design from SCAD, Black worked with them for over a decade at various campuses across the globe from Savannah, Hong Kong, and eLearning. In January 2020, Derrek Black was appointed the Dean of Academics for Aod in Colombo, Sri Lanka. Here, Derrek will lead a team of international academics, teachers and researchers to help Aod students to learn and integrate the kind of skills that will be most valued in the future workforce. Derrek's thinking is in line with AOD's vision to combine creativity, technology, and industry. "I want to cultivate in each one of our students, a strong ability and passion to be the innovation leaders of tomorrow, today," he says.
What Derek brings to Aod is a powerful mix of industry experience from around the world, and over a decade specialising in creative education. Derek's design career started with in developing environmental graphic design, promotional items and interface design for an architectural firm—an experience that he used to then launch a full-service design studio serving a vast spectrum of clients from local artisans to major corporations. This design studio led Black to bigger opportunities such as designing interesting spaces for large-scale projects like medical and educational facilities, and even award-winning way-finding and environmental design projects. During his career as an educator, Black went from teaching visual communication to specialised areas like typeface design, typography, graphic design, interactive design, advertising, illustration, game design, and even foundation art and design. Derek was also instrumental in setting up several new programmes of study for both online and ground courses, at SCAD's various global operations. But for Derek, the most interesting and groundbreaking work he did in his career as an educator was in forming industry-designer collaborations between students and businesses; "I was very lucky to lead several high-level industry collaborations guiding students to successfully work with Delta, Disney, HSBC, FANCL, Commonwealth Bank of Australia, Sino Group, Hasbro, and Universal Studios Japan. These projects allowed me to not only guide students in producing exceptional work but to also present them to the heads of these major corporations with confidence," he says. Before joining AOD, Black was served as the Associate Dean of Academics for SCAD Hong Kong between 2015-2019. Here, Black mentored a global faculty of educators to provide an exceptional education for art and design students while building a strong supportive community of teaching and learning.
Since his appointment at AOD, and even a few months before taking up the position, Derek started gaining insight into the Sri Lankan career landscape, industry demand for innovation and even the parent and student psyche, starting important conversations with these parties. He found this process particularly useful in defining the subtleties of design disciplines, and what specialisation of each may mean when it comes to careers.
Given his vast experience in visual communication and graphic design, Derek is able to give some useful insight in this area. "Some of the more typical questions that I get from prospective students and sometimes parents are connected to understanding the difference between visual communication and graphic design, the kinds of jobs that the courses can prepare them for and why they should study it," he said. He went on to explain that 'graphic design' is much more narrowly focused than the term 'visual communication' while most universities and cultures use them interchangeably. He encouraged both parents and students to ask questions on what the programs actually teach and the kinds of careers they prepare alumni for, mentioning that this is the best way to ascertain the true scope of the course and what it will deliver as 'graphic design' or 'visual communication'.
Derek was very excited about the growth and availability of jobs and placements that are becoming available to students with Aod's visual communication degree. He said that by simply seeing the types of new jobs and careers that are opening up to his former students around the world, it is evident to him that careers for visual communication degree graduates are becoming increasingly central to industries and sectors like architecture, product exports, entertainment, law and policy, research and even food technology. "I see the typical organizations that one would think of for visual communicators and graphic designers—like Gensler, McCann, Ogilvy & Mather, BBDO, Frog Design, Grey, Pentagram, PwC, IBM, and McCann. And all of these are great organizations to work for; But, I also see my alumni working for so many other companies like Hasbro, Universal Studios, Digital Domain, HSBC, Pinterest, J.P. Morgan, Branding Records, Addidas, Hallmark, Charles Schwab, Riot Games, Fathom, Under Armour, Uber, REI, IDEO, Oracle, Spotify, and Coca-Cola to name a few." Black also mentioned the shifts he observes in job titles, highlighting it as a clear indicator of the open opportunities available through this degree. "I see their job titles ranging fromUX/UI designer, motion designer, Imagineers, entrepreneurs, founder/co-founder, art directors, creative directors, visual development artists, brand strategist, illustrators, product designers, storyboard artists, professor, digital director, design director, storyteller, influencer, partner, photographer, tech entrepreneur, interaction designer, strategist, chief marketing officer and of course, some of them are graphic designers too. But this wide spectrum of titles demonstrate one thing, and that is that their education in visual communication prepared them for everything."
Derek believes that the visual communication programme at Aod already produces students who can create experiential concepts that communicate ideas to inspire, inform, and captivate our human imagination. The programme, which is offered in partnership with UK's Northumbria University trains Aod students to develop transmedia experiences through user-centered design while looking through the lenses of entrepreneurship, technology, and culture. On a closing note, Derek invites all young creative thinkers to come ask questions, explore and study visual communication design at Aod, and become the change agents who inform and shape the culture of the future.
Want to be Derek's prodigee? Reach Aod for the 2019 registrations for Aod and Northumbria UK visual communication degree on 0115867772/3 or www.aod.lk