Programming a career of the future at Australia's top University
View(s):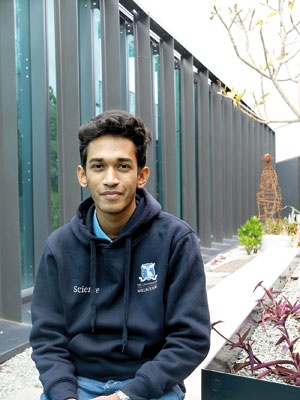 The release of A – Level results is a cause for celebration and the mark of a new era for many happy students across Sri Lanka.
Sri Lankan, University of Melbourne student,Tharun Nimnaka Dharmawickrema and his family remember this feeling all too well.
"When I was accepted into the University of Melbourne, I felt overjoyed and excited to enrol at the University," says Tharun. A graduate from the British School in Colombo, Tharun was ecstatic to begin a new chapter.
The University of Melbourne is Australia's leading university and is ranked number 32 in the world by the Times Higher Education World University Rankings 2020.
As a Bachelor of Science student with a Computer and Software Systems major, a place at the University was Tharun's ultimate goal, "the University of Melbourne is Australia's top university for Computing and Software Systems," he explains.
"My lecturers and tutors are some of the world's foremost experts in their field, which is amazing as it means I'm learning from the best."
Tharun's love for technology began at a young age and has found him studying a broad range of topics at university from programming to accounting reports and analysis to climate change.
"My favourite subject at Melbourne, so far, has been Foundations of Computing, as I love the programming aspect of it," says Tharun.
"The Computing and Software Systems major,has given mean in-depth understanding whilst also broadening my knowledge base beyond my major, knowledge that I feel will help me to stand out from other graduates when applying for future employment."
An offer to the University of Melbourne came as a happy surprise for Tharun's parents too. "We were simply delighted when Tharun was accepted to the University of Melbourne," says Priyantha Dharmawickrema, Tharun's father.
"The University of Melbourne was our first choice and Tharun's only choice," says Priyantha. "Now, with Tharun'sinitial semester complete, we are very satisfied by the conduct, education and the general management of the University."
The University of Melbourne supports many high achieving international students to realise their full potential through a comprehensive suite of scholarship programmes. Scholarship opportunities at Melbourne include:the Bachelor of Commerce Global Scholarship and the AG Whitlam International Undergraduate Merit Scholarship for students in Bangladesh, India, Sri Lanka and Vietnam.
Tharum was able to benefit from this support with strong A-Level results, he receivedan International Undergraduate Scholarship, that gave him a 50% fee remission for his studies.
"When I received my scholarship at the University I felt ecstatic and elated," recalls Tharun.
"I was also grateful that the University recognised my academic efforts and achievements."
Tharun's scholarship provides him with invaluable financial support that underpinned his ability to make the move to Melbourne.
"My scholarship helped me by providing the financial support I needed to move overseas,without it I may not have been able to come to the University of Melbourne."
Today, Tharun lives in student accommodation, a quick10 minute walk from the University's Parkville campus in close proximity to Melbourne's vibrant city-centre. There is a range of housing options for international students in Melbourne, including trusted University Accommodation which provides safe student homes close to the University.
The University of Melbourne is located in the heart of Melbourne, which has been ranked as Australia's most liveable city according to the Economist Intelligence Unit's 2020 rankings.
"I didn't find the transition to Melbourne difficult at all. I was excited to see what living in Melbourne would be like," says Tharun.
"Melbourne is far bigger than my home city, and it is definitely more vibrant and diverse."
For Tharun, the move to Melbourne is something he would recommend to all international students. "If I could provide international students with any advice it would be that I have no doubt that the University of Melbourne is the right choice for them."
"Don't worry too much about the transition to Melbourne, it is a multi-cultural city where everyone fits in."
Support from the University of Melbourne doesn't end with a scholarship. Students also benefit from a continual programme of academic advice and assistance.
"The highlight of my Melbourne experience so far has been the warm welcome I received throughoutthe whole process of settling in at the University," recalls Tharun.
"The support services on campus have also helped me by providing enrolment advice when it comes to selecting my subjects."
Learn more about studying at the University of Melbourne at their upcoming Colombo Information Day on Thursday 6 February 2020. For more information visit: http://go.unimelb.edu.au/9tyr.