Senior Professor Hareendra Dissabandara appointed as VC & CEO of Saegis Campus
View(s):
Saegis Campus recently added another top professional in the Education industry to its academic and managerial portfolio, with the appointment of Senior Professor Hareendra Dissabandara as its Vice Chancellor & Chief Executive Officer.
Directly recruited from University of Sri Jayewardenepura, is an academic and a professional with over 28 years of experience in academia, accounting and finance profession and industry. He possesses wide ranging experience in both the corporate and educational sectors. His impressive portfolio encompasses key leadership positions held in the corporate sector.
Hareendra Dissabandara is a Senior Professor of Finance & Corporate Governance and the immediate past Head of the Department of Finance of Faculty of Management Studies and Commerce at the University of Sri Jayewardenepura.
He is the former Deputy Secretary General (Financial Affairs) of the National Economic Council (NEC) of Sri Lanka where he successfully completed a one-year assignment till November 2019.
He obtained his B.Sc. in Management Special Degree from the University of Sri Jayewardenepura in 1993 and M.Sc. in Management (Finance) from the same University in 2000. He obtained his Ph.D. which is the first ever Sri Lankan Finance Doctorate specialising Corporate Governance from Japan under the prestigious MONBUSHO (Japanese Government) Scholarship in 2006.
He was recognised as the Best International Research Student of the Year in 2006 for his outstanding research work during his PhD. He is fortunate to be considered as the first Professor of Finance and Governance in Sri Lanka.
Professor Dissabandara is a distinguished Alumna of St. Thomas' College, Matale. In addition to his special talents in academic work, he was also an exceptional contributor to extracurricular activities and is a great team player of the school, irrespective of subject disciplines.
Professor Dissabandara's major area of specialization is Finance and Corporate Governance. Particularly, he has presented his research at Local and International Conferences, especially in the USA, UK, Japan at Global Finance Conference and Japan Society for Applied Management, among others. Prof. Dissabandara is also a recognised reviewer and has chaired a number of finance research conferences and sessions.
Professor Dissabandara has a long record of government and private sector experience. Before joining the Academia, he worked as a Cost Officer at Noritake Lanka Porcelain (Pvt) Ltd. (1998), an Audit Examiner at the Auditor General's Department (1990), a Government Accountant of the Sri Lanka Accountancy Service attached to the Ministry of Finance (1992-1995).
He served as the Director of the Capital Market Education & Training Division (2008-2013) and Director General (2012-2013) of the Securities and Exchange Commission (SEC) of Sri Lanka. During his tenure at the SEC, he contributed to enhance the knowledge, skills and attitudes of market practitioners, investors, issuers and market institutions in many ways.
As the Director General of the SEC, he initiated '10 Key Projects' to develop the Sri Lankan Capital Markets balancing both regulatory and market development approaches among many other initiatives.
During the last ten years, he evaluated number of boards of directors in key organisations. Since 2006, he has been actively contributing to introduce Toyota Production System (TPS) to Sri Lankan companies while establishing the first ever Sri Lankan TPS group with the help of National Productivity Secretariat of the Ministry of Labor.
Professor Dissabandara also holds/held chairmanship and directorships in several listed and unlisted companies in the government and private sector and some voluntary positions such as Member of the Council – University of Sri Jayewardenepura, Member – Board of Management of the Postgraduate Institute of Management, Chairman – Strategic Planning Committee of the University of Sri Jayewardenepura, and Chairman – Faculty Accreditation Committee of Faculty of Management Studies and Commerce. He is also a member of Chartered Institute for Securities & Investment – UK, Japan Society for Applied Management, Institute of Public Finance and Development Accountancy, Association of Accounting Technicians of Sri Lanka, Sri Lanka Institute of Training and Development, and Governance Research Institute of Sri Lanka (GRISL).
In his latest assignment, in the capacity of Deputy Secretary General of the National Economic Council of Sri Lanka, he handled several national level financial sector issues with his team among many other things and immensely contributed to the ongoing Integrated National Economic Policy and formulation of Medium-term National Economic Plan for Sri Lanka in collaboration with all relevant ministries and government institutions. Further, he was instrumental to train more than 300 top national policy makers and experts during the last 6 months for the purpose of integrated national economic planning.
Speaking of his appointment, Prof. Dissabandara said, "Saegis Campus has come a long way and my target is to bring Saegis Campus to the next level.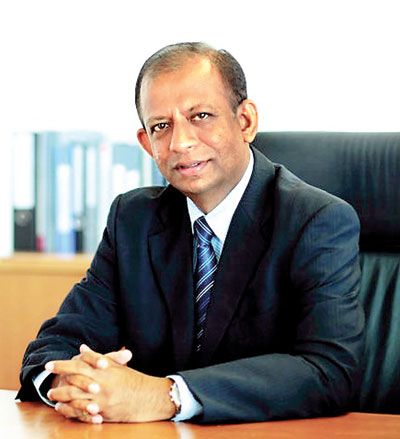 My main endeavours are to maintain the highest academic & professional standards in par with global universities, develop teaching, research, consultancy and scholarships, make Saegis Campus become a Higher Education Centre which provides world class education at an affordable price with a view to encourage Sri Lankan parents to fulfill the educational dreams of their children and to be the most preferred higher education provider for the Corporate sector in terms of quality and relevance.
I hope to take Saegis Campus beyond its existing programmes and introduce many more fields in the years to come in line with the vision of Saegis Campus.