MELAKA MANIPAL MEDICAL COLLEGE (MMMC) MBBS ADMISSION INTERVIEW SESSIONS AT IMC EDUCATION
Meet Prof. Jaspal Singh, CEO, From MMMC on 17th to 20th January 2020 at IMC Education and EDEX Colombo (IMC Gold Sponser)
View(s):
April 2020 Intake is Now On……
IMC Education – The largest student recruitment organisation for Melaka Manipal Medical College (MMMC) placed the largest number of Students for October 2019 MBBS programme intake at MMMC. IMC Education has been continuously placing the highest number of Sri Lankan students to Melaka Manipal Medical College in India/Malaysia and most of the students have achieved very high overall grades in the MBBS Programme.
Melaka-Manipal Medical College (MMMC)
The Melaka-Manipal Medical College (MMMC) is an esteemed private medical institution with a hallmark of academic excellence and an enviable track record in providing quality medical education. The medical and dental programmes at MMMC are carried out in collaboration with the renowned Manipal University, India.
Award winning University
Melaka-Manipal has won the prestigious Brand Laureate Awards for Corporate Branding in Education (Medicine) & has also got the 6 Star rating in My Quest Health & Welfare Cluster (2011, 2012), Health & Welfare Cluster (2013, 2014), International Students Readiness (2013, 2014). Manipal is ranked as the No 1 private Medical College in India.
Program Structure
It offers a 5 year MMBS degree programme with 2½ years of pre – clinical studies in the Manipal Campus in India and 2½ years of clinical training in the Melaka Campus in Malaysia. The first phase of 2½ years (5 semesters) in India will cover the teaching of basic sciences and pre – clinical subjects and initial clinical training in the 5th semester.
The second phase of 2½ years (5 semesters) at the Melaka Campus in Malaysia will cover clinical training aspect of the programme. After successful completion of the two phases students will be awarded the world – renowned MBBS degree of the Manipal University of India.
Academic Scholarships
MMMC offers a wide range of scholarships for students who have excelled immensely based on Academic performance. Students with BBB, ABC or A's and B's are ideal candidates to obtain scholarships from US $15000 – $25,000. Apply now with IMC Education to simplify the scholarship eligibility.
Programme Recognition
MMMC is included in the WHO World Directory of Medical Schools which represents the International Medical Education Directory (IMED) and Avicenna Directories. This enables the graduates of MMMC to obtain Educational Commission for Foreign Medical Graduates (ECFMG) Certification. The MBBS degree of Melaka – Manipal Medical College is also recognized by the Sri Lanka Medical Council (SLMC).
Facilities
Manipal Museum of Anatomy & Pathology is the largest such museum in Asia. Health Science library is also one of the largest in Asia and it consists of approximately 65,000 medical books. Students also have access to a large data base of online library to facilitate their studies. Food court at Manipal provides a greater variety of food for the students.
Sports & Recreation facilities
Marena Sport Complex is a world class sporting facility equipped with a fully fledged gym, indoor Jogging track, badminton courts, tennis lawns, indoor cricket pitches with balling machines, squash courts, indoor basket ball court and many more.
Student Hostels
Students are provided with individual air conditioned state of the art hostel facilities with attached bathrooms, Wi-Fi, laundry and many more.
International Medical Campus (IMC) is the largest Student recruitment organization for MMMC.
IMC provides various kinds of services for students recruited for MMMC including application services, Accommodation arrangements for students and parents, Visa and air ticket arrangement and various others on shore services. IMC also has gone to an extent where they accompany students and parents going to MMMC to provide services such as helping the students with the registration process in India, hostel arrangements, coordinating the supporting services such as mobile and Wi-Fi package arrangements, medical books arrangements, medical uniform arrangements, sourcing basic things needed for settlement of the students and many more services.
All these services are extended absolutely free of charge.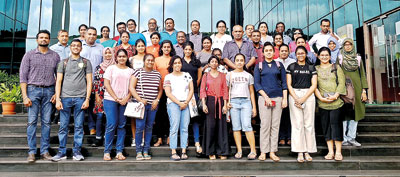 Manipal MBBS April 2020 Intake
Next MBBS intake at Melaka Manipal Medical College is in April 2020. Students can apply for April intake with local or London A/L results. Students can lodge their applications with pending results too. Meet Prof. Jaspal Singh, CEO, from MMMC on 17th, 18th ,19th January 2020 at IMC Education on prior appointment to get know more about studying Medicine at the prestigious Melaka Manipal Medical College.
For Admission Appointments
please call:
IMC Education – 0773 08 88 40 |
0774 42 15 97
No. 154, Havelock Road, Colombo – 05
www.imcedu.com