Having passed A/L's why not consider reading for an internationally recognised degree from a Malaysian University & open doors to a rewarding career?
View(s):

We are into a new decade. Asia is supposed to be in the forefront of the development in the next 10 years surpassing many Western developed countries.

China demonstrated through this year's New Year's Eve celebrations, how technology can be used to safeguard the earth from huge CO2 emissions caused by fireworks, when they used thousands of drones with a spectacular display without a single hitch. Malaysia is yet again a country in Asia that shows such determination to surge forward in every aspect of development. This applies to education too.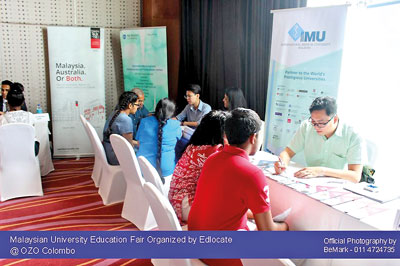 The universities in Malaysia offer excellent tertiary education with clear foresight to future and that too at affordable costs. The ability to do part studies in Malaysia and complete degrees in Australia / New Zealand / Canada / USA and UK universities is an added advantage.
Through the experience we have for over 20 years on guiding students with their tertiary education overseas, our counsellors have the necessary expertise to guide students to select the course/ pathway/ university to achieve their ambitions and aspirations in line with their abilities.
Edlocate being a premier student recruitment organization in Sri Lanka represents some of the "TOP" Universities in Malaysia namely:
Monash University Malaysia – Off shore campus of Monash University Australia
International Medical University (IMU)
Swinburne University , Sarawak Campus – Offshore campus of Swinburne University Australia
Taylors University
INTI International  University & Colleges
Manipal International University (MIU)
Curtin University , Sarawak Campus – Offshore campus of Curtin University Australia
SEGi University  & Colleges
University of Nottingham Malaysia
Some of the highlights of the courses on offer at the universities we represent are;
Monash Malaysia University, International Medical University (IMU) & SEGi University offer quality courses at undergraduate level for Medicine and Health Sciences. The MBBS programme offered at IMU offers students to either to complete all 5 years in Malaysia or transfer to an accredited university in Australia / UK / Ireland or Canada after 2.5 years of studies in Malaysia.
Monash Malaysia (except for Medicine) , Swinburne  and Curtin offers students the option of transferring to their  main campus in Australia after completing  one year of studies in Malaysia campus except medicine at Monash.
INTI, Manipal University, Nottingham University and Taylors University offer qualifications with collaboration of their partner universities in Australia / New Zealand / UK and Canada.
Students who do not meet the direct entry requirements for enrolment in year 1 of undergraduate courses through A/L results can enroll through pathway study options. All the universities Edlocate represents in Malaysia deliver their courses with an aim of producing industry and work ready graduates.
Thus they offer industry exposure to all students at world class multinational companies based in Malaysia.
In order to provide firsthand information on studying in Malaysia, Edlocate has once again organized  one on one interview sessions with the participation of university representatives;
In Colombo  on 16th January at OZO Hotel , from 3-6PM  and
In Kandy on 18th January at Queens Hotel, from 2-5PM.
Obtain details at this event with regard to courses, best study option with regard to the present qualifications of the students, scholarships availability (for those with excellent A/L results), transfer facilities to overseas universities, financial requirements and internship opportunities.
During this session we facilitate students to lodge applications for the mid year 2020 intakes.
We thus advice students to bring the educational certificates, including the final O/L and A/L results sheets to do so.  Call Maneesha on 077 1770361 for the Colombo session and Amavi on 076 6269093 for the Kandy session, to reserve your appointment on a firm basis.
The entrance is free but those who look for enrolment in July and post July 2020 will be given preference due to limited time frames. Edlocate offers all services free of charge.