Sussex College Negombo inaugurates cricket nets
View(s):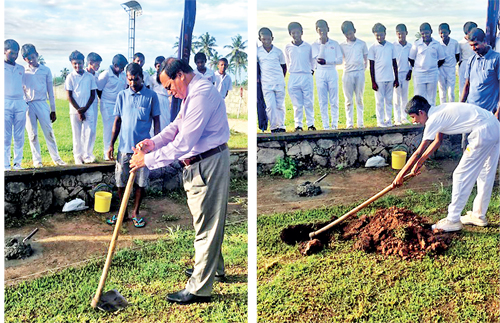 Sussex College inaugurated cricket practice nets at its sports school facility in Negombo with the participation of the school authorities and members of the cricket teams. The foundation stone of the proposed practice cricket nets was laid by K.A. Sunil Jayatissa, the Founder and Chairman of Sussex College Network with other dignitaries from the school administration and the coaching staff and members of the cricket team also taking part.
"We at the Sussex College Network explore every path which enables our students to succeed in and walk into any arena life has in store for them through the all-encompassing platform provided by us, with sports being one of them. Sussex instills the child with the ability to tap every potential capability as they grow into adulthood and create an impact in the world," noted Jayatissa, who believes in granting the best opportunities in education and sports and other extra- curricular activities to each student of Sussex Colleges.
With the intention of expanding its sporting capabilities and making Sussex College as one of Sri Lanka's strongest sporting school networks, the school authorities are keen in providing adequate facilities to its students, who are aiming to become top athletes.