Barty, Krygios as spring board?
Australian Tennis for 2020
View(s):
This can happen to any nation. Australia few decades ago was a synonym with tennis. Their twenty plus top players dominated the game from 1950 to 1980. Since then they only have sporadic appearances of such players. Considering the last Grand Slam winner is Rod Laver, a good fifty years ago, what Australia has offered player-wise into the global professional circuit in the last two decades has been meagre.
Development initiatives
Australia is a Grand Slam nation with an event in January. That means they were one of the four original Davis-Cup winners, a century ago. In recent times, their summer circuit events have been challenged by the tennis developments of Asian basin. A good number of top players go to Australia just for the Australian Open only, playing in Asia until then. The harsh sun and hot temperatures are often cited for avoiding playing too long in Australia. Middle East and Asia have been getting more players into their tournament prior to Australian Open.
Australia had many development initiatives with names like Wimbledon champions John Newcombe, Tony Roche, Roy Emerson, Pat Cash and Patrick Rafter to propel tennis popularity in Australia. These players are past Grand Slam winners. Australia can also boast about the same number of women players with the same credentials. Margaret Court also won the Grand Slam. Evonne Goolagong was another known player. Australia has not come up with good players as their programmes promised on paper.
Current players
The last wave from Australia was in the era of Patrick Rafter, Lleyton Hewitt, Mark Philippousis. At present the biggest name is Ashleigh Barty. Not only is she the current number one ranked player in the WTA ranking but also Grand Slam winner this year. Her compatriot Samantha Stosur after a successful run of reaching the top ten of the world, is now concentrating in playing doubles.
Nick Krygios is the leading men's player from Australia. He has proved to be a mixed bag. He can play great or react to match situations and lose the match. His current ranking of 30 is not the right reflection of his tennis. He is much better than that. John Millman is also in the top 50 of the world at present.
Spring board formula
Australia will have to use the names of Ashleigh Barty and Nick Krygios to launch their Tennis into their future. Today, people forget names very quickly. In every nation the sport which registers success internationally, attracts youngsters into the game. The reason for this is the parent's belief that a path is available for their child to follow to be successful. Still, even in developed countries, coaching which provides the software for sports, is over emphasised and the hardware, which is the playing facilities for practice, is given very low priority.
All studies of successful players have revealed the availability of playing facilities have proved more effective than coaching techniques, in player development. (Ana Ivanovic and Rafael Nadal development were studied in detail). This is the success formula of Florida, Spain and now Monte Carlo.
The formula most desirable for player development, is a system with an ex-player coach along with many good players and courts to practice. This format has created more players than all known designs. Australia with all its land mass and tennis history could easily deliver this.
Over dependency in
local bodies
The local tennis bodies in many countries do not have the path defined in sports development. The method that has taken a firm footing is the hit-and-miss road plans. It is also proving to be most convenient to local administration to rub off their guilt and responsibility when they register failures.
It is this defect in national systems that has given birth to commercially minded so called 'tennis academy'. Tennis is not an academic pursuit but a practical street smart pursuit which needs skills and soldier's survival instincts. It is match practice that makes players smart and resilient. Not the preaching of the game on tennis in coaching sessions or in seminars.
Global tennis
The number of countries playing tennis has increased, especially in the past twenty years. This popularity is due to the boost the game got through the two professional bodies: WTA and ATP. The two professional bodies are armed with best brains as their CEO's. They seek and follow professional players' advice very closely.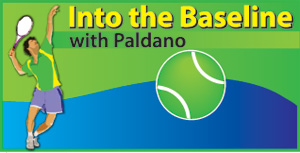 Charles Paserell,
Ion Tiriac models
The success models of Puerto Rican past players Charles Paserell in Indian Wells and Romanian Ion Triac's formula for Europe, are proving to be very effective. These two spent their lifetime in tennis, as players, coaches, promoters and event developers. Madrid Open is owned by Tiriac.
Australian dilemma
From what is known tennis is not very popular in Australia anymore. Australia is a sporting country and there is no doubt about it. Their local sports are vibrant and these are dominating and absorbing the best of talents.
Ashleigh Barty was an Australian cricketer. She switched to tennis late. Her career path is rare in sporting history. What Australia need now are past players like Paserell and Tiriac from their past player line up, using Barty and Krygios as spring board to change. Could happen!
Season's greetings and a happy, good 2020 tennis year. All the very best to you.
-George Paldano, Int. competition player; Accredited Coach of German Tennis Federation; National coach Brunei, Sri Lanka; Davis-Cup, Federation-Cup, captain/coach. geodano2015@gmail.com