Archibald Perera, the small giant of St. Peter's College rugby
View(s):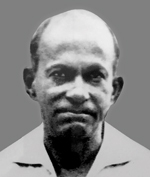 Old Boys and ex-rugby players will team up at the college grounds today in tribute to Late Archibald Perera, the legendary fly half and coach of the school who also represented Sri Lanka. Sharm de Alwis and Archibald's son Sunil Perera pay a glorious tribute to the mentor in the following article.
They called him the 'Small Giant' of Peterite Rugby. In those fabled rugby days when bigger giants bestrode the rugby scene, Archibald Perera took them on, head on and squarely. No wonder then that one of the bigger giants, Queen's Counsel Noel Gratiaen, the CR&FC captain, decided that if you can't beat 'em, recruit 'em! Such was the genesis of Archie being inducted into the winning CR side of the late 1930's. Archie was truly the mythical Hermes of Ceylon rugby, as it was then known. As one of the finest fly halves in the country and being one of the first Ceylonese to play in what was an exclusive preserve of the British, he would trick opposing sides with his dexterity.
He receives the ball from the base of the scrum from Mahes Rodrigo, who was another incarnation of Hermes himself. Unpredictable! As the opposing forwards and three's approach him, Archie would transform himself and sell that dummy.
Not the type of 'dummy' that you and I know of now. But here was Archie looking one way, feinting and leaning one way and instantly accelerating another way; and pretending to pass rightwards but doing so leftwards. Yes, eyes, body, legs and arms were all in play at trickery! His sense of timing was stunning, even to the Swiss watchmakers.
Archie 'stolen' to CR 
And so when he completed his stint with the Army, deployed in Malaya, and returned to play club rugby and then to coach, he was much sought after. When he captained St. Peter's, the school won all their rugby matches and beat even the  clubs they played against. At his side were such stars as Stanley Livera, Percy Perera, Fred Keller, Roy Reimers and Ray de Zilwa. That was when Noel Gratiaen spotted him and stole him to CR! And such a star he was that he was one of the few Ceylonese to play in the Capper Cup along with William Molegoda and Ohlmus.  Parents would take their sons to watch Archie play, as was the case, I recall, with Maurice de Silva of Havelock's and Kandy fame. Watching Uncle Archie at play was demonstrably the best lesson that prospective Peterite rugger stars would be put through. Archie made his sophisticated moves look so natural.
And after matches he would, in an unassuming way, explain without any hint of one-upmanship, the manner in which he fashioned the try or the move, always giving credit to the way the forwards played to plan, the fly half delivered his remit, and how the 'threes' combined with him. It paid dividends for the young'uns. And that was how the Maurice de Silva's, and Ago Paiva's, Hadji Omars and scores of others were inducted-many to the Hall of Fame.
Legend of Coaches 
But it was as a coach of St. Peter's that Archie became the legend and institution that he has remains to this day. The fabled Ago Paiva was one of Archie's prize players. So were Didacus de Almeida, Jeyer Rodriguesz, Darrel Wimalaratne, Patternott brothers, Jeffery de Jong, Rohan Wiratunga, Frank Hubert, Hadji Omar and Angelo Wickramaratne to name few. What players learnt from him were not only the basic techniques but also refinements and craft that can only come from  proven experience.  But here was the distinctive feature of his coaching: drilling in a sense of anticipation, springing surprises and tactical play. It was all bundled into his strategy. A strategy that was not one template but one that changed with each game. A strategy informed by a study of the strengths and weaknesses of the opponent. Undoubtedly every coach will claim that he does this. But the reality in that time and age was that the Hermes of our time spiced his plan with hot spice!
As a rugby reporter for the Times of Ceylon, one recalls a famous Trinity vs. St. Peter's match in 1985 under Rajitha Abeygoonewardena year, when a more fancied, and until then unbeaten Trinity side, was pipped at the post by the sheer power of Archie's tactical ploys that were ingrained in his side. That an old Trinitian, that Archie was, could have inflicted this on his Alma Mater made the cheer squads sulk and smart all the way back to Kandy on their bus ride!
1970's Peterite's dominance 
It was in 1972 that St. Peter's, coached by Archie, was so dominant in the skyline of school rugby that teams feared the encounters. They emerged school champions under Jeffery de Jong, and in 1973 under late. Rohan Wiratunga St. Peter's were joint champs and such were their accomplishments that a special celebration was arranged at the school. A life-sized cartoon sketched by the famous Times of Ceylon cartoonist James Bullner was commissioned. It depicted a small guy, thin legs and carrying a massive Rugby Ball with the caption. "To Sir with Love!" He was a Hero, Friend, Teacher and a Coach. Yes, he was truly loved.
When Archie, who had crossed countless goal lines, was called upon by his Creator to cross the Great Divide, he did so only after a rugby coaching session, where in the evening of that day he succumbed to an attack of asthma. As his wife, Audrey Perera (nee de Silva), a netballer herself of St. Paul's Milagiriya would tell us, such was Archie's passion for the game and sad as his passing was, he would not have asked for a more fitting ending.
Tribute from his son – Arch Sunil Perera 
"The Little Man Much Dreaded", who could spot and go through the slightest opening with his eyes closed, "This is what the press of that time called him. Archie had the habit of doing the unexpected and making it appear the most natural thing in the world. He was one of the finest standoffs ever produced and I am told, as I did not have the opportunity to see him play. Archie captained the Ceylon Barbarians in 1950 at the All India Rugby Tournament held in Madras.
Archie represented college in rugby, cricket, tennis and athletics. He held the Ceylon record in the Half Mile and One Mile from 1936 to 39. He was a classics scholar and his pet subjects were Greek mythology and astronomy, in fact the Horoscope's of our family members were all drawn up by him. He was also a great mathematician as most of us here know. He was a captain in the army and stationed in Malaya, as it was then known in-charge of a POW camp during the Second World War. Archie started coaching college from 1952 till his untimely death in 1982. He produced champion teams and champion rugby players and too numerous to mention. In 1960 Archie joined the staff of St. Peter's, his forte being Mathematics and English. The rest is history and I am sure there is many today, who could relate many a story. Time does not permit me to relate some great stories of his teaching career.
To me, yes, he was my father and mentor, but to all of us he was a great coach and teacher who not only taught us rugby but prepared us for the outside world, I for one succeeded in life because of his influence and guidance, I am sure most of us present today will agree that Archie did play a part in their lives' and success.
A bit of trivia, about our family and St. Peter's. Archie and I are the only father and son to captain College at rugby (1936 and 1969). My mother's brothers — Kenneth de Silva captained in 1940 and Harold de Silva in 1949. My cousins Brian, Maurice, Rex and Len de Silva all represented college. Brian, Maurice and Rex represented college at cricket.
In conclusion on behalf of the family, I wish to thank St. Peter's in naming the stand after my father as a lasting monument, in recognition for his dedication and service to the school, and the organisers of this commemoration event of Archibald Perera Pavilion stand at St. Peter's College grounds on December 29.
The ceremony was specially initiated by Mr. Frank Hubert, who is visiting from the UK and with the blessings of Fr. Rector Rohitha Rodrigo. Special thanks to Stewart Schneider-Loos, Nigel Forbes, Rohan Paulas and Dilan Abeygoonewardena for coordinating the event and other aspects within a short period of time.
May he Rest in Eternal Peace and Never be Forgotten!