Ever-smiling, the man in the eye of polling storms lays out his plans
By Sandran Rubatheesan and Sandun Jayawardana
View(s):
Mahinda Deshapriya, Chair of the Election Commission, who oversaw the election considered to be the country's most peaceful presidential poll, was visibly tired when we met him at his office three days after the results were announced.
The Election Commission is still buzzing with activity, with officials engaged in monitoring the post-election period and dealing with complaints of election law infringements across the country.
In the midst of this, the chairman was busy meeting senior officials from various departments of the commission and issuing directives and recommendations on a myriad issues.
He worked at speed on making corrections to a draft letter to police asking for action to be taken against illegal motorbike rallies and the throwing of firecrackers by party supporters. He was concerned that the letter, which was supposed to be sent that day, was being delayed by administrative issues. In the end, he rewrote the entire letter himself.
Playing with steel pendulums attached to a "Newton's Cradle," a device gifted by an Australian friend "to relieve stress", Chairman Deshapriya reflected on how his office had managed to conduct last weekend's election without any serious violence or violations, and the challenges he had faced given that the Commission lacks powers to initiate legal action against wrongdoers in some instances.
"We couldn't control the media, especially electronic media," Mr.   Deshapriya acknowledged. He said it was one of the major   challenges his office faced as major electronic media   institutions carried out partisan campaigns for certain   candidates.
Soon after the election was declared at the end of September, the Election Commission published media guidelines   for electronic and print media, strictly instructing them to adhere to   regulations to ensure a free and fair poll and equal   ground for all 35 candidates.
A state broadcasting channel was among the violators of these regulations and the   commission decided to take legal action against that institution   in particular since it came under the purview of a state corporation.
The commission, however, remains powerless to act against private   media. "We tried to get some necessary powers by moving amendments to the relevant Acts in parliament but it was not successful. Nobody supported us," Mr. Deshapriya said.
The ever-cool commissioner, who always wears a smile even when facing   tough questions from the media, also made some sharp observations.
"In countries such as India, politicians own TV stations and the general   public knows that those channels are biased. They are not independent. But our private channels said 'we are independent' and claimed to report the truth even though they really supported one particular candidate. That's wrong," Mr. Deshapriya said.
The commission intends to ask the government to auction all the   frequencies, since they belong to the state, and to make it   mandatory for new owners to follow media guidelines.
Control of social media is a myth, Mr. Deshapriya said, speaking on   challenges faced in tackling Facebook posts during the election. "The  only thing we can do is trace fake news and hate speech. We  asked Facebook to remove such content but they were somewhat  slow."
Mr. Deshapriya noted that while Facebook's  standards matched the commission's when it came to fake news and hate  speech, they differed on what constituted an election  law violation.
Another problem involved complaints of electioneering under cover of conducting religious practices at places of worship during the 'silent period' of 48 hours before the polling stations opened, when all political canvassing activities were banned.
Noting that this was "a sensitive issue", Mr. Deshapriya acknowledged that it was difficult to control such practices.
"We have received several complaints of clergy engaging in political canvassing activities, and these complaints were forwarded to the police to take necessary action. But the police can only take action after consulting with the Attorney-General," he said.
Making arrangements to cope with the length of the ballot paper (24cm) to cater for the 35-strong field of candidates was a problem the commission had to overcome, the issue also requiring larger ballot boxes to be sent to polling stations.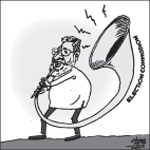 Mr. Deshapriya acknowledged there were many "dummy" candidates among the  35 presidential hopefuls but said his office had no power to restrict the number of  candidates: only the government could enact legislative amendments to meet this problem.
"Since the expenditure for polls doubled due to this very  reason we will be proposing to the government to take steps to  restrict the numbers through amendments in parliament. We had to spend  Rs. 200 million extra for this purpose alone out of the total  expense of nearly Rs. 7 billion," he said.
Mr Deshapriya shed some light on recommendations the Election  Commission has been preparing to submit to government in the  near future.
"We need campaign finance  laws and powers for election officials to file cases against those who  violate election laws and regulations," he said. "We will also recommend to  enable voting outside polling stations for special purposes."
There have been recent calls to  hold the forthcoming parliamentary polls and the much-delayed Provincial Council elections on the same day in order to save millions of rupees.
The Chair of the Election Commission welcomed the idea but noted  some practical problems. He said the results of twopolls could be announced in two phases while sealed boxes were kept in  custody but reiterated that it was the government that had to decide on  this proposed move, not the commission.
"This system needs to change," Mr. Deshapriya said, when asked about  the large number of parties contesting parliamentary elections. He  said there should be changes as seen in India where that country's  Election Commission has powers to de-recognise a party that did not have a single parliamentarian elected under its banner in the past 10 years.
Until the Election Commission was appointed as a result of the  adoption of the 19th Amendment to the Constitution in 2015, Mr. Deshapriya had been the Commissioner of Elections for more than four years.
He said the decision-making process had changed significantly with the establishment of the three-member commission.
"This used  to be a one-man authority but now three of us must work together in  order to come to a decision. We have to get the opinion of all three  members," he said.
Mr Deshapriya is quick to insist that the credit for holding a  peaceful, free and fair election should go to all as it was a collective effort. "This is all teamwork, not a one-man show," he emphasised.
His biggest concern and the cause of his decision to resign from the post as  chairman is the delay in conducting the much-delayed Provincial  Council (PC) elections in all nine councils. It has been two years since council terns expired.
"The Supreme Court also held that  delaying PC polls is a violation of fundamental rights where PC bodies  are left without elected representatives. No one is fighting for  that," he said.
Mr Deshapriya, who hails from Ambalangoda and is immensely  attached to his roots, said he had not had proper contact with his  home village for almost 20 years. "I have a lot of work to do there. I  have to give support to the people there," he said, referring to his future after leaving the Election Commission.
He still has much to do in the meantime: parliament and the new President, Gotabaya Rajapaksa, are waiting for the commission's report on the presidential election.