Sidath's DRS
By Ishan Samaraweera
Reiterates calls for radical overhaul of domestic cricket
View(s):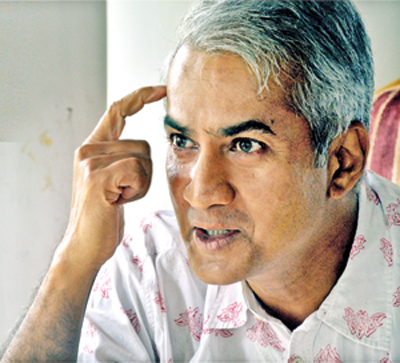 The quality of cricket being played at the domestic level in Sri Lanka has been a major talking point for a prolonged period of time. However despite calls for urgent revamp of the domestic cricket structure to make it on par with the standard required at the highest level of the game, the officials have done too little make the change required.
Sri Lanka has 24 first class teams–the highest in the world at present–a major contributory factor for Sri Lanka's inconsistent performances across all formats at the international level.
Former Sri Lanka skipper Sidath Wettimuny once again reiterated the urgent need for a radical restructuring of the country's domestic cricket system to lift the standard of cricket.
"As you know our standard of first class cricket has been diluted by having a lot of teams (24). We need to change our first class cricket structure to be consistent with test cricket to be successful at the international stage," Wettimuny said during an interview with the Sunday Times.
Despite the flaws in the existing system, Sri Lanka have performed well at times in world cricket but they desperately lack the consistency that most other teams possess.
"We could have a proper four-day tournament with less number of teams, to provide domestic players with a good platform to perform against top teams," he added.
Players such as Kaushal Silva and Angelo Perera have scored heaps of runs in domestic cricket. But they have failed to replicate their performances in international cricket. Wettimuny says the reason for this is that the batsmen are being exposed when they are playing against top class fast bowlers at the international level.
Cricket experts say that there is a vast difference in Sri Lanka's domestic and international level–a gap that Sri Lankans have struggled to bridge due to the weak domestic cricket structure.
For an example, India has the Ranji Trophy and Australia have the Sheffield shield matches where it is similar to the standards in the international level.
"What we need to keep in mind is that it is from first class cricket that the National squads are picked. So it is important to have a domestic structure that will test out the skills and the temperament that is suited for international cricket," he added.
Wettimuny went on to recall his playing days and said that Sri Lanka cricket had the domestic tournament called the Sara Trophy where only ten teams competed. "It is high time that they reconsider a tournament such as the Sara Trophy," he said.
"After the 1996 world cup there were clubs coming out like mushrooms as the game grew in popularity. Having a lot of teams is not a problem but the problem is the quality of cricket being played. We have to look at it very closely before it is too late".
Few years ago, Mahela Jayawardane, Kumar Sangakkara and Sidath Wettimuny gave a proposal to develop domestic cricket and school cricket but up to now nothing significant has happened.
"Nothing has happened and it is frustrating. I am fed up with Sri Lanka Cricket's administration. I have been shouting my heart out for several years and I have been telling them about this problem but nobody was able to do anything significant," a disappointed Wettimuny noted.
We have noticed that that the National players are reluctant to play first class cricket and it has to be said that it is a result of the poor standard of cricket that is being played.
A lot of National players have called for a better domestic structure it includes the current Test and ODI captain Dimuth Karunaratne.
Sri Lanka is the only country which does not have a T20 league. In 2012 Sri Lanka had the SLPL (Sri Lanka Premier League) which was a failure and recently there talks of resuming a similar tournament but due to various reasons, it did not see the light of the day.
Wettimuny was also critical about the domestic coaches. He went on to say that the coaches are only concerned about winning matches and they are not developing players in to the future.
Another issue is the change of clubs by players frequently.
According to Wettimuny it is one of the main reasons for the domestic level to go down.
"In my playing days I played for SSC throughout my career and those days we had the team spirit but today the players are changing clubs as they like. That is not the way it should be done."
He also expressed his thoughts on the future of Sri Lanka cricket.
"We always produce talented cricketers but they should be nurtured and looked after. They are the future of Sri Lanka Cricket. But all the players should remember that hard work is the secret behind success that is what every cricketer should remember" Wettimuny concluded.