Nuski Mohamed at the helm of Saracens Sports Club
View(s):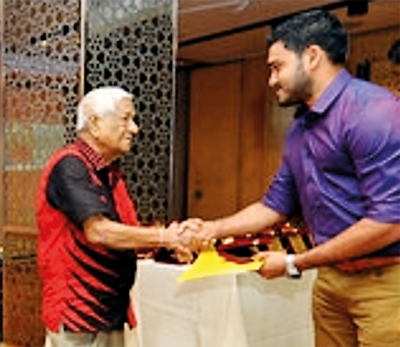 Nuski Mohamed was elected President of Saracens Sports Club at its 80th Annual General Meeting (AGM) held at the Hilton Colombo Residencies last Sunday. Thalath Ismail was re-elected Patron. A reception was held in honour of its team for finishing Runners-up at the Sri Lanka Cricket (SLC) Tier 'A' League Tournament 2018-2019.
Special awards were presented to players who excelled during the season. Addressing meeting, soon after being elected, Nuski Mohamed attributed the success of Saracens to the unity amongst the team members and the discipline instilled in them by the Club's Cricket Management.
He further emphasised that it was a proud achievement, considering the fact that Saracens has been handicapped without a ground of their own, since the loss of Rifle Green, almost 50 years ago.
Mohamed said the tournament, from next year onwards, could be restructured by the SLC, with the number of Tier 'A' teams brought down gradually to 10, according to a proposal currently under consideration.
He thanked SLC for the tremendous support they have given to the Club during the past year, and also thanked the media and the support staff of Saracens, in particular their Coach Sajeewa Weerakoon and Manager Chandra Rodrigo, who were of tremendous help.
Saracens Sports Club has been training at the P. Sara Oval, inclusive of their indoor net and gym facilities. Mohamed thanked the Tamil Union Cricket & Athletic Club profusely, for the wonderful support extended to us during the past couple of seasons.
National cap Milinda Siriwardena was appointed Captain for the forthcoming SLC Premier Tier 'A' season, with Ashen Bandara as Vice Captain.
Office Bearers for 2018-2019
President: Nuski Mohamed
Vice President: Zacky Macan Markar
Club Captain: Nasser Majeed
Secretary: Muiyad Cader
Asst. Secretary: S.D. Macan Markar
Treasurer: Shibly Vilcassim
Asst. Treasurer: Sabry Ibrahim
Cricket Secretary: Chandra Rodrigo
Social Secretary: Muyiad Idroos
Executive Committee: Dinesh Kumarasinghe, Bilal Mohamed, Shireen Hussain, Ramly Vilcassim, Edgar Thevarayan, Shiyam Mohamed, Thushan Amarasuriya
Cricket Captain (Premier Div. 1): Milinda Siriwardena
Cricket Vice Captain (Premier Div 1): Ashen Bandara