Sri Lankans spark most destructive forest fires
By Pravin Jayasundere
View(s):
Sri Lankans are the spark for forest fires wherever they are reported, and cause immeasurable economic losses and environmental damage to the country and themselves.
This past week, more than 500 acres of forest cover was burnt down.
Major damage is done to water resources.
Monaragala DMC assistant district director A H Ravindra Kumara said a woman and two males from Monaragala District have been arrested under suspicion of starting the fire which raged over three days, destroying over 500 acres.
"The fire started on the morning of July 6 and it burned until the 8th, which was last Monday."
He explained how over 100 people including members of the army, the airforce, government workers and nearby residents battled for more than 70 hours to contain the blaze despite the use of an Airforce Bell 212 helicopter.
"The fire started at the upper levels of the Maragala mountain and it spread quickly. On Monday, the effort of all those there managed to stop the fire from spreading," Mr Ravindra Kumara said.
A shower on the night of July 8 also helped.
"There are no naturally occurring forest fires in Sri Lanka. Any forest fire that occurs has human origins," he said.
June, July and August are especially dry, he said.
"The lower levels of the forest are like hay, everything is very dry now."
If a fire is started in the lower levels it can destroy acres of forest cover.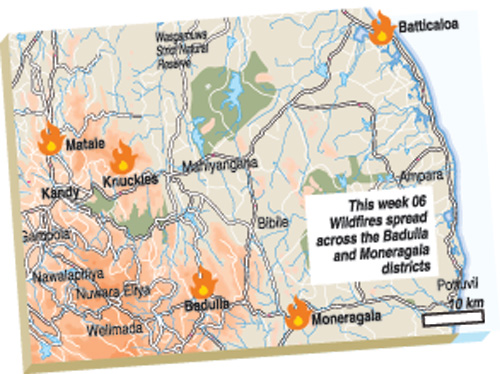 "The forest is more than just trees, it is an eco-system. When these fires breakout it is not only the trees but also water resources, wildlife, unhatched eggs, smaller eco-systems, all of these things are destroyed by these fires," he said.
Mr Ravindra Kumara also said that ayurvedic practitioners in the area were facing difficulties because they cannot find the necessary herbs.
He explained that a water body named "G-Lone" in Monaragala supplies water to the Monaragala District.
Mr Ravindra Kumara said that the forest fire this week had contaminated a water source serving the people of Monaragala.
"Any rain which falls in the future will wash away the remains of the fire from the water body into nearby streams, which are in turn connected to larger bodies of flowing water. This will mean that the contamination will not limit itself to Monaragala but can spread throughout the country," he said.
On most occasions, the local residents know who commits the crimes, but they are not willing to tell the authorities.
"Farmers burn up to 60 acres of forest cover just to cultivate things like corn. There is no single force that can stop this. The people's mindset has to change if we want to put an end to all of this," he said.
Monaragala Police Chief Inspector, Vehitha Deshapriya, said that a further crime had been committed by a man and a woman arrested on suspicion of setting fire to an acre of forest cover.
Badulla DMC assistant district director, E M L Udaya Kumara, said that the situation in the district is very serious.
"There are many water bodies connected to the streams and such that run through Badulla. A forest fire contaminating these streams would mean that water everywhere would be affected,'' he said.
Mr Udaya Kumara noted how a fire on July 2 had almost engulfed a school for less-abled children.
He said most of the fires are started by people to hunt wild animals and then to obtain timber.
He added that after the trees have been burnt, grass grows, encouraging farmers to feed their herds of cattle.
There are also those who set fire to trees merely out of habit, superstition, or because they enjoy the visual spectacle of a burning forest.
Kumbuk the favourite of arsonists
An officer from the Department of Wildlife Conservation said there were reports of people illegally setting fire to the bases of large trees as a way of felling the trees, especially in Polonnaruwa.Three individuals had been fined and more than 50 others had been either fined or arrested. Kumbuk trees are the favoured target.

Also, forest fires start and spread rapidly in the current drought conditions, he said.