First locally-made MBRL takes pride of place at parade
By Asiri Fernando
View(s):
Last week saw the first locally manufactured Multi Barrel Rocket Launcher (MBRL) and its ammunition on parade at the Independence Day celebrations. The weapon system was designed and built by the Center for Research and Development (CRD) of the Ministry of Defence.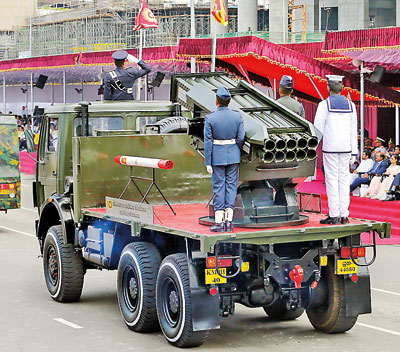 "This system is 100% locally developed by Sri Lankan scientists and engineers," said CRD Director General Dr. Tiran De Silva. He credited a research team of civilian scientists, engineers and military personnel led by chemical engineer Dr. Chandana Perera for developing the system.
According to Dr. De Silva, the CRD is striving to achieve a degree of self sufficiency for Sri Lanka's military needs. The MBRL systemis to be handed over to the Sri Lanka Artillery Regiment for further evaluation and service. The MBRLs were used to decisive advantage against the LTTE by the Army in the latter stages of the war.
The research and development process should not be viewed in isolation as a military project Dr. De Silva opined. "Sri Lanka needs to expand her industrial capabilities and know-how, therefore local R&D (Research and Developemnt) is essential for Sri Lanka's future economy," he added.
The development process has been carried out to international industrial and safety standards. The techniques and processes developed during this programme can be used in other projects without having to pay a fee for technology transfer he pointed out.
The system fires locally designed and built 122mm rockets to a distance of up to 20 km. According to Dr De Silva, scientists at the CRD had developed chemical formulas to manufacture the required rocket fuel.
According to the CRD, the rocket launcher system can be fitted to a range of land and naval platforms. "A naval version is under development," he added.
An advantage of the locally-made rocket is that it can be customised according to the local requirement. The rocket is compatible with all existing MBRLs of Chinese, Pakistani and Czech origins in the Army inventory, thus being able to provide a local source of ammunition for the support weapons in the Sri Lankan arsenal.
Due to the limited land area available for the armed forces to train personnel in the use of artillery and other long range weapons, the CRD had paid close attention to develop the system with a short range option for training purposes. "The MBRL system can be used to fire rounds at a very short range of 1km for training purposes, training ammunition is designed for that purpose," Dr. De Silva said.
He explained that the MBRL is a weapon system with the launcher, hydraulic control unit, digital fire control system and rocket ammunition making up the core components of the system.