Concerns grow as report shows plastic killing off our fish
By Sandaran Rubatheesan
View(s):
As Sri Lankan seas become increasingly polluted with plastic waste, contributing to a 500 per cent depletion in fishing stocks, a pollution expert has called for more effective garbage management to avert a man-made disaster.
Four-fifths of microplastic waste (extremely small pieces of plastic debris) found in our seas comes from the land, washed into the sea through canals and rivers, Environment and Renewable Energy Marine Environment Protection Authority (MEPA) General Manager Dr. Terney Pradeep Kumara said.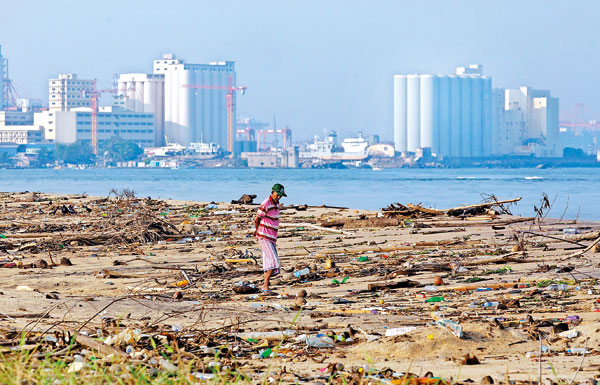 "Only 20 per cent can be accounted as sea-originated wastage, due to fishermen dumping plastic in mid-sea and oil spills from ships," Dr. Kumara said, citing MEPA research.
Dr. Kumara said his department is dedicated to showing people how significantly polythene and plastic contribute to marine pollution and how to think differently about the use of these materials.
Initiatives such as creating polythene-free coastal regions and awareness campaigns on reducing domestic plastic usage in homes are underway, Dr. Kumara said.
Concerns over the marine environment have grown following an independent survey of Sri Lanka's coastal marine resources – the first in 40 years – that found a 500 per cent rate of depletion of fish stocks due to immense pressure from factors such as over-fishing and microplastic contamination.
The survey, carried out on the Norwegian research vessel, Dr. Fridtjof Nansen, last year, was commissioned by the National Aquatic Resources Agency (NARA) and supported by Norway's Institute of Marine Research.
The preliminary report findings of the Nansen survey, released on Monday, state: "The results reveal that the waters around Sri Lanka are contaminated with microplastics, and the vast majority of microplastics found are in the secondary category, indicating that the packaging material, industrial applications, and fishing gear are major sources".
"In the last fisheries stock survey carried out from 1978-1980, it was estimated that demersal fish resources at seabed level were nearly 250,000 to 350,000 tonnes. However, our recent study found that a depletion to 53,000 tonnes as over-fishing, microplastic pollution and illegal fishing had a huge impact on the depleting marine resources over time," the National Aquatic Resources Agency (NARA) Senior Scientist Dr. Prabath Jayasinghe, co-leader of the marine survey, said.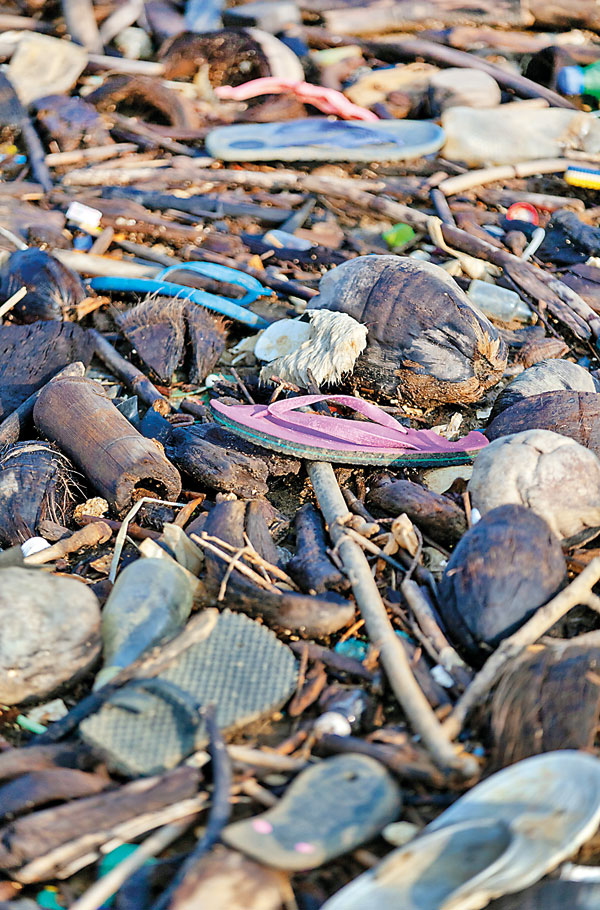 During the survey, which covered one season of the year, microplastic particles were found throughout the survey area on all sampling stations. The highest concentrations were found in the north-western region of Sri Lanka's territorial waters.
A special joint operation by Ceylon Fisheries Corporation, the coastguard service and the navy is under consideration to ensure that fishermen stop dumping plastic bottles in the sea from their boats.
Once large piles of microplastic wastage are dumped in the sea, it becomes uninhabitable for the breeding activities of millions of fish, corals and other rich marine life.
Plastics in the oceans will outweigh fish by 2050, a report compiled by the Ellen MacArthur Foundation in partnership with the World Economic Forum in 2016 predicted. It said plastic use had increased 20-fold in the last 50 years and is continuing to rise significantly.
Sri Lanka's Exclusive Economic Zone (EEZ), which is eight times larger than our land mass, faces a threat from shipping industry pollution. Sri Lanka lies in a strategic position for many marine routes and the EEZ environment is severely threatened by ship oil spills, solid waste and chemicals dumped in the sea.
Reassuringly, MEPA said this problem had been brought under control to a certain extent as strict global regulations are in place when ships travel through international waters.
An oil leak was reported in September last year when an oil tanker was unloading furnace oil about six nautical miles off the Muthurajawela coast. The extent of the oil leak and environmental damage to the marine eco-system are yet to be ascertained.
The Coast Conservation and Coastal Resource Management Department, a state agency tasked with the mandate of protecting sustainable coastal resources, is working hard on beach-cleaning initiatives and awareness campaigns for fisherfolk.
MEPA's Dr. Kumara said his department lacks the legal powers to punish marine polluters but plans are underway to toughen the Marine Pollution Environment Act No. 35 of 2008 before end of this year with fines and other stringent measures.