Economy shows signs of recovery but chaotic political environment a spoiler
View(s):

Indications are that the economy would recover to achieve about a 5 percent growth this year. However, the present political uncertainty will impact on longer-term economic growth and development even more owing to the government's inability to undertake reforms so essential for sustained economic development.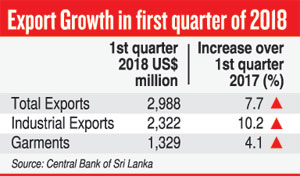 Despite the inhospitable political climate, the economy may achieve a near 5 percent growth owing to the recovery in agriculture, growth in construction, higher exports of manufactured goods and growth in services. These favourable factors would propel the economy to this level of economic achievement. Most important among these favourable factors is the export growth from Mid-March 2017.
Favourable factors
Several favourable developments achieved by the government have contributed to the economic growth this year. The government's success in restoring the GSP Plus concession for exports by the European Union (EU) has had a significant up-thrust in manufactured exports and sea food exports. The current export growth is mostly due to the favourable policies towards Sri Lankan imports in the US and the EU countries.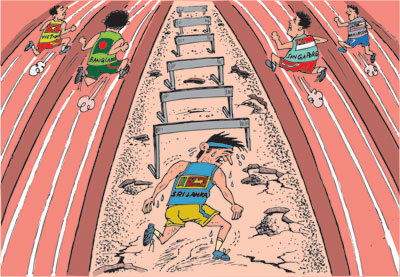 Exports
Export growth of 7.7 percent in the first quarter of this year, compared to the first quarter of 2017, would have favourable backward linkages to growth in other sectors as well. The increase in industrial exports by 10.2 percent in the first quarter of this year to reach US$ 2322 million is a significant achievement. In March this year, exports grew by 6.3 percent to reach US$ 1.1 billion, a record for any month.
Industrial exports, led by garment exports accounted for this upsurge in exports. Exports of garments expanded by 4.1 percent to US$ 1328.7 million in the first quarter of this year compared to the same period last year. This growth in exports would have significant backward linkages and result in a significant contribution towards the growth of the industrial sector. Sea food exports that increased last year, increased by 6.8 percent in the first quarter of this year compared to the first quarter of 2017 to US$ 70.4 million.
These increases together with the revival of agriculture will ensure a growth of around 5 percent. The low rate of growth of only 3.1 percent last year too makes this growth easier to achieve.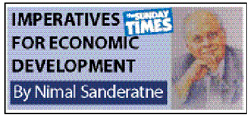 Agriculture
Agricultural growth owing to better weather conditions will also contribute to this year's growth. Food production in particular has increased with a 62 percent higher Maha paddy harvest of 2.4 million metric tons. Other tree crops have also increased production slightly.
Tea exports in the 1st quarter increased by 5.5 percent to US$ 1313 million owing to both an increase in tea production and improved prices. Tea output is likely to increase in the second half of the year. Rubber and coconut production would take some time to revive owing to the time lag for the improved weather to increases the crops.
Tourism
The growth in tourism this year would also contribute to economic growth directly and indirectly. Tourist arrivals increased by as much as 14.7 percent in the first 5 months of this year till May, compared to the same period last year. Earnings from tourism and increased worker's remittances that had a setback are likely to offset much of the trade deficit this year.
Favourable developments
These developments are likely to contribute towards an economic growth of about 5 percent. However, the prospect of a higher growth trajectory that was envisaged in the Government's Vision 2025 is not likely this year or in the near future as the political and policy uncertainties would hamper higher investment, especially foreign direct investment. Although FDI is estimated to have increased last year, it is not quite clear whether these are in export manufactures that would generate increased export incomes.
Concluding reflections
Although the Government has made significant gains in establishing law and order and developing healthy economic relations with foreign countries, political instability and uncertainty and lack of a consensus on economic on economic polices among the coalition has discouraged investment to drive economic growth to a higher trajectory.
This year's economic performance would be only a little higher than the country's long term average of 4 percent. This growth is also supported by the investments made in the past, recent international developments and weather conditions. The contribution of the private sector is also a significant factor contributing to growth. While state enterprises are dragging down the economy and destabilizing the country's macroeconomic fundamentals, the current momentum of growth is less affected by the current political conditions and policy uncertainty. Undoubtedly the political uncertainty affects long term growth.
Fortunately this year is one of an upswing owing to an agricultural recovery and the impact of favourable policies to enhance exports. However, the current economic performance is not one that will propel the economy to a much higher trajectory of economic growth as envisaged in Vision 2025.
The current political instability and uncertainty are likely to impact more seriously on longer term growth and economic development rather than this year's economic performance. The objective of sustained high growth and economic development that was expected after the end of the war in 2009 and again with the change of regime in 2015 has proved to be illusory.
The current political uncertainty and the adoption of policies to pander to the electorate in the upcoming elections would affect the economy's longer term capacity for growth. These developments would retard the country's long run economic growth.
A new wave of economic resurgence requires political stability, certainty in economic policies, economic reforms and policies conducive to higher investment.