President-Premier in a seeming truce
By Our Political Editor
Senior SLFP ministers arrange peace talks;agreement to fast track development plans -- High profile corruption cases to be expedited; Police chief summoned and given a dressing down by Sirisena
View(s):
President Maithripala Sirisena who exploded last week with a scathing attack on Prime Minister Ranil Wickremesinghe, has seemingly reached a truce. It came during a two-and-half hour meeting last Tuesday night at his official residence at Mahagama Sekera Mawatha, the former Paget Road. The talks centred on the irritants and recurring issues that stood in the way of relations between them as well as coalition partners, the Sri Lanka Freedom Party (SLFP) and the United National Party (UNP). At least for the moment, the major ones have been resolved.
Credit for the meeting should go to four SLFP ministers who were strongly of the view that the "National Unity" or the coalition government should continue until its term ends. The foursome are Ministers Mahinda Samarasinghe, Sarath Amunugama, Mahinda Amaraweera and Duminda Dissanayake. This is their second role at peace making. Soon after the defeated vote of no-confidence on Premier Wickremesinghe, the UNP insisted that no portfolios should be given to the 16 SLFP MPs who voted in favour. The four members shuttled between Sirisena and Wickremesinghe and later brought about a meeting. There Sirisena agreed to the UNP position that UNP ministers could not sit with their colleagues who have expressed no-confidence. However, by then the group sent in their resignation letters from posts they held and decided to sit in opposition benches.
As revealed exclusively in these columns last week, the four SLFP ministers met with three of their UNP counterparts last week at the Stanmore Crescent official residence of Finance Minister Mangala Samaraweera, now a Vice President of the UNP . Other UNPers taking part were Kabir Hashim and Malik Samarawickrema. They successfully obtained a meeting with both Sirisena and Wickremesinghe that Tuesday night. That both Sirisena and Wickremesinghe were in a conciliatory mood underscored two factors — that they were not for parting ways and were still keen to thrash out differences and continue.
Besides the ministers who were at the initial dialogue, others taking part were Justice Minister Talatha Athukorale, Law and Order Minister Ranjith Madduma Bandara and Fisheries, Aquatic Resources and Rural Economy Minister Vijith Vijithamuni de Soysa.
Besides other issues, the two focal points of discussion were about fast tracking development plans and fulfilling the pledges made to the people ahead of the January 2015 presidential election. Whilst the two sides agreed that there was a need for a limited common programme and to finalise it during future meetings, considerable time was spent on the pledges already made. That brought about a discussion on Police investigations into the procurement of MiG 27 fighter jets from Ukraine in 2006, the alleged financial misappropriation in the purchase of a building for the Sri Lanka Embassy in Washington DC, the alleged misappropriation of funds and irregularities at Carlton Spots Channel television network and the construction of the multi-storeyed apartment cum shopping mall complex at Transworks House opposite the Colombo Hilton.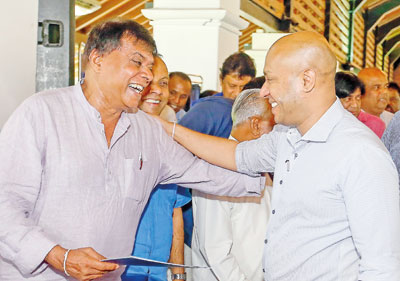 A discussion also ensued on the murder of Lasantha Wickremetunga, Editor of the now defunct Sunday Leader, the abduction and torture of Keith Noyahr, Associate Editor of the Nation, (since shut down), the reported killing of cartoonist Prageeth Ekneligoda, the killing of national ruggerite Wasim Thajudeen and other cases. It was decided as a matter of policy that most of these investigations should be completed before the end of the year and the Police be called upon to ensure this.
President Sirisena directed that his aides telephone the Inspector General of Police Pujith Jayasundera and request him to come over immediately for that night's meeting. He was given a strong dressing down over his conduct. Sirisena said that the Police Chief should not refer to senior DIGs (Deputy Inspectors Generals of Police) and make disparaging remarks against them at public functions. He said that as head of the Department, he should not bring personal issues into discussion but only relate himself to official matters. Sirisena said that some senior DIGs have complained to him about the ugly way they were being treated.
Some had even said that they were being harassed and obnoxious charges levelled against them. Such acts should stop, said Sirisena. He conveyed the decision made at that discussion that investigations into high profile cases should be completed before the end of this year. Sirisena queried Jayasundera over a talk he had delivered at a ceremony at a temple where he had made veiled references to a person wearing white. He asked to whom such a reference was made. The Police Chief strongly vowed that he was not alluding to any person but relating an old tale. SLFP Minister Duminda Dissanayake, however, pointed out that it could be construed as references being made to someone important, perhaps an allusion to the President himself.
As is now known, the SLFP has been trading charges against the UNP for going slow on the high profile cases involving bribery, corruption and other malpractices during the previous regime. Despite denials by the UNP, the accusations gained credence after President Sirisena raised issue during ministerial meetings. Barely a day after his meeting with President Sirisena on Tuesday night, Premier Wickremesinghe told Parliament (on Wednesday) "our government will never safeguard any criminals. We have strengthened the institutions to act against any persons involved in corruption and fraud irrespective of their standing in society, party affiliations or any other considerations." Noting that there may be "some instances" where "such actions have been delayed due to legal requirements," he declared "we have taken measures to expedite such cases."
Facilitating Wickremesinghe to make the statement in Parliament was Janatha Vimukthi Peramuna (JVP) leader Anura Kumara Dissanayake. Pointing out that there were three persons who held high government positions who are wanted in connection with financial frauds evading arrest he sought to know what action was being taken. He named Udayanga Weeratunga, onetime Sri Lanka Ambassador to Russia, Jaliya Wickremesuriya, onetime Sri Lanka Ambassador to the United States and Arjuna Mahendran, the Central Bank's former Governor. Dissanayake asked what measures the government has taken to have these persons arrested and produced in courts in Sri Lanka.
Wickremesinghe replied: "I have obtained a full report on these cases and I will read it out to the House." He said: "Udayanaga Weeratunga served as Sri Lanka's Ambassador to Russia from 2006-2016. He is accused of defrauding the state in the import of MIG aircraft to the Sri Lankan Air Force in 2006. Several of his bank accounts in Sri Lanka were frozen on court orders. He was notified to appear in court in June 2016 and summons was sent to his address in Kiev in Ukraine through the Ministry of Foreign Affairs. In October 2016, the FCID named him as a suspect in a financial fraud.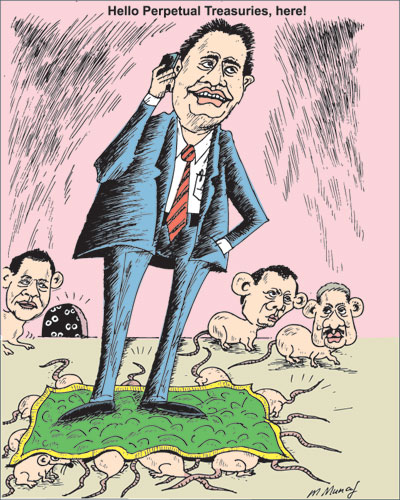 "In November a warrant was issued for his arrest on the request of the FCID. Twelve of his accounts in the Commercial Bank and two in the Hong Kong Bank were frozen and his passport was cancelled by the Controller of Immigration. The Courts also gave a restricting order prohibiting the sale of two blocks of land in Dompe and an apartment at Trillium residencies. To facilitate his arrest, on November 15 2016, a Blue Notice was issued through the Interpol.
"Additionally on February 12, 2018, a Red Notice was issued through the Interpol. According to the Interpol, on March 24, 2018, Weerataunga was taken into custody by the authorities in the United Arab Emirates. The Foreign Ministry then made a request to extradite him to Sri Lanka. Accordingly a letter was sent by the Secretary to the Ministry of Defence through the Ministry of Foreign Affairs to the Secretary to the Ministry of Justice of the UAE on May 16, 2018 to facilitate Weeratunga's return to the country.
"Jaliya Wickramasuriya served as Sri Lanka's Ambassador to the USA from 2008 to 2014. He is accused of defrauding around US$ 300,000 in a transaction to purchase a new building for the Sri Lanka Embassy in Washington. He was arrested on November 8, 2016 and released on March 20, 2017 on cash bail of Rs 50,000 and surety of Rs 10 million. Foreign travel was banned and his passport impounded. The court also gave directions to search three properties owned by him in the country and also inspect his local, foreign accounts and examine the computers of his business establishments.
"He had sought permission to travel to Georgia in the United States for medical treatment from the Courts. He was granted permission on the payment of another Rs 1.5 million as additional bail costs, two sureties and one of his lands in the care of the courts. The suspect had, however, failed to appear in Courts in November 2017 as he has been directed to do. The Court issued an arrest warrant for him. The two persons who signed as sureties too have failed to appear in courts. Investigations have revealed that the two sureties are also abroad with the suspect.
"Arjuna Mahendran served as the Governor of the Central Bank from January 2015 to July 2016. Summons have been sent to him to appear in courts to his address in Singapore but it was found that he was not at the given address. Hence the summons could not be served properly. Following this, he was notified via an SMS (Short Message Service) sent to his mobile telephone number by the Director of the CID and via an email to his email address.
"The delivery reports from the mobile phone to which the SMS was sent and the email show that both messages were delivered to Mahendran. An open warrant for his arrest was issued by the Fort Magistrate on March 15, 2018. International assistance too has been sought to locate Mahendran and bring him back to Sri Lanka. In this regard a Blue notice issued by the Interpol on April 5, 2018 and a Red Notice on April 19, 2018.
However as Singapore does not act on Interpol Red Notices and arrest persons, it has asked Sri Lanka to make an extradition request for Mahendran. Hence on May 25, 2018, the CID has channelled a request according to the extradition law of the country through the Secretary to the Ministry of Defence."
It has been now more than eleven weeks since Weeratunga was arrested in Dubai for not possessing valid travel documents. He is being held in detention in Abu Dhabi. The Sri Lanka Embassy in the United Arab Emirates has not been successful in securing his release to face charges in Sri Lanka. One of the reasons given was the non-ratification in Sri Lanka Parliament of an extradition treaty signed years earlier.
The authorities in Colombo had to rely on a law firm run by a Sri Lankan lawyer and the bills had exceeded US$ 300,000. In the case of onetime Ambassador Jaliya Wickremesuriya, who had allegedly reneged on an assurance to be present in Courts in Sri Lanka, the US authorities are to now arraign him before their Courts. It is on the grounds that he did not enjoy diplomatic immunity when he carried out the transaction, the purchase of an Embassy building where he is accused of making money. Such a certification has been given by the Ministry of Foreign Affairs.
Both Weeratunga and Wickremesuriya are nephews of former President Mahinda Rajapaksa. Arjuna Mahendran, who was serving in a bank in Dubai was nominated for the post of Governor of the Central Bank by Premier Wickremesinghe. There were ministers who were opposed to the move when it came up for approval before the Cabinet. One who raised strong protests was Minister Patali Champika Ranawaka who argued that Mahendran was a Singapore national. After his term was not extended as Governor and he relinquished duties, Mahendran served a short stint at the Premier's Office in Temple Trees and was a member of Premier Wickremesinghe's entourage during overseas visits.
Shocking evidence of Mahendran's conduct surfaced this week. The Criminal Investigation Department (CID) has found that he received payments amounting to Rs 3.2 million from W.M. Mendis and Company, a firm associated with his son-in-law Arjun Aloysius, who is at the centre of the alleged bond scam. Details appear elsewhere in this newspaper.
That Wickremesinghe chose three important investigations which were among the key subjects of discussion with President Sirisena in his statement to Parliament is somewhat significant. He is going public with one of the key decisions reached with Sirisena, to pursue investigations into outstanding high profile cases. That also assumes a form of re-assurance to Sirisena that a subject of concern for him has now been addressed by his Prime Minister. At least for the time being, the on/off relationship would continue notwithstanding some strong undercurrents. Of course, there could still be a slippery situation if the promises are not delivered within the set time frame.
This comes at a time when a directive from Premier Wickremesinghe has already raised some concerns among Secretaries to Ministries. In a letter he wrote to every minister late May, he has given the names of MPs who have been assigned to closely coordinate development projects and programmes implemented by their ministries. Nothing wrong one would say. However, the issue has become the final paragraph of the letter written in Sinhala. It calls upon the ministers to assign duties to these MPs, provide them with the required staff and arrange transport facilities.
Whilst some Secretaries are challenging the legal validity of a Minister distributing his functions (already allocated by the President), others are questioning about how they could authorise transport, office facilities and staff which involve expenditure. One distraught Secretary, who for obvious reasons did not wish to be identified, declared "I don't want to end up in the FCID for abusing state funds." Said another, "the task of closely coordinating development programmes and reviewing them could be done without the perks sought. The MPs have their vehicles and staff already and they now have to review what the Minister and his Deputy do." Even if they would have very little to monitor or review, the recipients of the benefits would be happy at the move that gives them more perks. Already ministries are flooded with requests for vehicles, he said.
The latest rapprochement between the two most important citizens notwithstanding, there are also issues for Sirisena. His biggest challenge continues to be the future of the already emaciated SLFP.
Last Sunday three major bodies of the SLFP, the Central Committee, the Executive Council and the All Island Committee met at Apey Gama in Battaramulla. Sirisena nipped in the bud any moves by sections to call upon the party to sever relations with the UNP. He said such a move would only give the UNP a free run. He reminded those taking part that the people had given the party a message through the outcome of the local government elections on February 10.
Hence, he said the main challenge now was to reorganise the party and make it stronger. Sirisena told reporters at the end of the meeting that office bearers picked that day would serve for only a period of one and half months. After the party re-organisation is complete, permanent appointments are due.
It seemed dubious if not ironic that most of the 16 SLFP members who crossed over to the opposition benches and held talks with Sri Lanka Podujana Peramuna (SLPP) de facto leader Mahinda Rajapaksa, were given plum positions. The only exceptions were Janaka Bandara Tennekoon, Pavithra Wanniaratchchi and Kumara Welgama who were earlier Deputy Chairmen.
A significant development was the selection of Professor Rohana Lakshman Piyadasa as the SLFP General Secretary. He is the head of the Department of Mass Communications at the University of Kelaniya. On Thursday, the Central Committee met again under the chairmanship of Sirisena and decided to expand the CC by inducting more professionals from universities and other establishments.
Former Minister S.B. Dissanayake, a prime mover of the no-confidence motion against Premier Wickremesinghe was appointed as Treasurer. Minister Duminda Dissanayake was picked as the National Organiser. When the party's key decision making bodies had all convened, Minister Dissanayake proposed that the existing committee of office bearers be dissolved. The motion was seconded by President Sirisena. The new office bearers were named thereafter. President Sirisena was again elected as Party Chairman.
Former Presidents Chandrika Bandaranaike Kumaratunga and Mahinda Rajapaksa, together with former Prime Minister D.M. Jayaratne were appointed to the party's advisory council. Earlier, Kumaratunga had remained a patron of the party. The names of the office bearers were approved unanimously.
Here is the list:
Advisory Council – Former President Chandrika Bandaranaike Kumaratunga, Former President Mahinda Rajapaksa and former Prime Minister D.M. Jayaratne
Chairman – President Maithripala Sirisena
General Secretary – Prof. Rohana Lakshman Piyadasa
National Organiser – Minister Duminda Dissanayake
Treasurer – MP S.B. Dissanayake
Senior Deputy Chairmen – Minister Nimal Siripala De Silva, MPs W.D.J. Seneviratne, Anura Priyadarshana Yapa and Susil Premajayantha
Deputy Chairmen – Minister A.H.M. Fowzie, Minister Sarath Amunugama, Minister Mahinda Amaraweera, MP Dayasiri Jayasekara, Northern Province Governor Reginald Cooray, State Minister Piyasena Gamage, Minister Vijith Wijayamuni Zoysa, Minister Mahinda Samarasinghe, MP Dilan Perera, MP Angajan Ramanathan and Southern Province Chief Minister Shan Wijayalal De Silva
Deputy Secretaries – Minister Ranjith Siyambalapitiya, Deputy Minister Lasantha Alagiyawanna, MP Sudarshni Fernandopulle, MP Sumedha G. Jayasena, Central Province Chief Minister Sarath Ekanayake, Western Province Chief Minister Isura Devapriya, North Western Province Chief Minister Dharmasiri Dassanayake and Uva Province Chief Minister Chamara Sampath Dassanayake.
The plum positions notwithstanding, 13 members from the group of 16 SLFPers who are now sitting in the opposition benches, were in for a rude shock last Tuesday. In what seemed a way of enjoying the best of both worlds, they influenced the "Joint Opposition" to propose the name of Sudarshani Fernandopulle as a contestant for the post of Deputy Speaker. The move even won the endorsement of the 'JO' Parliamentary leader Dinesh Gunawardena.
However, when it came to voting time, the UNP candidate Ananda Kumarasiri had polled 97 votes as against 55 for Fernandopulle. Some of the pro 'JO' SLFP MPs were seen in the Parliamentary canteen at voting time. A key SLFPer in the 'JO' admitted that some of their colleagues did not turn up at voting time only because they had not been consulted. "We don't want the JO leadership in Parliament to just foist a decision on us. A new tail cannot wag the head. That is wrong," said one of those who did not cast their vote. Another added "those in the group of 16 get rewarded with positions in their party and only want to use us at the same time. We are not for that." That indeed was a snub for the 'JO' leadership in Parliament. So much so, those who were in the forefront backing Fernandopulle kept away from a meeting.
In a week where both Sirisena and Wickremesinghe have seemingly patched up their differences and those of their parties, the question remains whether there would be more political eruptions during the rest of the government's tenure. Whether there is or not, the lesson this week is that both coalition partners want to continue come hell or high water. One does not want the other to have a free run.