Kandy's Halloluwa tunnel to be extended, says Kandy Mayor
By L.B.Senaratne
View(s):
The Halloluwa tunnel in Kandy will be extended further with assistance from the Megapolis Ministry, Kandy Mayor Kesera Senanayake said.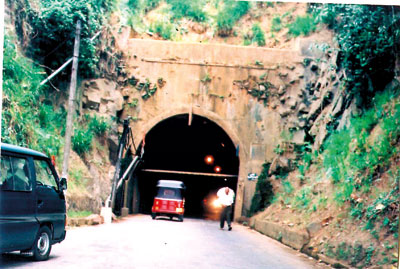 The tunnel was reopened for vehicular traffic last Sunday after it was closed due to earthslips and rocks falling at the Anniewatte end of the tunnel. Over the years, during the rainy season, there have been many earthslips at both ends of the tunnel. The Mayor said the extension would be done at the Anniewatte end of the tunnel.
The mayor said two geologists Professor Sarath Abyekoon and Professor Nimal Seneviratne who inspected the tunnel were due to hand over a report.
Mr. Senanayake said it was not possible to keep the tunnel closed to vehicular traffic as it had become one of the prime roadways in Kandy.
He said the tunnel that was built in the 1800s was rehabilitated during the tenure of Kandy Mayor the late E.L. Senanayake in 1952 under the supervision of chief engineer E. Fonseka.