NEGC to host International Inter-Club Golf Tourney on March 31
View(s):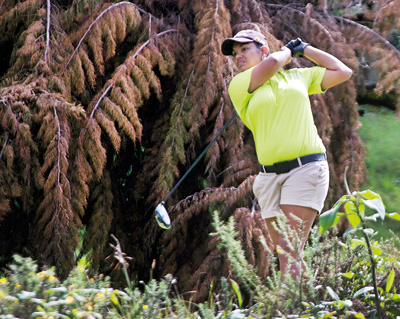 In a bid to promote one of Asia's oldest Golf courses and the most scenic in Sri Lanka, the Nuwara Eliya Golf Club (NEGC) will conduct an Inter-Nation Tournament on March 31, with over 14 overseas Golf Clubs expected to participate.
The NEGC aims to make this an annual tournament, with the objective of transforming Nuwara Eliya, fondly referred to as 'Little England' by seasoned travelers to Sri Lanka, as a Golf Tourism hub.
In association with hotels, restaurants, villas, cafes and tourist centres in the area, the NEGC envisages making this tournament a national sporting event, according to its President Maj. Gen. Srinath Rajapakse, who made these observations at a launch ceremony held at the Royal Colombo Golf Club last week.
"We have the potential to conduct such an event of international standard. Playing a round of Golf in Nuwara Eliya is an enthusiast's dream. Its ambiance, serene environment and climate are just suited for a game," NEGC Captain Firaz Hameed pointed out.
Teams from the UK, North America, Scandinavia, Australia, Europe, Japan, India, China, the Maldives, Singapore, Pakistan, Korea and hosts Sri Lanka have indicated their willingness to participate in the tournament. Among the expected total of 100 Golfers are 4 ladies from England and Sri Lanka.
"The players are senior Members of Golf Clubs in their respective countries, most of whom are Golf enthusiasts. The NEGC has reciprocal status with most foreign Golf clubs," said NEGC Secretary Priyanga Hapugalle.
"The tournament will be on a stableford point format. Each team can field a maximum of 24 players of men and women Golfers with a valid Club handicap. The top 3 cards of each team will be counted to award the team with the highest stableford points. Gents, Ladies and Masters (over 55 years) will play off their respective tees," Hapugalle, explained on the tournament structure.
According to the organisers, any player with a valid Club handicap can take part at this inaugural International tournament. At registration, the player must produce a letter validating the individual's handicap, from the respective home Club.
"A player may represent a team, if he/she is a citizen or holds a valid passport from the respective country. A team Captain will be appointed by the organising committee for each country, and all details and coordination will be via the Captain," he added.
The tournament has received sponsorships from MasterCard, its main sponsor, Classic Travels, Zam Gems, Bethany 101, Channel 17 Loyalty and Dialog Enterprise.