Mahela emphasises the need to embrace significant changes
View(s):

As Sri Lanka's woes continue to grow in international cricket, former Sri Lanka cricket skipper Mahela Jayawardene urged local cricket authorities to embrace the significant changes taking place in world cricket to be a competitive force in international cricket.

SLC has been under fire from most quarters with many past and present cricketers uniting in their call for a radical change to the existing first class structure—a fundamentally flawed system which has been conveniently overlooked by successive administrators—to arrest the current slide of the national team.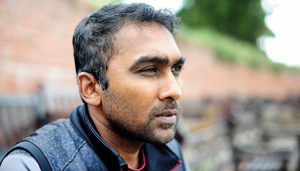 "We are playing quantitative rather than qualitative cricket," Jayawardene said addressing the change forum in Colombo. "While keeping the club cricket structure going, we need to come up with a plan to get the cream of players and play at a much more competitive level and challenge them to see who are the best who could represent Sri Lanka.
Jayawardene has been openly advocated for an urgent revamp of the domestic structure for a very long time, going back to his playing days but Jayawardene said that change has taken too long to come.
"Our first class cricket is still semi-professional. Guys are still going to come in after work in the afternoon, practice for an hour and a half. That is not going to help produce international cricketers. It is not the way forward," he explained.
"You have to be a fully professional cricketer if you want to be discipline and compete with the rest of the world. So until we create that, we are going to be catching up, we are going to be struggling. So that's the change we've been asking. We have not been asking this only during the last three years as some believe, but we have been asking for that change for the last 10-15 years and it hasn't happened. So every day we delay this change, we are falling behind and teams like Afghanistan and Ireland are catching up because they have made those changes," he explained.
Sri Lanka currently has 24 teams with first class status but the quality of the decades-old club tournament is under question, with those graduating through the system consistently failing to perform at international level.
"We have a first class cricket structure which has 24 teams. Australia has the same population has five teams. India has 1.3 billion people and they have 30 teams. For 20 million people we have 24 teams," he said.
However on top of the current first class tournament, Sri Lanka Cricket has a four-team inter-provincial cricket tournament where the cream of the club cricketers including the national team players expect to feature.
Jayawardene is part of a five-member cricket advisory panel formed by the Sports Ministry help restructure the way the game is played at the domestic level and has reportedly suggested an increased incentive scheme to make the game much more professional than what it is today.
Jayawardene also said it was wrong to believe that the current system will keep producing cricketers as it has done in the past.
"We probably won two World Cups and also came into five World Cup finals which are all correct," he said. "That all happened because we had a group of players who evolved and did things in their own. At the same time if we think that the system is going to have more cricketers coming in the same way that means we have not changed. We need to see what other countries are doing and if are not tapping into that and see how best we could beat them and be the best team in the world, then we are not making those changes. So just because a system works for us in the past 15 years does not mean that the same system will, if they want to take that chance, then good luck to them.