Intimidation, insults attempt to deter women poll candidates
View(s):

Sri Lankan women who are contesting in local elections are facing personal insults and violence and as yet neither political parties, nor political leaders have condemned the rising levels of hostility.

Many women candidates, particularly those from Muslim majority areas have decided not to engage in public meetings or erect banners. Instead they have chosen to keep their campaigns low profile.

Their only additional resource is a small election brochure in which they introduce themselves.

"There is an active campaign currently underway by some fringe Muslim religious leaders claiming that women shouldn't be allowed to engage in politics and those men whose wives and female relatives contest elections should be ashamed," said Kader Ibrahim Rinuza, a candidate contesting from the Sri Lanka Muslim Congress for the Kalpitiya Pradeshiya Sabha in Puttalam.

For Rinuza, electioneering is a first, although she has engaged in women's community activities in the past.

Last week, a group of policemen barged into her residence on the pretext of searching for illegal weapons. When they noticed her election brochures, they asked her about her candidacy. The police said the house search was due to an anonymous 119 call about weapons and printing of counterfeit currency notes.

"By that time, the whole village had gathered on our street causing shame and embarrassment to the family. I suspect someone planned this to sling mud at me and my family members,'' Rinuza said.

Many other women candidates in her area had earned the wrath of powerful men including religious leaders soon after they decided to contest, she said.

Candidates in Puttalam contesting under various political parties have decided to go door-to-door in small groups, taking into account the risks. "We used to tell them that we all are from one party — the 'women'. We should all have our say in local governance as we do in our homes," Rinuza said.

The Centre for Monitoring Election Violence, the election watchdog has written to the Election Commission seeking action against insulting, hateful viral videos on social media, targeting women candidates.

The centre noted that female candidates from the Puttlam district, and Northern and Eastern Provinces are particular targets of hate speech and mudslinging campaigns. The centre recorded another incident of an office of a female candidate being set on fire on January 19. The centre said other female candidates in the area have expressed concerns regarding the intimidating environment.

Bisliya Bhutto, another candidate from Puttalam explained how hate speech on social media is tarnishing the integrity of women candidates.

"Some of our women candidates published portraits of their husbands along with theirs in mini brochures to reduce personal attacks on them and their families, but one had been edited and filthy materials included and shared widely on social media. How can we stop this kind of mudslinging?" Ms Bhutto asked.

In recent weeks, there have been many instances of violence against women candidates.

On one occasion, a woman candidate's house was set alight in Arayampathy east while another woman candidate from Puthukkudiyiruppu in Mullaitivu District was assaulted, held locked up in a house, and had been threatened to withdraw the complaint she had made to the police last week.

A female candidate contesting as an independent group from Wellawaya Pradeshiya Sabha in Wellawaya electorate in the Monaragala district was attacked brutally and admitted to hospital following a confrontation between the candidates of independent groups and the supporters of political parties.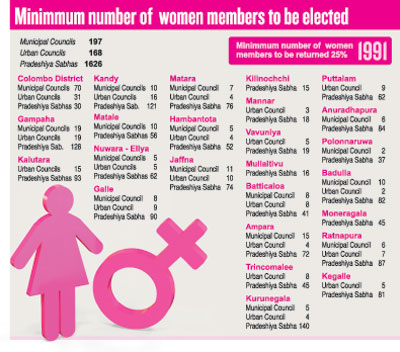 As complaints on violence against women candidates increased significantly in past few weeks, the Election Commission has set up a separate unit at its central complaints office. The hotline is 011 3024884.
Additional Commissioner of the Election Commission Mr M M Mohamed told the Sunday Times that the unit was formed with the assistance of the police. Complaints would be forwarded to police stations.
The Women Action Network, a group of eight women's organisations in the North and East provinces raised serious concerns about election violence.
"Ethnic, religious, and cultural barriers, along with structural violence, persecution, sexual bribery, physical assault, threats to family members, financial pressures, warnings and threats from religious heads, vandalized media reports, humiliation in social networks, and open public challenges from people with patriarchal attitudes are what prevent women from participating in politics," a statement said.
Pointing out that there is a possibility of 1,991 women from 341 local councils becoming elected members, the coalition of women's organisations noted that women continue to be subjected to subtle, silent, and hidden forms of violence, and as such these violent acts violate their rights and negatively affect the credibility of the election.
WAN also observed that it is a painful and problematic fact that so far, none of the political parties these woman candidates belong to, the police who are responsible to uphold the law, the Election Commission, or any political party leaders have condemned the open, public, and disgusting hate speech towards women candidates or verbal and psychological violence by men with religious and political backgrounds towards them. "Their silence makes one question whether women's participation in politics is truly welcomed, or merely a formal act,"
Sandran Rubatheesan