Laser Run City Tour 3rd Edition ends successfully in Avissawella
View(s):

The 3rd edition of Laser Run City Tour – Sri Lanka was concluded successfully in Avissawella last Saturday at the Dehiovita National School ground with over 130 athletes taking part in Elite, Under-19, Under-15 and Under-11 age categories. This was the first time that the event was conducted in a rural area outside the main city in Sri Lanka. The location was a school located 60km away from Colombo and was chosen primarily because the kids had taken part in enthusiastic numbers in the previous two editions of the event.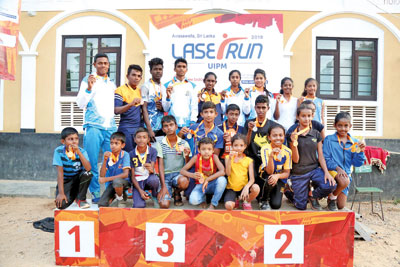 This was a special occasion for the rural school as it was the first time Modern Pentathlon, an Olympic Sport, was introduced and conducted in the area. Hence a large number of school kids from the nearby schools and villages took part in the event. The interest among parents and the general public for the event was evident with the participation in large numbers to witness it.
The Elite categories for Women and Men saw several athletes in the Top 15 of the World Rankings taking part in the event. These athletes represented the Sri Lankan Armed Forces and other Modern Pentathlon Sports Clubs. Their participation made the event more colorful and generated much interest among the viewing public.
This time too there was a huge response to our call for volunteers who responded from regional universities and educational institutes. This is again good for the spread of knowledge about the sport in the rural region. Modern Pentathlon, a combination of five completely different sports constitutes, is one of the most demanding sports of the Olympic Games. Pentathletes compete in the following five disciplines: Fencing, Swimming, Riding and a combined event of Shooting and Running.
This sport is now being introduced to Sri Lanka by the Modern Pentathlon Federation of Sri Lanka (MPFSL), which is affiliated to the International Union of Modern Pentathlon (UIPM) and the Asian Modern Pentathlon Confederation (AMPC).
The UIPM Laser-Run is the new sporting category of the UIPM started in 2015, combing by laser shooting and running, and has been launched the first edition of the Laser Run City Tour worldwide in 2017. The next Laser Run City Tour will be organised in Negombo, in Gampaha in the month of May. The MPFSL hopes to invite overseas athletes through AMPC and UIPM.
Final Results
UNDER-11 GIRLS EXHIBITION RUN (2x100m – 2×5 hits 3m)
1st Place: A.M.D. Sandarangi Adikari 1:51:07 Sprint Sport Club
2nd Place: K.G. Anutthara Buddhi 1:54:06 Leisure Sports Club Dehiovita
3rd Place: R. Akshana Kodagoda 2:04:07 Kalutara MP Club
UNDER-11 BOYS EXHIBITION RUN (2x100m – 2×5 hits 3m)
1st Place: H.P. Vinodh Adisha 2:49:01 Sprint Sport Club
2nd Place: S. Vidushan 2:51:03 High Performance MP Training Club
3rd Place: M.H.C. Dulwan Dayarathna 3:05:00 Shrofence Modern Pentathlon Club
UNDER-15 OPEN GIRLS TIME FINAL (3x400m – 4×5 hits 5m)
1st Place: H.A.O. Navodhya Hettiarachchi 7:31:06 Sprint Sport Club
2nd Place: R.P. Gimhani Kawshi 7:46:09 Shrofence Modern Pentathlon Club
3rd Place: H.A.N. Baghya Weerasiri 7:55:05 High Performance MP training Club
UNDER-15 OPEN BOYS TIME FINAL (3x400m – 4×5 hits 5m)
1st Place: T.L.P. Anjaya Induwara 5:40:08 Sprint Sport Club
2nd Place: J.N. Nimsara Jayasinghe 6:24:06 Shrofence Modern Pentathlon Club
3rd Place: A.A. Nadun Nethsara 6:02:07 High Performance MP training Club
UNDER-19 OPEN GIRLS TIME FINAL (4x400m – 4×5 hits 5m)
1st Place: Amali Thenuawara 10:24:03 Shrofence Modern Pentathlon Club
2nd Place: Maleka Rafaideen 10:56:08 High Performance MP training Club
3rd Place: G.D.D. Janithi Gammanpila 12:15:05 Leisure Sports Club Dehiovita
UNDER-19 OPEN BOYS TIME FINAL (4x400m – 4×5 hits 5m)
1st Place: Rusiru Kavinda 7:18:06 High Performance MP training Club
2nd Place: A.T. Dulanjana Assella 7:42:01 Shrofence Modern Pentathlon Club
3rd Place: G.B.P. Prabath Nishantha 8:13:03 Sprint Sport Club
SENIOR WOMEN – FINAL (4x800m – 4×5 hits 10m – UIPM RANKING)
1st Place: L.K.G.K. Kumari Dasanayake 17:50:02 Air Force SC
2nd Place: P.G.D. Anuruddika Gunathilaka 18:10:04 Air Force
3rd Place: M. Sudarshani Jayaruwani 18:38:08 Army SC
SENIOR MEN – FINAL (4x800m – 4×5 hits 10m – UIPM RANKING)
1st Place: A.W. Chaminda Priyadarshana 14:12:09 Air Force SC
2nd Place: A.S.H. Nilweera 14:41:03 Air Force SC
3rd Place: N.L.L. Hemapriya 14:49:06 Army SC